Help! Rapids
October 31, 2019
10 tips for a long hike you didn't think off
November 8, 2019

---
Gear list for a world trip by bicycle
---
Once, we started a world trip by bicycle without any experience. We bought second-hand bicycles, second-hand panniers, a tent and left on an indefinite journey. We soon learned to pack our bags and sent home unnecessary items. Three years later we can pack our panniers with our eyes closed. We do not lose anything, because if there is a gap, we know what is missing. Over the years we have changed a number of things, but the bikes and the bags are still the same as when we left Amsterdam. Our bicycles weigh around 16 kilograms, but including the bicycle panniers and all our gear, we have about 45 kilograms.

Every world cyclist we encountered has its own pack list with its own favourites. The packing list below works for us, but can be completely different for another cyclist. We have a lot of camera equipment with us because we love photography. Other cyclists carry a guitar, others have more repair equipment or opt for comfortable camping seats. For example, we only provide basic material to make quick repairs en route. For example, we can replace brake cables, repair tires and replace a spoke if necessary. But we do not have the right tools for problems with the bracket or the wheel bearings.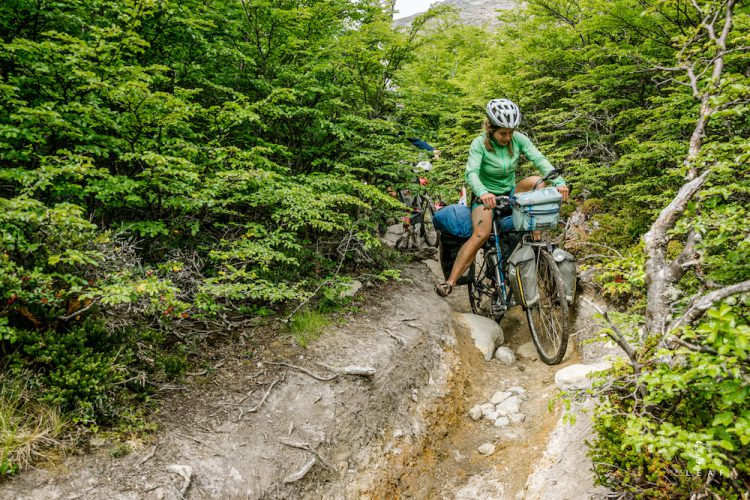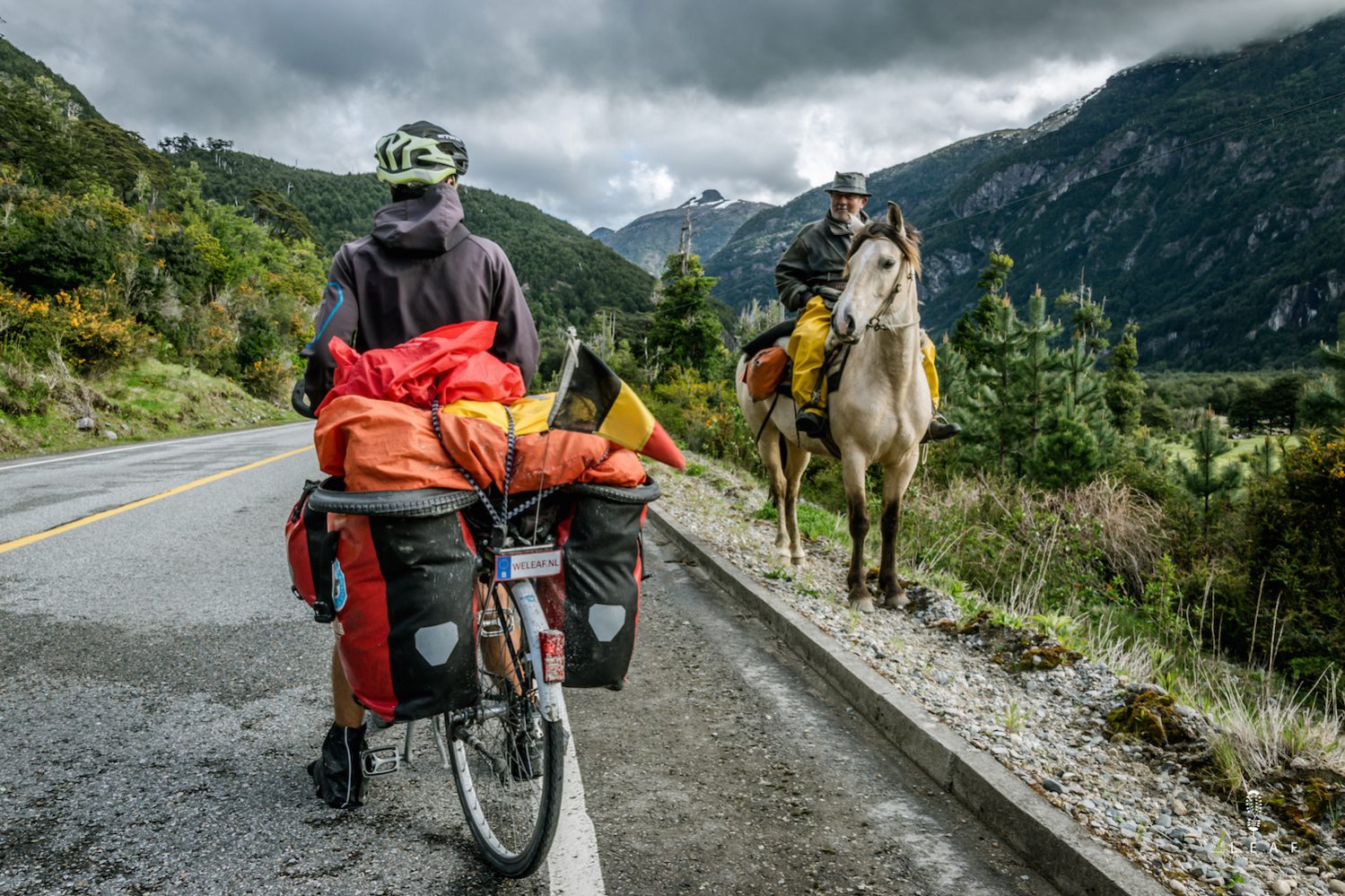 Our bicycle touring pack list is more extensive than our pack list for a hiking trip . You can take more with you on the bike and you also need more, such as spare tires and a helmet. On our world trip by bicycle we are prepared for a warm and cold climates, so we have both summer and winter clothing in our bags. In addition, we carry a laptop and a hard disk in our bicycle bags, have more camera gear, a bigger tent and we have empty backpacks on the back so that we can go hiking. If you go on a shorter cycling trip, you can better tailor the packing list to the climate.
BICYCLE
---
Agu handlebar bag
Deuter Air Trek 60+10 (empty)
Lowe Alpine Manaslu 60 (empty)
Decathlon B'twin helmet
Allen key
Decathlon bidon with repair gear
Tie-wraps, duck tape, bolts
6 x Schwalbe 28'' inner tubes
Patch set
Spare break cable and gear cables
Reserve braking pads
Chain lubricant en WD40
Chain tool
Derailleur tool
Spare spokes, nipples en spoke spanner
COOKING
---
BoCamp cooking gear
Cooking: spatula, 2 forks, 2 spoons, 1 knife, can opener
Spices: peper, salt, Italian spices, broth cubes
Swiss knife
Decathlon 750 ml water bottle
Nalgene 1 liter water bottle
Foam seating pad
20 meter rope (bear cable)
2 x 20 liter dry-bag
Ortlieb 4 liter water bag
2 x 20 liter dry-bag for food
LightMyFire fire stick
Lighter
Whipe
---
SLEEPING
---
Bever silk sleeping bag liner
Exped Synmat 7
Vaude Norrsken air mattress
Quechua Air Basis pillow
22 liter dry-bag
ELECTRONICS
---
Nikon D3300 camera, charger and 3 batteries
18-110mm Nikon lens
50mm Nikon lens
YouPro camera timer
Aluminium camera tripod
XStorm 15.000 mAh power bank
Travel power plug
Garmin Instinct sport watch
Iphone 6
Fairphone 2
GoPro including 2 batteries
Mavic Air drone including controller and chargers
JBL Clip 2 mini speaker
Macbook Pro
WD Elements hard drive
Philips razor machine
Braun epilator
Vartra head lamp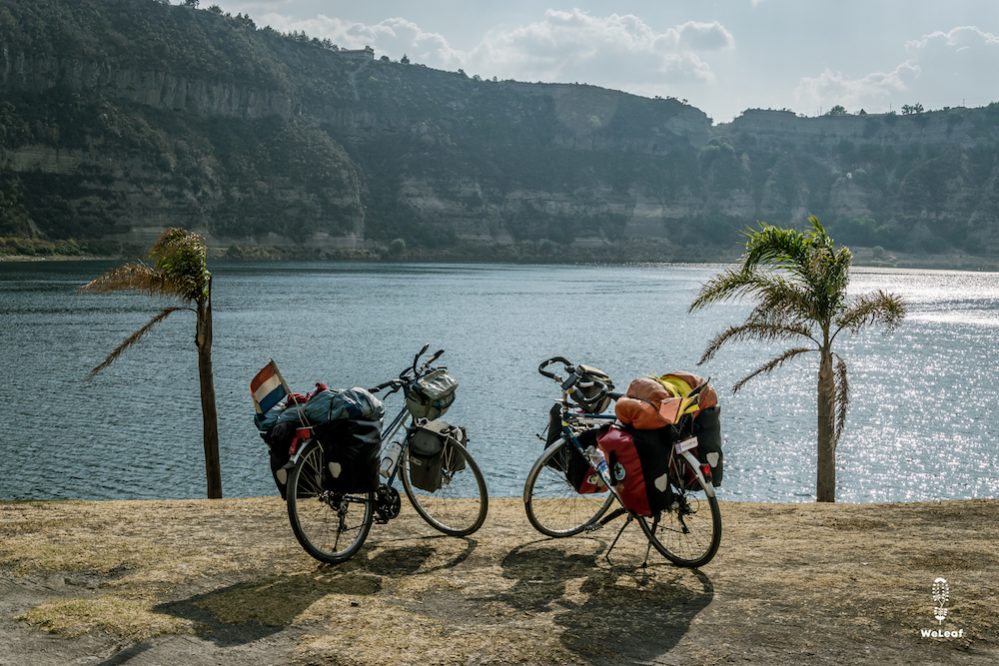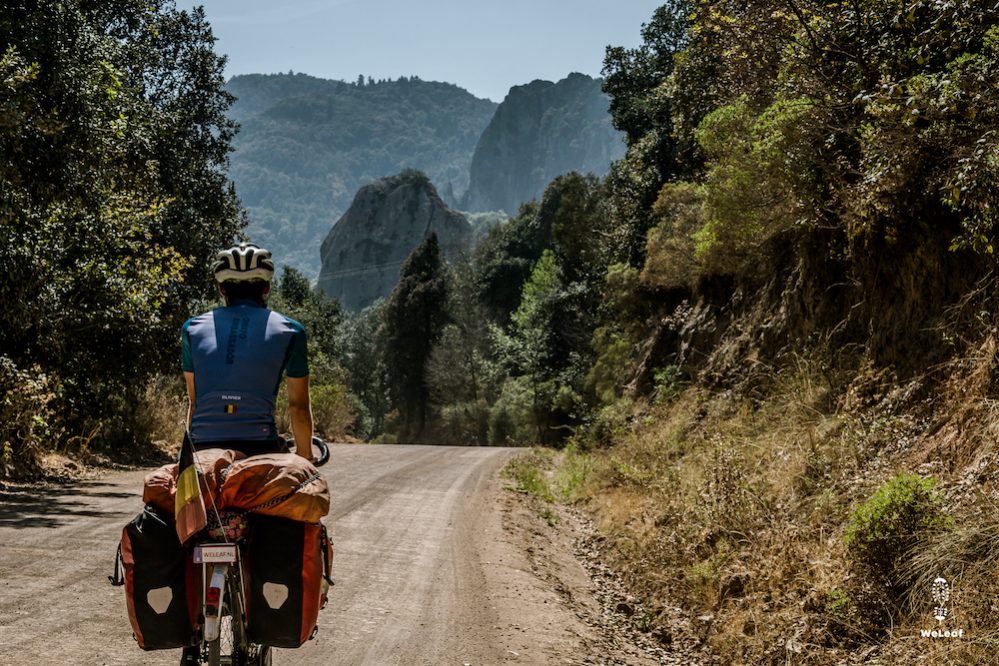 CLOTHES MAN
---
2 x underwear
2 pare of cycling socks
1 pare of normal socks
Owayo bib pants short
Owayo cycling shirt short sleeve
Owayo wind jacket long sleeve
T-shirt short sleeve cotton
Decathlon Quechua short sleeve hiking shirt
Decathlon Quechua long sleeve hiking shirt
Nomad ultralight merino shirt long sleeves
Icebreaker Merino long sleeve
Decathlon Quechua Polartec fleece
North Face Polartec vest
Decathlon Forclaz 500 Trekking down jacket
North Face Tanken Zip in jacket
Xenos poncho
Fjallraven long pants
Thermo legging
2 x short hiking pants
Swimwear
Merrell Moab FST 2 hiking shoes
Birkenstock Arizona slippers
B'Twin cycling cap
Summer buff
Barts cap
Salomon Gore-Tex mittens
2 x handkerchief
teddy bear
Nomad bag organizer M
CLOTHES WOMAN
---
3 x underwear
2 x sport bra
2 pare of hiking socks
2 pare of normal socks
Owayo bib pants short
Owayo cycling shirt short sleeve
Owayo wind jacket long sleeve<
T-shirt short sleeve cotton
Decathlon Domyos sport top
Nomad Merino Ultralight short sleeve
Nomad Merino thermo long sleeve
Thermoshirt long sleeve
Icebreaker Merino long sleeve
Casual vest short sleeve
Hagloffs vest
Mammut Venture 2 jacket
The North Face wind jacket
Xenos poncho
Salomon XA Pro 3D GTX W Trailrunning
Birkenstock Gizeh slippers
Fjallraven long pants
Thermo legging
2 x short hiking pants
Lightweight summer pants
Dress
Bikini
Lightweight cloth (multifunctioneel)
Summer and winter buff
Small gloves
SeaToSummit bag organizer L
PERSONAL CARE
---
Toothbrush
Toothpaste
Body lotion
Shampoo
Mini deo
Blokje alum
Ear plugs
Sun-cream
DEET
Tampons
Panty liners
Vaseline
Soap
Razor blade
Nail scissor
Sewing set
EHBO set
Rubytec Microfiber towel medium
---
OTHER
---
Wolverine 19cm hand saw
Compass
Bresser binoculars
Survival blanket