I am Nomad
A sleeping bag is one of the big 5 for outdoor enthusiasts. We walk, cycle, sail or canoe, but sleep remains as important. For us, a good sleeping bag can keep us warm in a cold climate, does not weigh too much and has a small volume. We travel with two Nomad Orion 700 sleeping bags that fulfils our expectations. We use the sleeping bag together with a liner, a thin intermediate layer. The combination makes the sleeping bag good for warm and cold weather. The sleeping bag has a comfort temperature of -13 for men and -6 for women. The maximum temperature should be -30 degrees, but we haven't tried that yet. Note that "maximum" stands for the temperature at which the sleeping bag could save your life and you do not sleep comfortably warm. In warmer weather we just lay the Orion loosely over us because crawling in the sleeping bag is too hot, but that's works well!

The Nomad Orion 700 sleeping bag with a 3D Polardown filling, a combination of duck down and synthetic fibers. As sustainable travelers, the use of down is not particularly animal-friendly, but the adventurer in us needs the best material. We therefore choose to use a high quality sleeping bag with certified down and assume that we can use it for the rest of our lives.
(+) Temperature

The comfort temperature goes up to -6 degrees for women and -13 degrees for men. As a cyclist, that is more than enough to survive the cold plains in Peru and Bolivia. Whether the winter of Canada is sufficient, we still have to experience.

(+)Packed weigth

The sleeping bag weighs 1,050 grams, which is very light for a sleeping bag with such a comfort temperature.

(+)Pack size

With the compression bag you can reduce the sleeping bag to a package of 30x18 centimeters. It fits perfectly in the same bike bag together with the Hilleberg Nallo 3GT Tent and the Amazonas Hammock.

(+)Dutch brand

Few people know that Nomad is a Dutch brand that has been making outdoor products for more than 40 years. Quality from close by, that's what we like.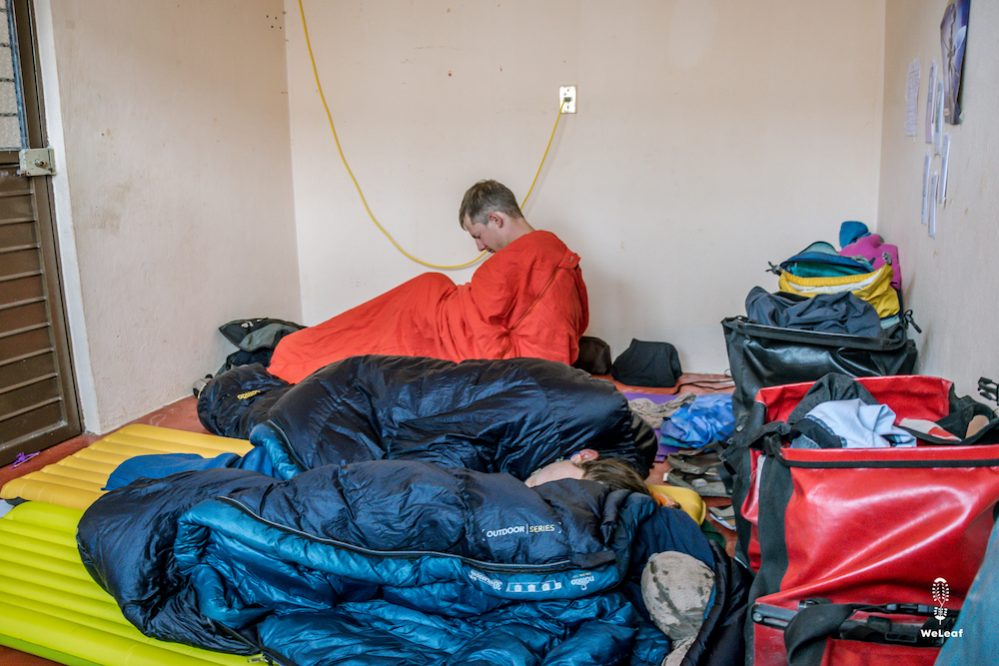 (-) Mummie

Zoë prefers to sleep under a blanket model but we gladly trade this comfort for a light, small sleeping bag.

(-)Polyester

Just like all the lightweight material, this sleeping bag is made of Polyester, which makes the sleeping bag feel sweaty and sticky quickly. Tip: a side liner solves this problem.

(-)Half open

The Orion 700 sleeping bag cannot open to the bottom. This is in favour of heat climate control, but as a result, the sleeping bag cannot be fully unfolded in warm weather.
Our opinion


As far as we are concerned, the Nomad Orion 700 is a very good sleeping bag. The comfort temperature and the light weight in particular ensure that the sleeping bag is at the top of the market. If you only travel in warm climates, this sleeping bag is too hot, but for our world trip in different climates it is an excellent sleeping bag.

On the Nomad website you will find more information about the Nomad Orion 700 and other Nomad products.