Hilleberg Nallo 3GT
On the inside of our Hilleberg Nallo 3GT tent is written "this tent is designed for some serious wilderness trekking". That's what we need when we travel with our bikes or go hiking in the mountains. We decided to buy the Hilleberg Nallo 3GT version and this is what we think about it after using it more than two years during our world trip: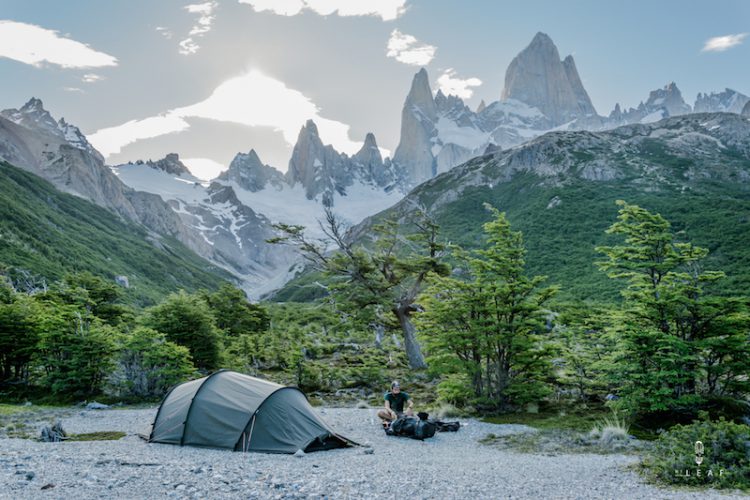 (+) 4 seasons

Our plan was to go to Patagonia and to the Andes. The Hilleberg Nallo 3GT is a red label tent which is 4-season proof. This means that the outer tent reaches to the ground. You can really feel the difference on a cold evening. Inside the tent, especially in the sleeping compartment, the temperature is about 5 degrees higher than outside.

(+) Extended vestibule

We know that we were going to spent a lot of time in our tent in the evenings. The GT version has a has an extended vestibule. It has space enough to put all our bicycle panniers and we can still sit comfortable with the two of us.

(+) 3 person tent

We chose the '3' because of the extra space. It makes things just a bit more comfortable and on the bike those 200 gr don't matter. Still, the 3 person version seems small to really sleep with three people because with two sleeping mats the sleeping compartment is already reasonably well filled.
(-) Zipper problems

It is a known problem with Hilleberg tents and we are also bothered by it. After about 100 nights in the tent, the zipper of the side entrance began to struggle. In the beginning you get the zipper closed, but after a while it is impossible to close the zipper. It should not be that Hilleberg will not have a solution for this known problem after so many years, especially if you pay so much for a tent. We contacted Hilleberg with this problem and they sent us a package with new sliders to solve the problem.

(-) Stand alone

We have been sleeping a lot of times inside a garage, or under a roof on a concrete floor. Putting the tent pegs in the floor isn't possible and the Hilleberg Nallo 3GT isn't a stand alone tent. You need stones or use the bicycle bags to set up the tent. Also, in case of hot climates, it isn't possible to only set up the inner tent stand alone. First of all you need extra pole holders (€30), but still stand alone isn't possible. This might be the biggest downside of the Hilleberg Nallo 3GT.
Our opinion
The Hilleberg Nallo 3GT is a brilliant tent for outdoor survival. The materials are top quality, except the zippers, it's warm inside and there is a lot of space to store all the bicycle bags and sit dry. During a world trip you will probably sleep in different climates and strange locations, sometimes inside. This tent is big and doesn't fit in a small room, and it isn't possible to set it up stand alone. In our opinion this tent is perfect for an adventure in the nature, but not for a world trip. Another Hilleberg Tent, like the
Hilleberg Allak
might be a better option.
Check our their website to find your perfect
Hilleberg tent
.