Hiking inspiration
---
Are you an experienced hiker who has already traveled several times, or are you going on a hiking holiday for the very first time, and are you looking for a new destination for your next hiking holiday? We have some great recommendations and tips for you.
---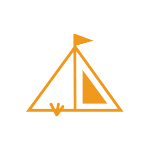 November 8, 2019
During our 1000-km hike on the Appalachian Trail (AT), we noticed that we had some other habits than the hikers we met along the way. Apparently we have developed our own outdoor living routines during our human powered travels...
BECOME A FRIEND
---
We like to become a friend with you!