A warm heart
August 29, 2018
The car-free cycling route in Peru
September 11, 2018

---
Hiking in the Cordillera Blanca
The National Park Huascaran in the Cordillera Blanca is a paradise for hikers, climbers and cyclists. One of the most popular multi-day hikes is the Santa Cruz Trail. A trip of 51 kilometers that you can hike in three to four days. On the way you walk through beautiful valleys surrounded by the snow-capped peaks of the Cordillera Blanca, the white mountains. The highest point on the route is 4,750 meters, which you will feel even after one month of acclimatisation. We walked the Santa Cruz Trail independent. You can choose how much you walk per day, where you set up the tent and getting lost is almost impossible on this route. These are our tips!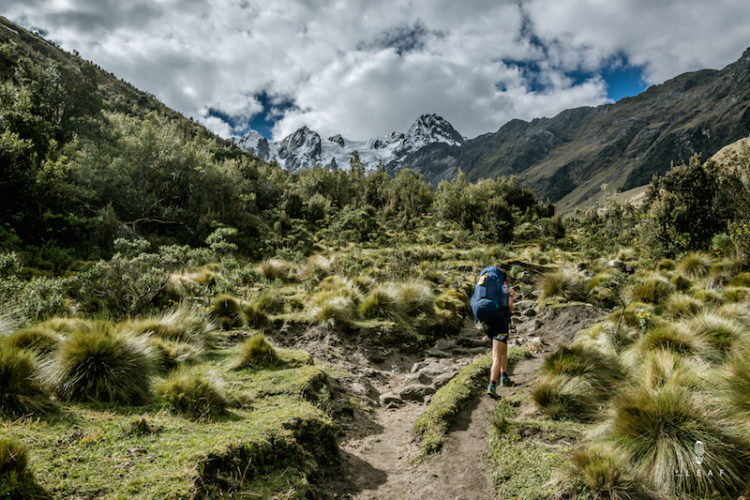 Parque Nacional de Huascaran
The Huascaran National Park is one of the most beautiful natural areas of Peru. The park is in the Cordillera Blanca, the white mountain range, and it's name has not been stolen. Everywhere there are wonderful white peaks, while your are in tropical temperatures down in the valley. Since 1985 it has been added to the UNESCO World Heritage List. The Nevado Huascaran, with 6768 meters altitude the highest mountain in Peru, lies in the park.

To visit the park, you have to pay an entrance fee. The price depends on the number of days you want to visit the park. The Santa Cruz Trail is three to four days. You need the three-day ticket that costs 60 (€ 16) soles for foreigners. Are you planning to do several walks after the Santa Cruz Trail, you better buy the 30 day ticket that costs 150 soles (€ 40).
The Santa Cruz Trail
The Santa Cruz Trail is 51 kilometers long. It is not a loop so the start and end point are different. That is why it is possible to start in two places: La Vaqueria or Cochapampa. If you walk Santa Cruz Trail independent, it is strongly recommended to start in Vaqueria because it is much easier from Cochapampa to find transportation to Huaraz or Caraz. In addition, Vaqueria is at 3,700 meters above sea level, while Cochapampa is at 2,900 meters above sea level. So there are fewer altimeters to overcome if you start from Vaqueria, although you have to take into account that you start at a higher altitude and may suffer more from altitude sickness.
Almost everyone walks the Santa Cruz Trail in four days, although it is possible to do it in three days, as we did. These are both options:
Four days:
Day 1: Vaqueria to La Paria | 10.1 kilometers | 382 vertical meters climbing
Day 2: La Paria to Taullipampa | 11.2 kilometers | 945 vertical meters climbing
Day 3: Taullipampa to Laguna Jatuncocha (via Laguna Arhuaycocha) 15.7 kilometers | 304 vertical meters climbing
Day 4: Laguna Arhuaycocha to Cachapampa | 14.1 kilometers | 50 vertical meters climbing

Three days:
Day 1: Vaqueria to Campamento 4.250 metros | 13.6 kilometers | 832 vertical meters climbing
Day 2: Campamento 4.250 metros to Arhuaycocha Base Camp | 12.5 kilometers | 700 vertical meters climbing
* Laguna Arhuaycocha can be visited in the evening or in the morning from the Base Camp without a backpack. It is a 20-minute walk to the viewpoint.
Day 3: Arhuaycocha Base Camp to Cachapampa | 23.5 kilometers | 100 vertical meters climbing
* Make sure you leave in the morning in time to get the last collectivo of 16 hours in Cachapampa
To the trailhead
To get to Vaqueria, you will have to get up early and don't eat too much because it is a tough ride on a winding gravel road that goes above 4,700 meters. The collectivos, the minivans, depart from Yungay, about 55 kilometers from Huaraz and 13 kilometers from Caraz. The last minibuses leave at 8 o'clock in the morning from Yungay so you have to make sure you leave on time from Huaraz or Caraz.

From Caraz: Every 3 minutes a bus departs from the Terminal Caraz-Huaraz, located on the main road. The ride to Yungay costs 2 soles per person and takes about 20 minutes. From Huaraz: From Huaraz the ride takes about 1,5 hour.

In Yungay the buses arrive at the Minibus station where the vans leave for Vaqueria. The trip to La Vaqueria costs 20 soles and takes at least 2.5 hours. If you take the bus in Yungay around 7:30 am, you will be at the starting point in La Vaqueria around 10 am.
Back to the hotel
After three or four days of hiking, you arrive in Cochapampa, a mini-village with a few small restaurants. Collectivos go to Caraz until 4 pm and they cost 10 soles per person. If you are staying in Huaraz, you have to change buses in Caraz to a collectivo to Huaraz. After 16 hours there are only taxis to Caraz which costs about 50 soles. The journey takes at least one hour from Cochapampa to Caraz.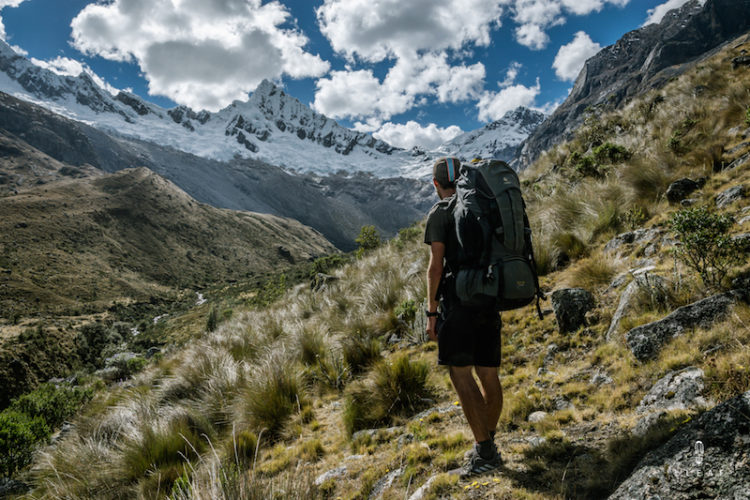 Sleeping
During the walk you can set up the tent anywhere. In the above map a number of camping spots are indicated, but there are many more beautiful places in the park. The organised tours almost always stop at the same places and set up their tents there. Fortunately there is enough space to avoid the tours and to set up the tent a few hundred meters further. Above 4,000 meters it becomes freezing cold at night so that a good sleeping bag is certainly needed.

If you stay in Huaraz, the guesthouse Casa de Zarela is highly recommended. It is a beautiful hotel with comfortable beds, a hot shower, nice rooms and a good breakfast. In the months of July and August the hotel is full of climbers from all over the world and there is a cozy mountain atmosphere. It is the place to get more information about hikes and climbing routes in the national park.

If Caraz is your base, Hotel San Marco on the Plaza de Armas is an excellent option. The hotel has many rooms with some beautiful courtyards. The shower is wonderfully warm, the beds are soft and the owner walks around with a broom to clean up the whole day. Caraz is much quieter than Huaraz and there is a real local atmosphere.

Eating and drinking
If you walk the Santa Cruz Trail independent, you will have to carry all your food and cooking equipment yourself. It is possible to buy something in Vaqueria, but it is better to take everything from Huaraz or Caraz, because during the walk you will find nothing more. At the end of the walk, in Cachapampa, there are a few small restaurants, although these were almost all closed when we arrived at 3.30 pm.

The water of the rivers is drinkable in the national park. We had our filter, but did not use it during the hike. There are rivers everywhere so you do not have to bring a large amount of water. We carried three liters of water for two people and never had problems finding water.
Weather
The months of June to September are the best months for hiking in the Cordillera Blanca. These are the dry months with beautiful blue skies. Yet the mountains are unpredictable, especially with the climate change. We were lucky with three days of beautiful weather, but three days earlier we cycled through the rain in the same mountain range. Regardless of what they predict, rainwear should always be taken in the mountains.