Sea to Summit sleep system
Several years ago we switched from a thin, foam sleeping mat to an inflatable sleeping mat. Olivier, in particular, started to have problems with his hips after a few nights on a hard mat, which led to an inflammation. The first night on an inflatable mat was a revelation and we wondered why we hurt ourselves for so long. Our first sleeping mats were a Vaude Norssken and Exped Synmat. Both are very good sleeping mats with some small downsides. The Exped mat has its well-known problem that the adhesive layer between the layers comes off and you get a thick bulge. We've had this twice, fortunately within the warranty period. The inflation valve on the Vaude mat broke off after two years of intensive use. For our winter expedition, we chose a Sea to Summit sleeping mat with extra insulation. So far, we slept on it more than thirty times in temperatures down to -30 degrees and are extremely satisfied.
(+) Smart system

Sea to Summit uses a smart system to inflate the sleeping mat. An inflatable bag is built-in in the bottom of the stuff sack. With this you inflate the mat very quickly, blowing twice is sufficient. Only the color they used to indicate the bottom of the storage bag is confusing so we regularly open the wrong side.

(+) Airstream pump

it is recommended to inflate a sleeping mat with an air bag. With the mouth, moist air enters the inside of the sleeping mat, which can freeze or mold. Also, at -20 degrees or above 4,000 meters, blowing up by mouth is no fun.

(+) Double layer of air cells

the sleeping mat has a layer of air cells on both sides. This way your body weight is better distributed, it provides better insulation and if there is a puncture on one side, you still have the other side to lay on (until you repair it).

(+) R-value 4

The R value indicates the insulation value of a sleeping mat. This value varies between 0 and 6, with 6 being the best insulation. The Sea to Summit Comfort Plus Insulated has an R-value 4, which is suitable down to -25 degrees according to the standards. We used a Thermarest foam mat for extra insulation from the cold snow floor and thus had a combined r-value of 6.5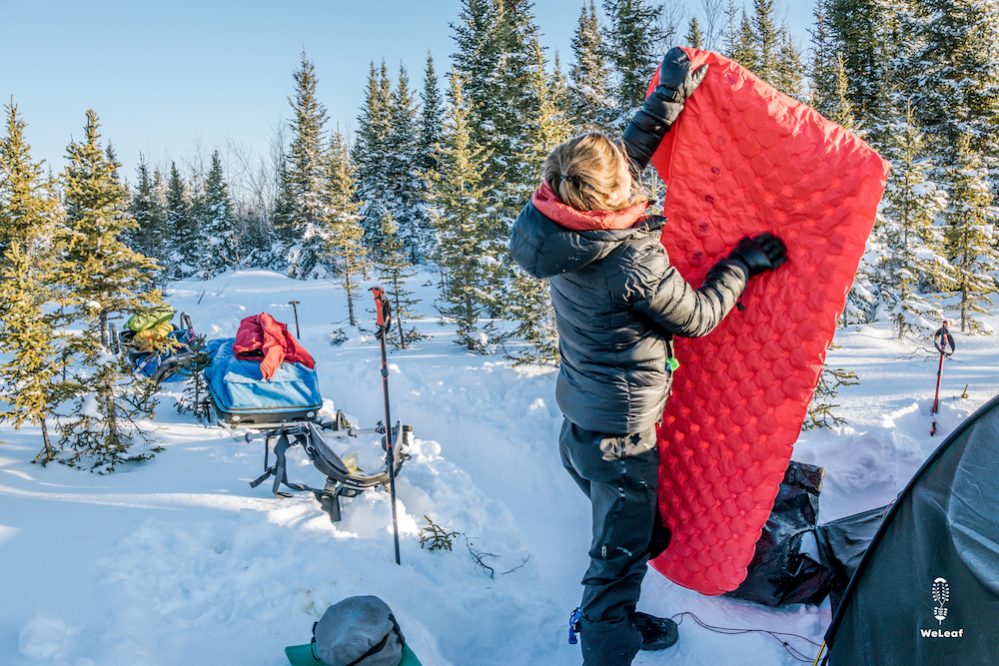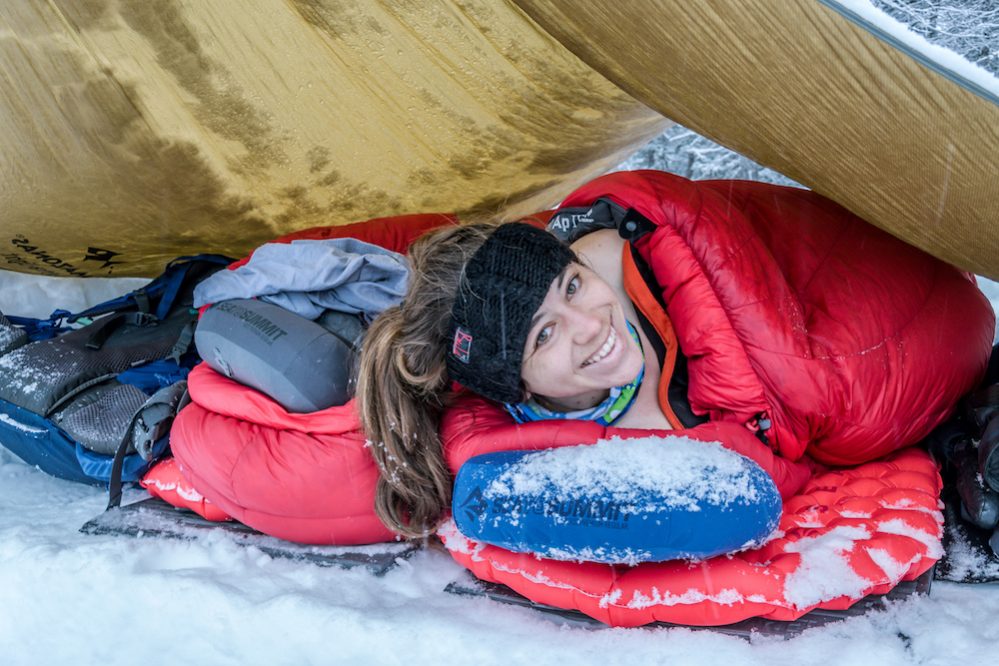 (+/-) Pillow fixation system

Sea to Summit has a special system to attach the pillow to the sleeping mat. These are small stickers that you stick on the sleeping mat. It works very well, but Olivier always slept with his pillow inside the hoody of the sleeping bag, so he never used it. In this case, the stickers pull on the sleeping bag so that it wears at the height of the pillow. We took it off again, but we may use it again for summer camping.

(-) Valve in cold weather

We noticed that the valve is harder to close at -20 degrees and sometimes opens again if you don't pay attention. In winter this is less pleasant because you want to do as less actions as possible with bare hands.
Our conclusion
The Sea to Summit Comfort Plus Insulated is a very good and comfortable sleeping mat, with some advantages such as the air cells and the handy inflatable bag. The r-value for winter camping in extremely cold temperatures is on the low side so you need an extra foam mat. There are lighter sleeping mats with a higher r-value on the market, although that says nothing about the quality and sleeping comfort.
Curious about what we took with us during our winter trip on The Route Blanche and how we organized our belongings? You can read it all in our packing list for a winter trek..

On the Sea to Summit website you will find more technical information about the Comfort Plus sleeping mat and their other sleeping mats. Sea to Summit also has a handy tool to find the right sleeping bag, sleeping mat and liner, the sleep system finder.