Giant Trooper
The Giant Troopers are no longer made, but there are still a number of second-hands. Who says you need a brand new bike to travel the world? We bought our Giant Troopers for € 110 each from an older couple from Amsterdam. The bikes were perfectly maintained, but already 25 years old. Yet it was love at first sight for us and this never left. A bicycle touring shop in the Netherlands told us that we would never make it to Spain on our Giant Troopers, but after almost 30,000 kilometers we are still rolling smoothly.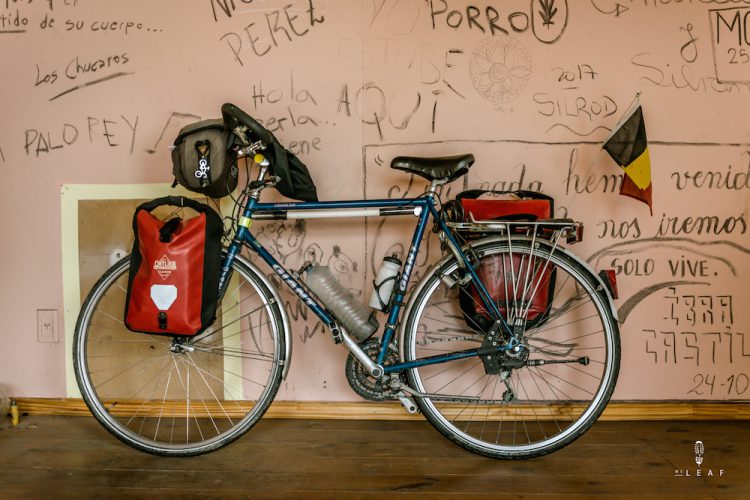 ---
A reliable, sturdy design with a steel frame. That is all you need to travel around the world on a bicycle. We have bought our Giant Troopers second hand. They are about 30 years old and after 28,000 kilometers and many unpaved roads, crossing the Atlantic Ocean and suffering all the Andes climbs they still run like new. The design and parts are simple, but this makes it easy to carry out repairs and to find spare parts, except the 28 "wheels.
Shimano 300LX gear system - 21 gears (12-32 back | 48-38-28 front)
Cantilever brakes. We would advice to replace it with hydraulic rim brakes or disc brakes, because sometimes there is not enough braking force.
Aluminum pannier rack: this is the most vulnerable part of our Giant Trooper. On our way to Ushuaia the rack broke and only thousands of kilometers later, in Bolivia, we found an aluminum welder.
On
marktplaats
(a Dutch second hand website) you can find a whole bunch of beautiful second-hand bikes to travel around the world.
Bicycle touring pack list
The Giant Trooper is the largest and heaviest item from our gear list for a cycling trip. In the packing list you will find everything we carry with us during our world trip by bicycle. Of course you can leave a lot of things at home for a shorter cycling trip.