Amazonas Moskito-Traveller Thermo hammock
During our world trip we have been in various cultures where people do not have a bed, but sleep in a hammock. We tried it ourselves a number of times and especially Olivier was quickly convinced. We bought two cotton hammocks in Brazil for our future home. In the tropical areas of Paraguay, Bolivia and Colombia we noticed that our 4-season Hilleberg tent is not suitable for the warm temperatures. We often lay awake for nights, bathed in sweat. We bought a mosquito net and were able to sleep a little cooler, although we were limited to a bed or clean ground to lay our sleeping mats on. When we were preparing the section through Central America and Mexico, we soon knew that a hammock could be ideal. We found the Amazonas Moskito-Traveller Thermo, a lightweight hammock with a built-in mosquito net and room for insulation. A few months later we slept about 30 times in the hammocks, enough to write a review.
(+) Lightweight

the hammock, including the adventure rope suspension system, weighs only 750 grams. If you combine it with the Ultralight Adventure Tarp it still weighs only 1.1 kilograms which is much lighter than most tents. Our Hilleberg Tent weighs 3.8 kilograms, including the ground cover.

(+) Perfect for warm climates

a hammock is perfect for sleeping in warm climates because there is ventilation from above and below. Even in tropical Mexico and Guatemala, we needed our Nomad sleeping bags in the mornings. If it gets colder than 10 degrees, you need more insulation from below. For this you can slide a thermo mat into the double bottom. The Ultralight Adventure Tarp above the hammock also provides extra warmth in colder temperatures.

(+)Perfect chair to rest

the hammock is great to relax in after a walking day. You can lie in it, or let your legs swing outside. Great to read a book.

(+) Mosquito net

the biggest advantage of the hammock is the built-in mosquito net. In warm climates there are always mosquitoes, but that doesn't bother you in the hammock. It is wonderful to relax in the hammock after cycling or walking without being disturbed.

(+) Sleeping like a baby

we sleep amazingly well in our hammocks. The hammock ensures that you sleep in a natural position that is also very good for your back.

(+/i) (too) Small package

The hammock can be folded into a small bag that is built into the hammock. The bag is just a bit too small so it is a bit cramped, but once the hammock is in, you have a very small package. The two small sticks that are needed for the mosquito net must be packed separately, something you can easily forget. Fortunately we have not lost the sticks yet, but that will happen one day.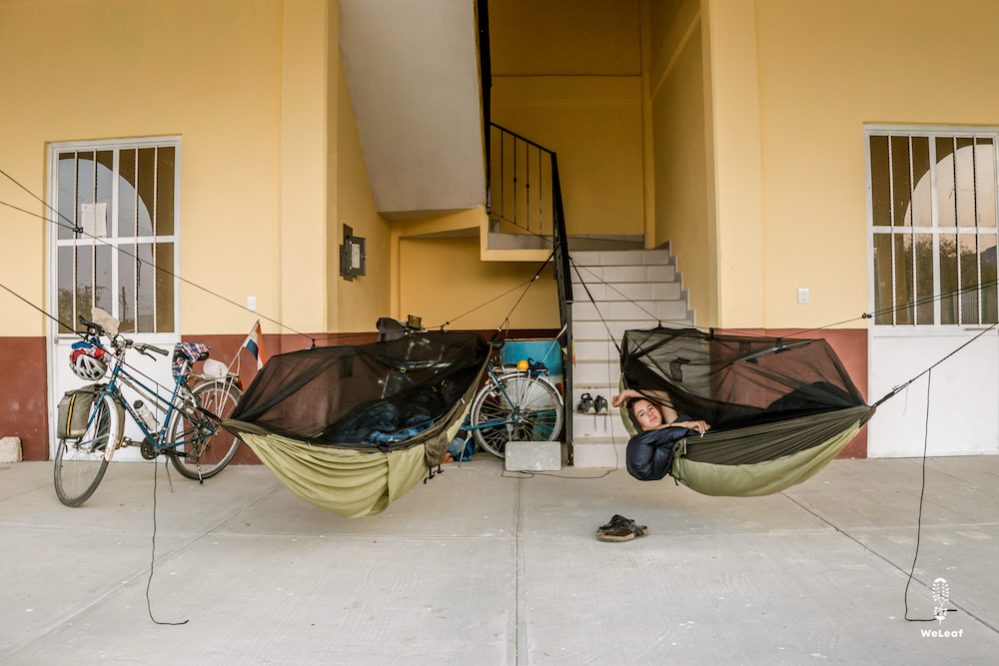 (-) Mosquitos can bite through the bottom

the hammock is made of strong Nylon-Ripstop material. However, we sometimes have the idea that mosquitoes can bite through if you are exposed to nylon with bare skin. Of course you don't want that in a hammock.

(-)Storage

the hammock has two small storage compartments in the mosquito net, but these cannot handle much weight. It would be useful if there was a storage place at the ends to place your phone or e-reader . Amazonas assured us that they will adjust this in the new version.

(-)Wrestling with the sleeping bag

it's a struggle to crawl into our sleeping bag that when you are in a hammock. Both materials slide very easily and you have no grip to turn or straighten yourself easily. After 25 nights we have become a bit better at it, although it still takes a while before you lie comfortably.
Our opinion


We are very satisfied with the hammocks and have slept much better than expected. There are a few minor drawbacks, but we have already passed them on to Amazonas and these are easy to solve in the following models.

You can find more information about the Moskito-Traveler Thermo on the Amazonas website