READY TO BE A ROXSTAR?
'READY TO BE A ROXSTAR' is the first thing you see when you have the Sigma ROX 12.0 box in your hands. It is an original marketing text, well thought-out by Sigma. The ROX 12.0 is Sigma's latest cycling GPS that wants to compete with the Garmin models. But is a cycling GPS an added value for a world cyclist, or is it completely unnecessary? In 2016 we started our world trip without GPS and chose to use our phone as a GPS. We use OSMAnd as navigation and that works very well, as long as we don't cycle in the city and there are few turns. The phone is in our handlebar bag and we rarely look at it when cycling, unless we have doubts. Then we stop to look at the route. In South America that works well because there aren't so many different roads and navigation is not an art. More important there is making the right choices about the route to be taken, but we do all of kinds of that preparation on a computer.

The first days of our world trip we kept track of the daily distance and cycling time. Week after week more statistics were added such as the weather, the altitude, nights in the tent, the number of punctures and the parts that we replaced. We love statistics and have doubted a long time to buy a sports watch to know more about our physical performance. With the ROX 12.0 we suddenly have a whole bunch of statistics. These are our first experiences with the Sigma ROX 12.0:
(+) Fast GPS

The GPS works super fast. The ROX 12.0 immediately finds your position so that your workout starts from the first meter. In addition, the recalculation of routes is fast, without the GPS that gets completely lost. On our phone with OSMAnd, on the other hand, we often spent minutes waiting for a GPS signal, which is a big plus for the Sigma GPS.

(+) Open Street Map

The ROX 12.0, like OSMAnd, uses Open Street Maps. You can download all maps from all over the world, and insert an extra SD card into the device if you have too little space.

(+) Clear screen

The screen is clear and very sharp. It works well in the dark and in bright sunlight. When it rains, the screen still works, unless there is a lot of drops on the screen because then it falters a bit. And in winter you can continue to operate the screen even with thick winter gloves.

(+) Battery

The battery is important for a world cyclist. Fortunately, that is a very positive point. We could cycle three days with the navigation on until the battery was empty. If you use the GPS without navigation, which we hardly needed in South America, the battery will last longer. With a power bank, the ROX 12.0 charges super fast.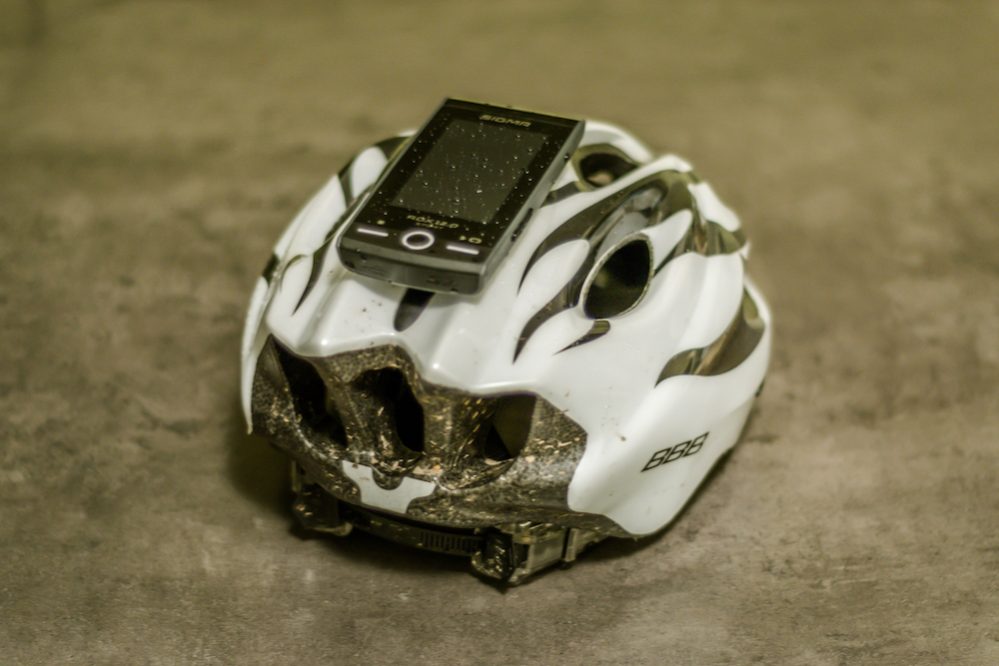 (+) Light

The Sigma ROX 12.0 weighs only 125 grams which is very light for a GPS. Yet it is an extra electronic equipment, because you still cary a mobile phone. On the bike that doesn't matter that much, but if you go hiking, every gram counts.

(+) Extensive data

The ROX 12.0 actually registers everything you want to know. Distances, times, speeds, altitude, gradient, speed uphill, temperature, heart rate, cadence, etc. All data are visible on the GPS, but can be seen much better seen in the Sigma Link App or the Sigma Data Center. There you can compare all data from different workouts and track your progress. We are very curious about the physical effort of a world cyclist and get a lot of insight into our performance.

(+) Multiple sports

The nice thing about the ROX 12.0 is that it is more than a bicycle GPS. Besides cycling there are many other sport profiles such as hiking, running and fitness. It is not an activity tracker that counts the number of steps, but the GPS gives you much more accurate information about the distance covered. It is possible to create your own sport profiles, although the ROX is not so smart that he knows you are canoeing. This is especially useful for yourself so that you have all the data of the different sports grouped under the right sport.

(-) Elevation profile

It is not entirely fair to say that planning a route doesn't work properly because there are many options and the ROX calculates the routes quickly. There is a draw-my-route option where you draw a line with your finger and the GPS itself makes a route. Very nice, but a world cyclist won't use this option very often. After two years of planning routes in South America, we have our requirements that are important for a world cyclist. Usually we plan our routes in advance on a computer or in a specific navigation app such as Komoot or OSMAnd. But there are situations where you suddenly have to choose a different route. The difference in altitude meters or a steep climb can save your day and it's exactly that information you want. When planning routes the ROX shows different routes (fastest, easiest or recommended) with the altimeters, but unfortunately you can't zoom in on the graph with the altimeters. We have passed this on to Sigma and hopefully this is possible in one of the following updates. It is possible to make routes on the road in Strava or Komoot and synchronize them with the GPS, but that is double work and we often have no internet connection in the middle of nowhere.

(-) Navigating to POI's

There is a second situation where planning a route is very important to us: the Points of Interest (bank, supermarket, etc). In OSMAnd we can indicate that we are looking for a bank and the app shows all banks on the map. For example, we know that there is a bank in the next city, or where the nearest bank is from our current location. The map of the Sigma ROX 12.0 also contains different POIs, but you can't display all of them on the map and you can't click on the POI's. This is inconvenient because then we have to use our phone as a backup when we search for a POI. We have also passed this on to Sigma.

Conclusion: Is the Sigma ROX 12.0 a must for a world cyclist? No, but absolutely an added value if you like statistics, want to measure your performance and like to track more sports than cycling. We have now successfully tested the GPS during a five-day trip in the Netherlands, but the big test follows with our next adventure 'Self-supported through North America' where we will use the GPS during the cycling, the hiking and the canoeing.