6 reasons to start the NFCT in August
October 27, 2019
Bicycle touring pack list
November 2, 2019

---
Wednesday August 21st - Saranac River
Was it a smart choice to start the canoe trip without any experience? We could also have opted for a three-day trip, to feel what that is like, to adjust our gear, to learn the canoeing technique and then to start one of the most challenging canoe trips in the US. We could have done that, but a leap into the deep is the best way to learn, and the most challenging, we think. We would learn the canoeing technique along the way, and after fifty days we would be experts. Tight plan, until we saw the first rapids in the river in front of us. The water level was low so we saw stones everywhere and fast-flowing water between the stones. Experienced canoeists had told us beforehand that you should follow the flow with the most water. We stand on a large rock just before the rapids and scout the best way. "To the right of that big stone, then immediately to the left and then to the left of that stone," says Zoë, "or perhaps better to the left of that stone and then stay left." We can see just 30 meters far and then the river turns around the bend. Actually we are not worried about the rapids, the only thing we want to avoid is a scratch on our canoe.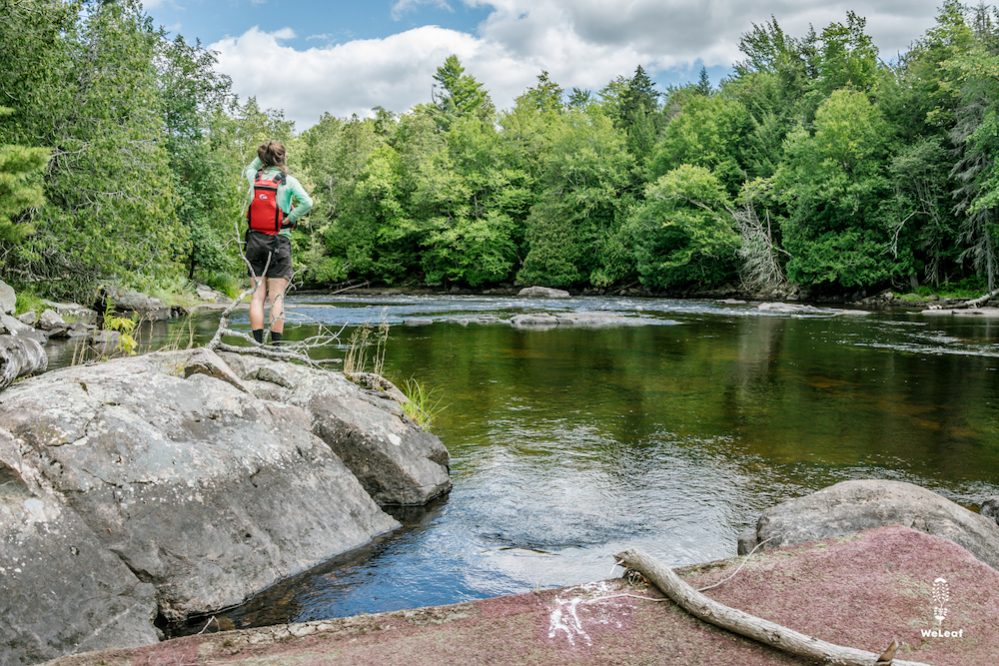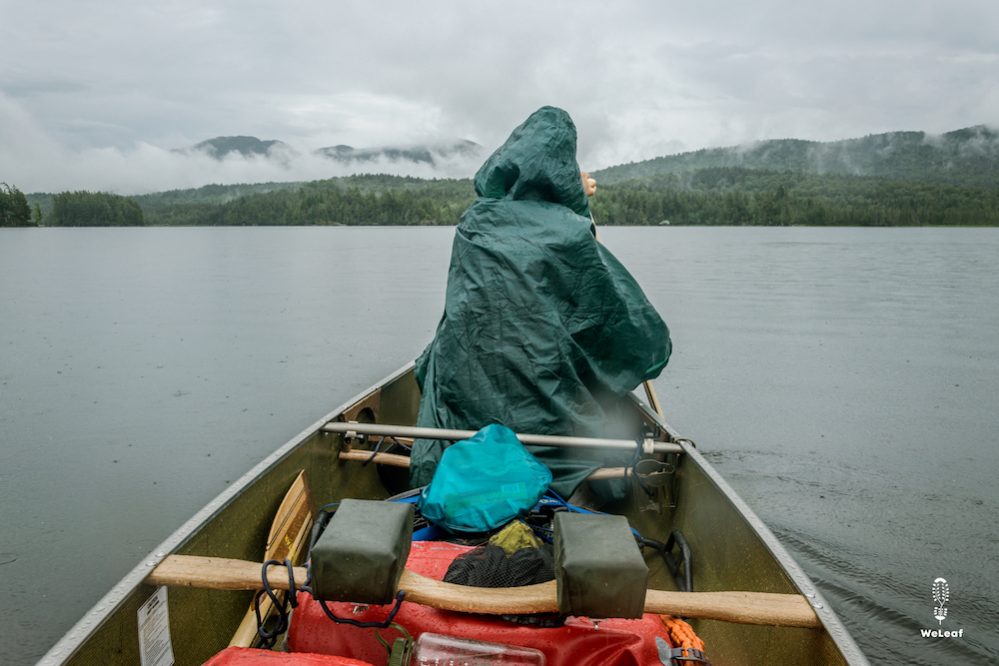 "Let's try it. You must say right or left very clear, and keep paddling" says Olivier.
We step back into the canoe, tie all the bags to the canoe and let the water guide us. From the top of the rock, the water didn't seem to flow that fast, but once in the canoe, the first big stone comes closer very quickly.
"Left, left!" shouts Zoë.
"Paddle right" Olivier shouts back
We can just dodge the big stone and we are already heading at the next stone. -Was it left or right of this stone- goes through our head. There is no time to think. We have to make a quick decision. A decision based solely on intuition and not on any experience. Didn't we want to be thrown in the unknown?
Zoë sees the best route just in time and shouts "to the right!" We can also dodge the second big stone and we prepare for the next manoeuvre.
"Kkkrrrrrrrrrrrrkrkrkrkrkkrrrrrrrrrrrr"
We scrape from the front to the back over a stone that lies just below the water surface.
"Oh shit! That is a very big scratch, Zoë swears with a very big disappointment.
We don't have much time to mourn because the stones keep following each other. We hit hidden stones a few times and almost crash with the side on a large stone, but for the first time we did quite well. We didn't flip, no paddles are lost and there is no hole in the canoe. Still, a manoeuvring-in-rapids-lesson would not have been a wrong choice.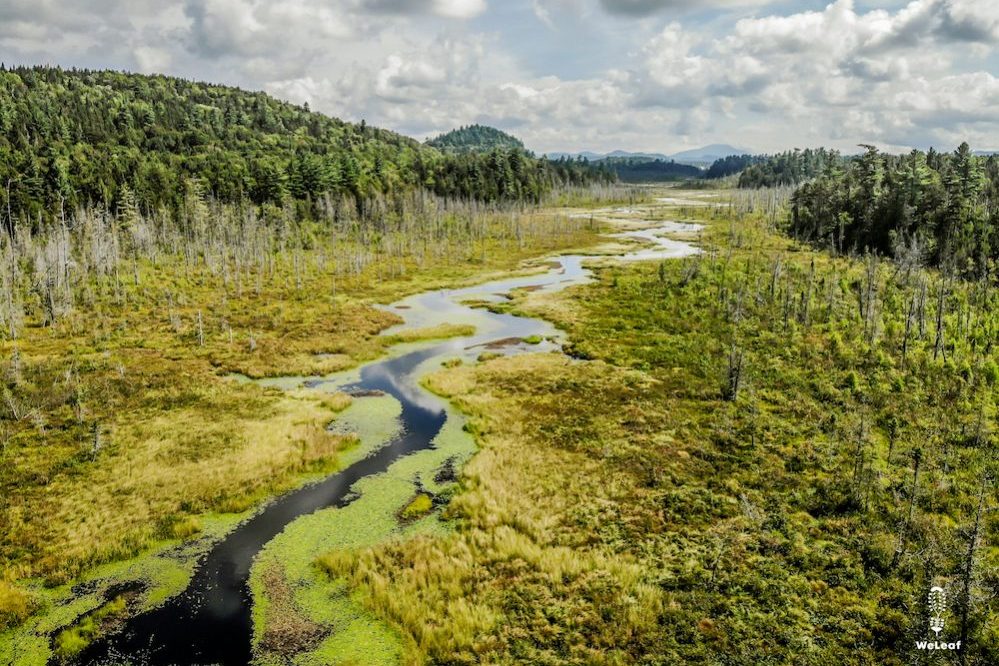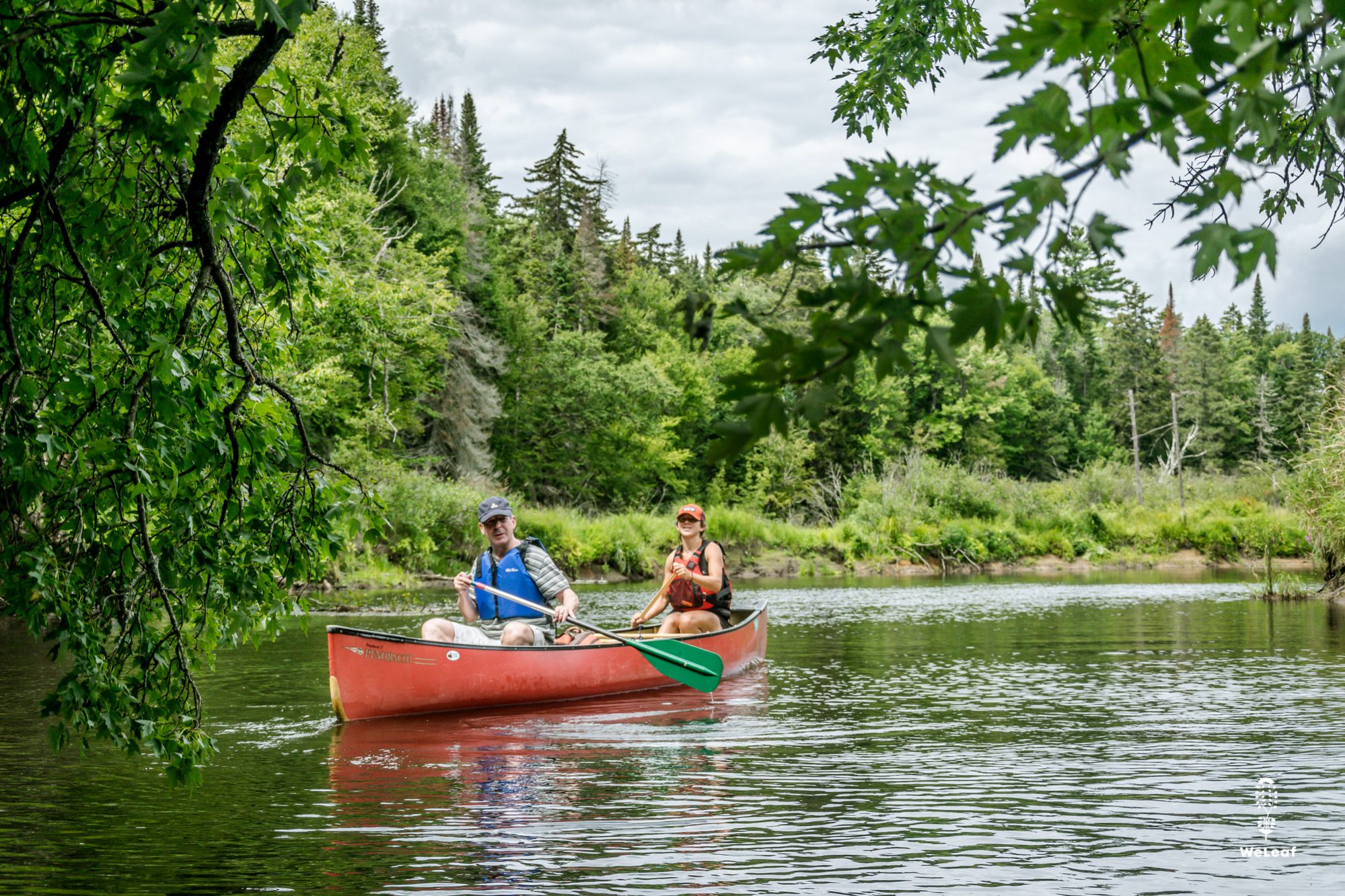 Between the second and third set of rapids there is a small sign on the tree. "Portage Casey Road" is on it. We know that after rapids of class III and IV will come, small waterfalls. That is far beyond our skills so we leave the water at the sign and have to walk along the road. We will do that portage tomorrow morning because we are sleeping in the forest tonight, next to the canoe take-out. The only problem is that there is only room for one small tent and we are with a larger party this evening. Since yesterday Rob and Ellen, Zoë's parents, joined us. They don't paddle with us, but we plan to camp together every night. At the first meeting that was quite a job, with Rob and Ellen's suitcases going to the campsite in the canoe while they had to walk along a long forest trail. We had a beautiful place next to a meandering river. Rob and Ellen found us at a remote bridge. When the suitcases arrived via our canoe taxi, we sat down on the picnic blanket and caught up after not seeing each other for half a year. We also let Zoë's parents taste the canoeing. Ellen steps into the canoe with Olivier while Zoë and Rob float behind them. Rob's canoe experiences date back 45 years to the southern US. He clearly suffered a slight trauma because he only talks about capsizing and snakes falling out of the trees. So far the meetings in the evening went perfectly, but today it seems to be almost impossible. Olivier walks the trail through the forest, which would be impossible to find without the yellow signs on the trees. The trail ends at a dirt road, coming from a random place in the forest that looks just like all places left and right of the exit. - They will never find this - Olivier thinks. After half an hour Rob and Ellen drive by, for the fourth time. They have found a better place. We get our gear our of the forest and walk together to the place. The so-called camping site turns out to be a "camp", someone's summer house. The picnic table and outside toilet indeed invite for camping, but all signs "keep out, private property" tell something else. There is no alternative but to continue walking on the road to the first house where we see people.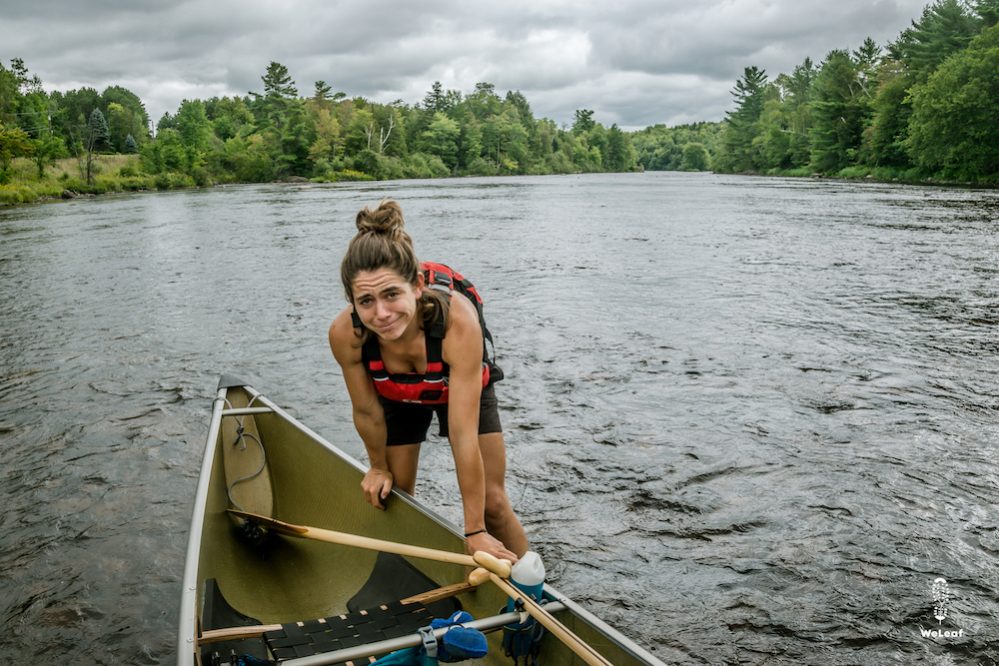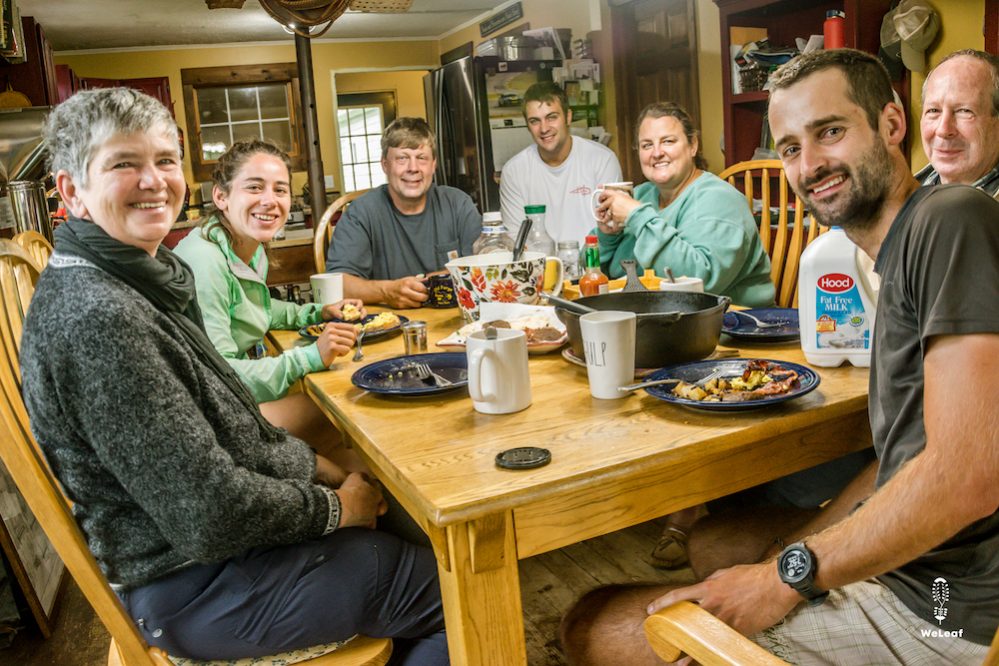 Two kilometers later there is a family outside around a dog kennel with small puppies. Rob and Ellen had already talked to them in their search for us and Rob suggests taking a chance. He sends his daughter and wife out. "They looked like very friendly people," he encourages. "If it succeeds, mom and dad can get a glimpse into our experiences," Zoë thinks.
She approaches the people and explains the situation. "So maybe we can put our tent in your field?" she asks. With success, we can of course put the tent in the garden and unexpectedly have a much nicer place than the dark forest. Lee and Holly invite us for a beer, we can use their outside grill for cooking, eat at the table and they make sure we feel comfortable. After dinner we sit on the porch with the whole family.
"What are your plans for the weekend?" Asks Olivier
"Well, tomorrow morning I'll start making breakfast for my new European friends," says Lee followed by a big smile.
Like many Americans, they do not know many Europeans and they are proud to meet a few. Like everywhere in the US, the door opens wide and it's the American hospitality like we experienced so often. They live in a beautiful area on the edge of the Adirondacks Park. They know the area perfectly, but the wide world is unknown territory.

At six in the morning, Lee is already frying bacon on the outside grill.
"You must have been hosted by many people, but we hope we will be in the top 10," Holly jokes.
For us it was one of many special encounters and hospitality during our trip, for Rob and Ellen this was a new experience in our way of traveling. It was a short but nice five days with Zoë her parents. The highlight was the day of canoeing and the homestay with Holly and Lee. We wave goodbye to them and continue our path again.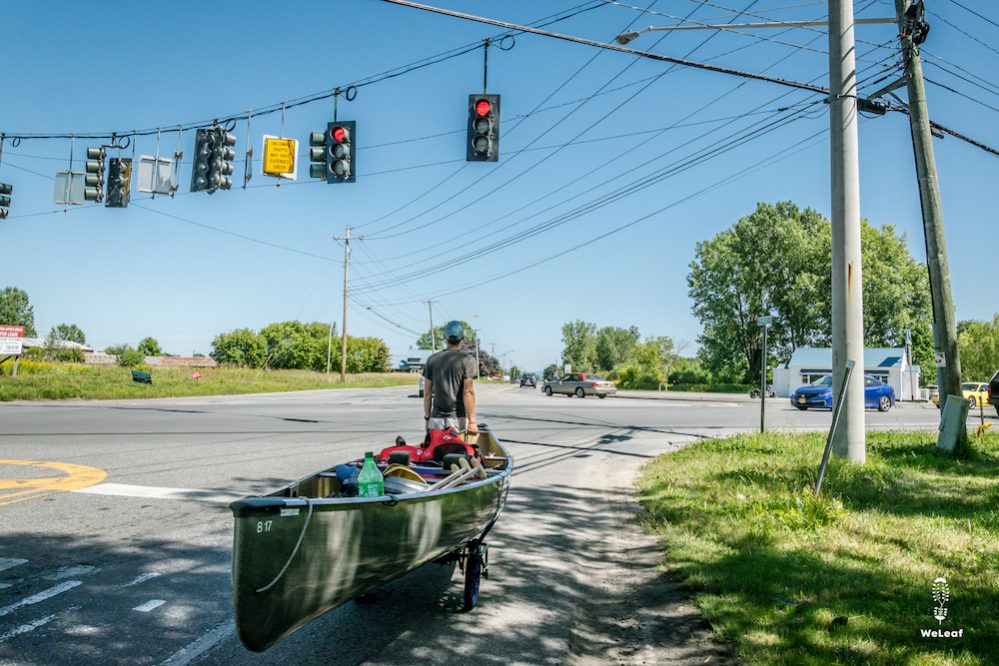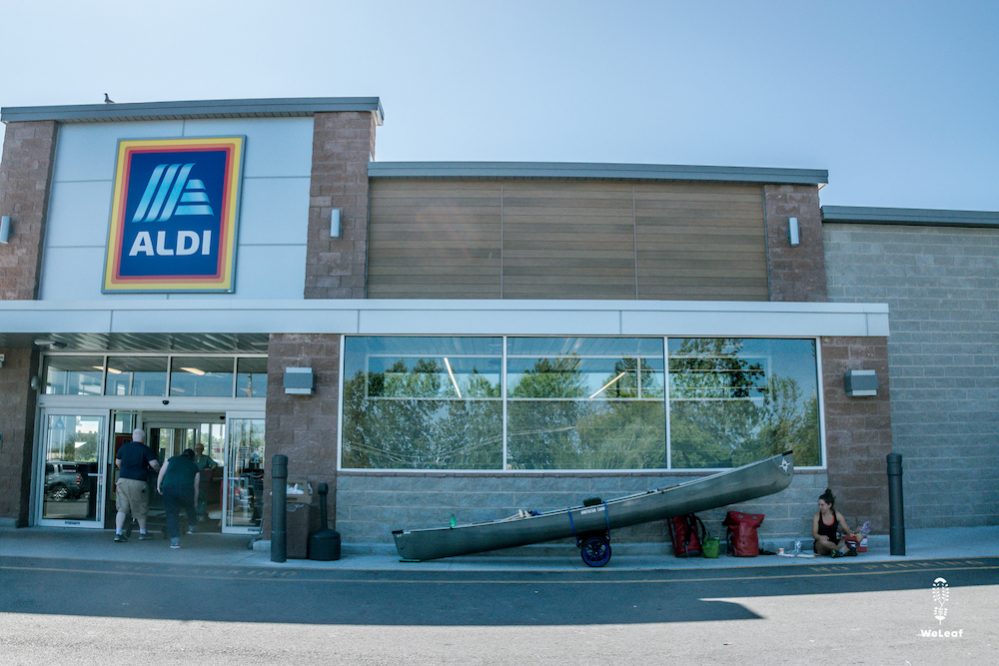 The following days we are introduced to the low water levels for the first time. The Saranac River is so low that we have to walk through the river. Under water it is full of slippery, bone breaking stones. Sometimes we can sit twenty meters in the canoe, but that is only rare. We hardly move forward and only collect more scratches on the canoe. It is a simple choice, struggling in the river or portaging on the road. We decide to walk to Plattsburg, more than twenty kilometers on the road between the normal traffic. We wait at traffic lights, pass by the supermarket and walk on footpaths. People are staring at us, partly out of surprise, others with a slight contempt. "Don't you have a car?" someone asks us along the way, which immediately explains what people think of us. Once we were parked in front of the Aldi with our canoe. Olivier did the shopping and Zoë took the opportunity to prepare lunch. Wraps with cheese, peperoni and walnuts. People look away as they walk by and ignore Zoë's eyes who want to say hello. Only one individual dares to ask a question. He has just left the supermarket and is watching what Zoë is making.
"Is it tasty?" is his somewhat strange question.
"Yes, it's our lunch," says Zoë, sitting on the floor.
"What's on it? If Zoë explains our menu, he walks on, then he suddenly turns around again, a little doubtfully.
"Can I have one?" he calls from a distance.
"But of course" Zoë says while she handed a ready-made wrap. He wriggles into his pocket and puts a crumpled two dollar bill in her hand. She rejects it but he insists. Confused she shakes her head with a big smile. "OH this is really good! "He shouts from his car. Zoë has to laugh out loud and can't wait to tell Olivier this. She has just earned 2 dollars for greasing her lunch. Whether this is a pity action or it was pure curiosity, we don't know. Satisfied after 9 wraps, instead of 10, we continue our long portage. According to our guidebook, the longest portage of the canoe trip is 9.5 kilometers. We have done way more than that today and that wasn't even so hard, but we have the habit of travelling on roads for three years now.

We quickly change from absolute beginners to semi-advanced. We learn to read the water surface and see the difference between stones, plants or a tree. We learn to estimate the depth of the boat and know that we will not touch the bottom at twenty centimeters of water depth. We learn to steer in rapids, and learn that a scratch on the canoe is part of the trip, but that you can sometimes portage as well. In our case we end up portaging a lot, but does experience makes another choice? If you don't care about scratches or if you make the choice to walk? Experienced paddlers also opt for an extra walk to save the canoe, as we hear later. Perhaps we are no longer completely novice?