Care Plus Water filter
'Agua es vida' (water is life) is written on many billboards in various villages in South America. Potable and pure water is essential not only for nature, but also for people and animals. During our trip around the world, water is our most used fuel and actually we hardly drink anything else. On our trip we came in many different areas and climates. In deserts where there was scarcely any water, in the mountains where we drink the water from the rivers and lakes and on the ocean where we surrounded by water, we had to be extremely careful with our water supply. We cycled through areas where there was plenty of water, but where it was heavily polluted by industry or mining. But also by areas where water supplies were scarce and primitive. The water came from a deep well and was picked up from the ground with a plastic bucket, turbid from the sand. Thanks to our Care Plus Water filter, we always have potable water.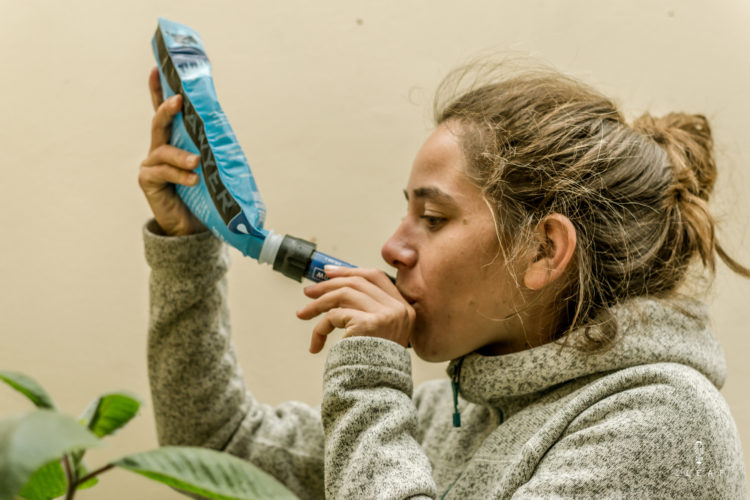 (+) 365.000 liter

The filter states that you can filter 365.000 liters of water with it. This corresponds to filtering ten liters of water per day for a hundred years. In short, you do not get that done in a human life. The price of the Care Plus water filter comes down to € 0.0001 per liter.

(+) lightweight

The filter weighs only 65 grams, but that does not include the squeeze bag and the syringe to clean the filter. Yet it is extremely light and therefore very suitable for every adventurer.

(+) ready to use

The package consists of a sturdy squeeze bag that you fill with the water to be filtered. On this bag is a screw cap on which you turn the filter. Then you empty the bag in a bottle or you drink directly from the filter. In contrast to other filter systems such as droplets or tablets, you can immediately drink the filtered water.
(+) Easy to clean

In the package of the Care Plus water filter is a large syringe. This serves to clean the filter using the backwashing technique. After you have filtered water from a river with lots of fine sand particles, the filter will be a lot slower. By pushing clean water through the filter in the opposite direction, you can completely clean the filter.

(+) Filters almost everything

The filter has extremely small pores that prevent 99,99999% of the harmful bacteria and protozoa. E. Coli, the cause of most travellers diarrheas, does not stand a chance. However, the filter does not stop everything. Viruses and chemicals can pass through the small pores, but most travellers are vaccinated against viruses such as hepatitis.

(-) Take your time

The filter has a theoretical flow rate of 1.4 liters per minute, but we have never filled a bottle so quickly. It takes a while to fill a one and a half liter bottle. The capacity of the water bag is about 600 ml. Yet it is faster than a tablet or drops that have to work for an hour before you can drink it.
On the
website of Care Plus
you can find more information about the Care Plus Waterfilter.