Cycling in heaven
June 6, 2018
Counting dead animals
June 16, 2018

---
Cycling on Salar de Uyuni and Salar de Coipasa
For a truly unique experience in South America, you cannot skip this, Salar de Uyuni on bike. It is the experience of a bike ride in an unreal landscape, where you seem to cycle in heaven. It is popular among cyclists, yet we came up with a few small surprises. Here you will find our best tips for your adventure.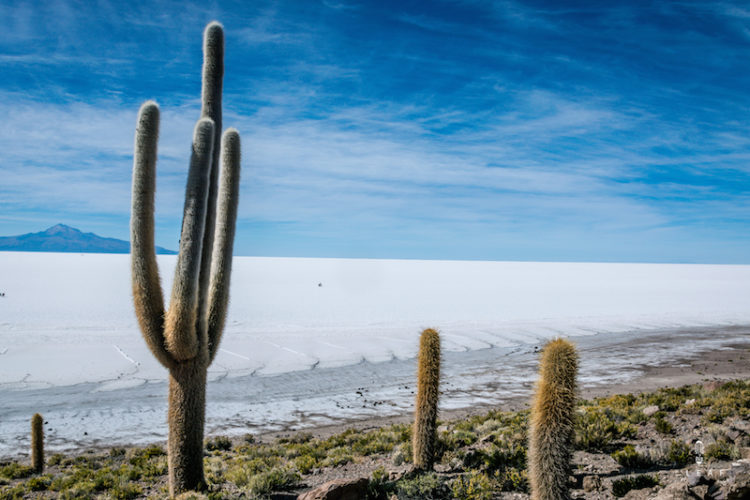 From Uyuni to Sabaya
There are many directions possible over the salt flats. Look at it well in advance and make sure you stay on the 'roads'. These are fixed car tracks criss-crossing over the plains. If you go off, you become easily disoriented. Moreover, it is very uncomfortable and slow away from the tracks. Our telephone GPS occasionally let us down, that's why a compass can be an useful tool. Do not be fooled if the road makes a strange turn, just trust your feeling and stay on the tracks.
The route we took crosses two salt lakes, the famous Salar de Uyuni and lesser known Salar de Coipasa. The route with tips can be found in the map below.

Salar de Uyuni. The largest salt flat in the world. Until the island of Incahuasi there are many tourist jeeps and many routes to follow. The island is only visible after about 40 kilometers, so orientation is difficult in the beginning. After lunch all tourists jeeps pass by, pointing in the right direction. After the island it is very quiet and the salt flat is even more beautiful. Sometimes a jeep comes along and even a bus runs twice a day.

Salar de Coipasa: from Llica, the mainland, there is a bad sandy road up to Challacollo. From there there is a well-to-follow route along the edge of the Salar de Coipasa. Take the single tracks made by motorbikes, which cycle smoothly and provide an ultimate experience. You can turn to the salt flat close to the village Tres Cruces. The first kilometers are wet, but is is getting better soon. Note that the salt is a lot softer and the bikes get a thick layer of salt to endure. In our case, at the end of May, the salt flats were flooded near Coipasa. It is advisable to turn left earlier towards the island of Coipasa and cycle along the coast. This salt flat on the bike is a unique experience. There is no traffic, you are all by your self. We saw only one car on the whole salt flat. Note that you are dependent on yourself in case of a breakdown.

Whatever salt surface you take, the salt structure changes permanently, resulting in the quality of the route. Sometimes flat salt tiles, sometimes deep grooves, sometimes rough bumps. Our bicycle speed varied between 6 to 22 kilometers per hour. It is therefore very difficult to estimate how long you will be riding. We counted an average of 12-15 kilometers per hour, and if we made it before, we took it as a reward. Ultimately 80% is good and comfortable to cycle, but the bad parts are very exhausting.

We did five days from Uyuni to Sabaya: Day 1: Uyuni - Salar de Uyuni (20 kilometers before Isla Incahuasi) | 82 kilometers, 5.5 hours Day 2: Up to 25 kilometers after Isla Pescado | 64 kilometers, 4 hours Day 3: Salar de Uyuni - Llica | 37.5 kilometers, 2.2 hours Day 4: Llica - Salar de Coipasa | 67 kilometers, 5 hours Day 5: Salar de Coipasa - Sabaya | 54 kilometers, 4 hours
Water and food
Take enough water. You are at altitude, with full sun and plenty of salt around you. The body dries out quickly. Because of the cold you do not feel thirsty, but make sure you drink enough water. We had enough with eight liters of water to drink, to boil and to wash. It was possible to refill our water every day. You can top up water on Isla Incahuasi, halfway between Salar de Uyuni, where you can also find snacks and meals at tourist prices, and in the villages of Llica and Coipasa. Take at least one bottle with you in your sleeping compartment in the night, otherwise it is frozen in the morning. Do not forget to bring plastic bags with you to take the waste, including green waste, to the next trash bin. Organic substances have a difficult time on the salt flats. We also took used toilet paper into the garbage.
Sleep
You can sleep anywhere on the salt flats! Spending the night in the tent on the salt flats is a bit colder than on one of the islands. Because salt reflects the light, the salt does not store heat and the tiles remain cold. We felt the cold directly through our sleeping mats. That means, cold from below and from above. Clothing, raincoats or bringing extra insulation material such as cardboard for under your mat can save a sleepless night. From 6 pm the temperature drops below freezing point and it can be very windy on the salt flats at night, a well-tensed tent is advised in such situations. Before you begin the salt flat adventure, bring a stone from the mainland to hammer your pegs in the salt because it is hard as concrete.

Many people warn that it can be dangerous to camp on the salt flats. Jeeps would drive around with drunken drivers at night. However, the vastness of the salt flats is so immense that you can hardly imagine that a car is driving over your square meter of salt that night. We have not heard of any car in the nights on the salt flats. To be sure, we placed the bikes on each side of the tent, to attract attention with the reflectors of the bikes.

Good to now, is that cyclists are helped on the island of Incahuasi for the night, in a room of the guard of the island, although it is now somewhat more difficult with the regulations. In Llica and Coipasa you find accommodation and restaurants at local rates.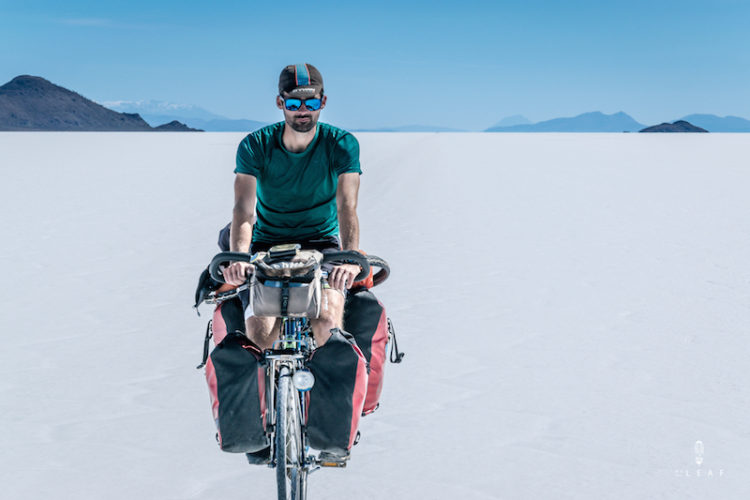 Sun and salt
Salt bites into the bike. It is therefore advisable to grease the bikes well in advance and to wash them as soon as possible afterwards. We treated the bikes with WD-40. During the trip we did not maintain the bikes extra. Clean them with cold water and without soap.

To protect yourself, it is important to ensure sunscream with a high factor. The white salt reflects the sun's rays and your skin receives a double dose of UV. Repeat well and often. Also bring sunglasses. It is just like a ski slope and snow blindness is a risk.
Season
Uyuni is located at 3,700 meters. There is a wet season (summer) and a dry season (winter). In the winter it is freezing cold at night with temperatures up to -10 degrees, but during the day it is pleasant under a bright blue sky. In the summer, parts of the plain are completely submerged. This provides spectacular photos, but also wet feet. It is good to ask local guides about the state of both salt flats.
Read here about our adventure on Salar de Uyuni
Cycling in heaven
The salt flats are a natural phenomenon. Get well prepared on the road to enjoy it optimally. Good luck!