A new start
March 7, 2019
Searching for prejudices
March 20, 2019

---
Sunday Februari 24th- Cancun
---
We are at the restart of our adventure. Right in front of Mariëla's door. We give each other a high five, a smile, look back, wave one-two-and three times and are gone. On the road again. Or actually, just continue where we left off. We turn around the corner and disappear directly into the jungle. Surrounded by a plain of forest, jungle and even more green. Our head lets everything go and within a second we are busy with nothing more than cycling. A focus that takes us day by day, with a single goal in the distance. Today we go directly for our normal distance of eighty kilometers. Yesterday Olivier studied the map and we opt for the small back roads, a road that is barely findable on Google Maps, instead of the main tourist road along the coast. It should take us through the tropical forests of Yutacan, far away from the civilised world. Whether Zoë can handle the distance, we will see on the way, it is the last thing we are thinking about. If it doesn't work, we just stop earlier. What we do quickly worry about is the daily worries of a world cyclist; water and food. In the first and for the time being the last big village we pass, we can't find a SIM card to keep the parents informed. Much worse, we don't find bread, cheese or fruit anywhere and the vegetables are very limited. 'What are we going to have for lunch and breakfast?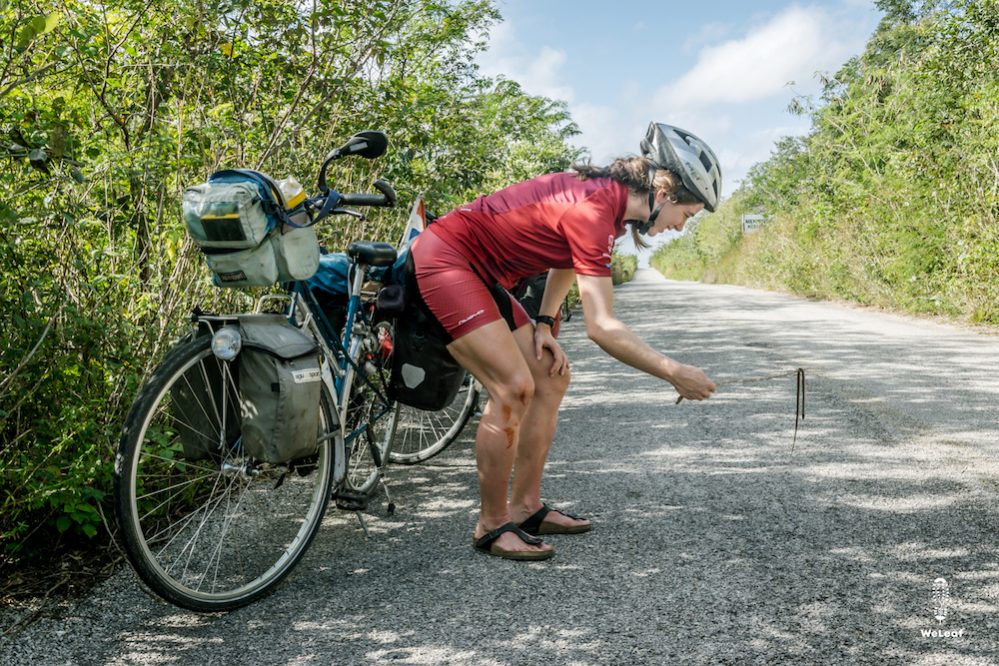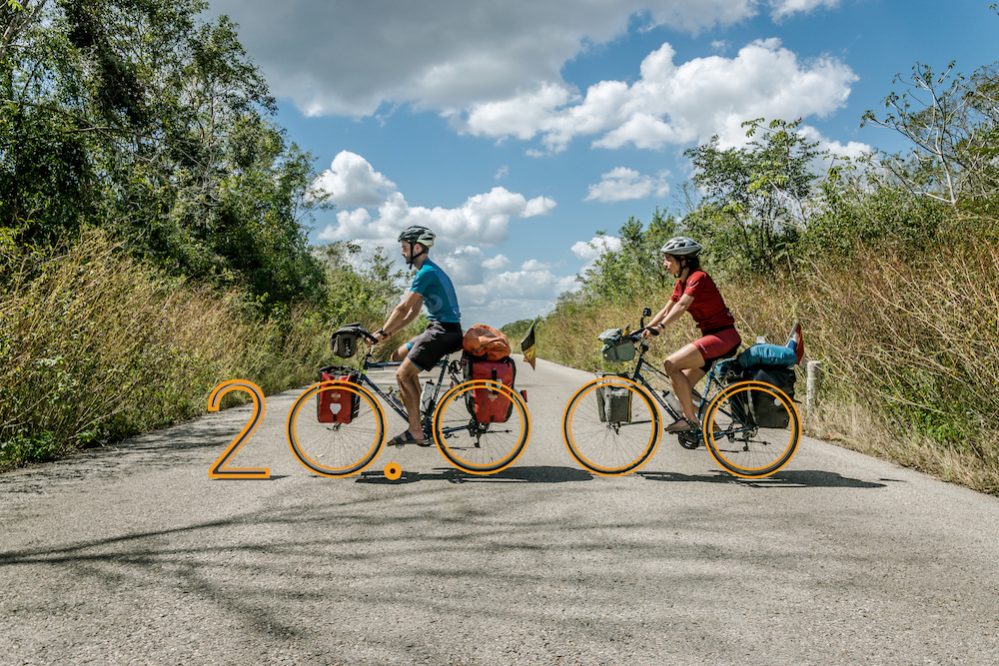 We remember that we didn't find bread in Bolivia either And that they had nothing but carrots and potato in Brazil. 'We figure our something, we always did' says Zoë. Which actually sounds a bit crazy, as if we are practicing how to travel. We alternate winding roads with infinite roads, but before we know it we have the first eighty kilometers behind us, the first eighty, the first day, but at the same time we achieve a huge milestone. Eighty small kilometers in our total journey, but today we touch the twenty thousand kilometers. We give each other another high five "Twenty thousand, that's a lot," says Zoë "Yes," Olivier answers with a smile. The other 19.920 feel far away. We are in one of the few villages that we passed. Small and poor. The houses are built of wood and cane. The people are small, dark and have a robust construction. They look at us both dazed and reckless. They don't really say hello, they are reluctant, but occasionally a group reacts with a shy wave and a smile. We start with confidence on our search for a place to sleep. We have already seen that finding a place In the forest won't work. We target someone's garden. We try it with a farmer with a beautiful palapa, a thatched hut used as a carport. "That's a perfect place for the hammocks," says Olivier. Unfortunately, the man doesn't think so. "There are dogs" is his logical answer. Also our second attempt fails and we get the same strange answer. We are just starting to doubt ourselves when we see Lucio spraying the garden.
Lucio is also a small and robust man. His hands are so small that it looks like his fingertips are missing. "We are two cyclists and are going to Belize. We are looking for a place to stay "says Olivier. "We have two hammocks, could we hang them in one of your trees? Tomorrow morning we leave early "Zoë adds. "There is the door" is his only answer while he sprays his flowers, sitting on the ground. We roll to the door and call another hello. Daughter Sofia hears our question, and lets us in. We can hang the hammocks under her 'roof' in the garden. Her house is simple. Two rooms and a shower, but otherwise nothing is there. No bank, no bed. Just a simple cupboard and of course a TV and some cola bottles. "Where are you sleeping?" Olivier asks in amazement. 'Here in the hammock', Sofia says, as if we asked a stupid question. She even show how it works. "But do you always sleep in the hammock?" Zoë tries without being offensive. When we hear that they sleep in hammocks all their lives, we dare to pick up our latest acquisitions without hard feelings. We hang them up, which we practiced once four days before departure. Father Lucio, eighty five, but still fit as a young sheep, comes to see. He doesn't trust it. He has never been seen before such a thin wire that balances our entire 'light weight' hammock. Just like the built-in mosquito net. He says that he slept in a hotel once in his life. He had to lie in a bed. "That's like a table," he says. 'When I woke up, I had become one myself'.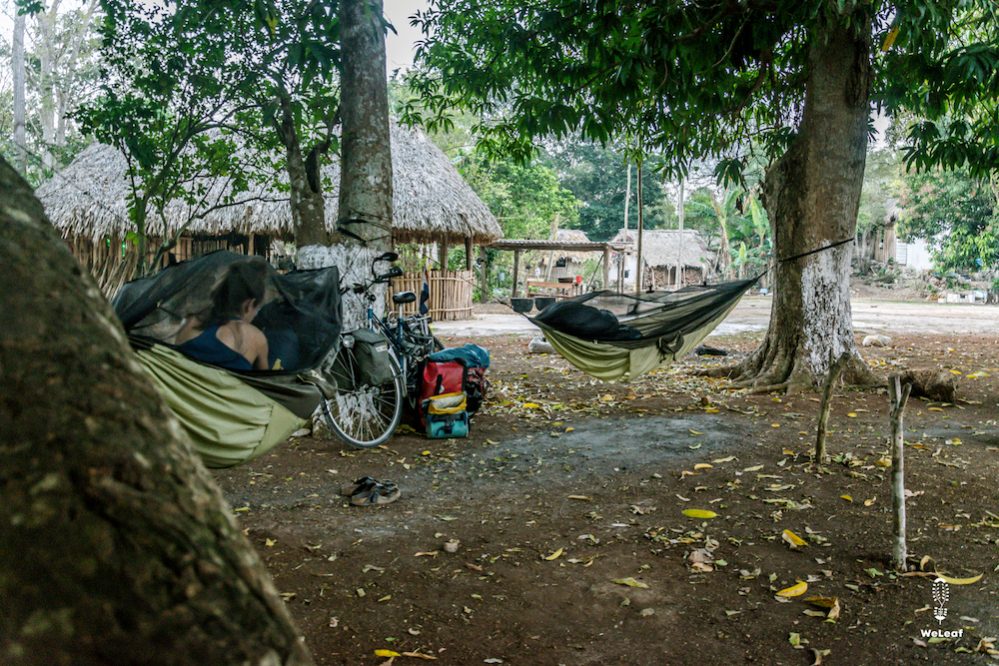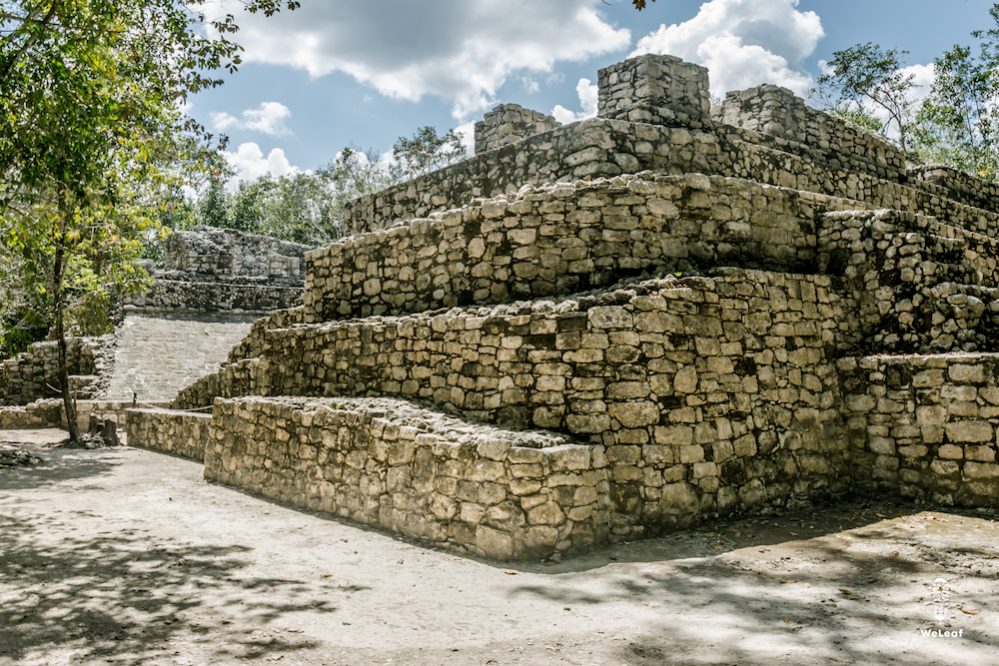 The next morning we are a wooden plank ourselves on the bike. Not because of the hammocks but because of our panniers. We had packed them again and were again confronted with our feelings. In silence, we feel sorrow, irritation and are above all evil. Evil on our own. Everything feels wrong. It is completely wrong. Despite the adventure is just on the doorstep. This isn't our journey at all. We continue to cycle in silence. The irritation turns into our muscles and we kick harder, harder and harder and say less and less. "Aggrrr, we made bad choices!" Olivier thinks angry. "Stupid trip, damn stuff". His fingers tingle and he feels like stopping and throwing away the entire contents of his bags. He gets even worse from that thought. Zoë feels Olivier's frustrations. He feels dissatisfied and in a different world. She is sad. She feels powerless because she can't do anything with her own feelings and Olivier feels far away, which is the most awful for her. A hug and love feels centuries ago. Tears jump in her eyes. "No, I must be strong, she thinks, now it's my turn to help Olivier". As if her feeling is no problem, she starts talking about it again. "We are going to think in solutions". We are ten kilometers further when Olivier has calmed down and actually feels a lot more relaxed. Then Zoë breaks, the tears drip from her cheeks while we continue cycling. "Hey, what's wrong?" Says Olivier. "Do you want a hug" says Olivier suddenly. "Come on, stop". We stop. We park the bikes in the middle of the road and grab each other. Very sturdy and very long, in silence. There we are. In the long stretched green forests, on a long endless road. Fragile in each other's arms.
The bomb exploded in Mexico. The fuse was short, a few days before our departure. But it was this bomb that we needed. And now was the moment that it exploded. Mexico tells us in the hard way that our trip has been interrupted. The realization comes through. We have been out of the game and are not back on the old route. We are suddenly in another country, which we didn't reach cycling. We lack transitions between country and culture. As a result, we can't find our rhythm or 'vibe'. Another language, different food, different culture, different currency. In addition, we are also changed. We have other stuff and have tasted 'home'. Everything is different in the bags, it doesn't fit well and we doubt some choices. In short, there is so much different that our feeling can't give it a place. Now the bomb exploded and there is place for our feeling. We are back again, now really. We are back on the road, we are together and we know that we need each other in difficult times. Together we get out of this. Sometimes it is hard to understand complex feelings but we know how to motivate each other and what we need. We came out together and can now enjoy this trip together again. That's exactly what we do that same day. This time we let all experiences come over us, without a dark cloud above our head.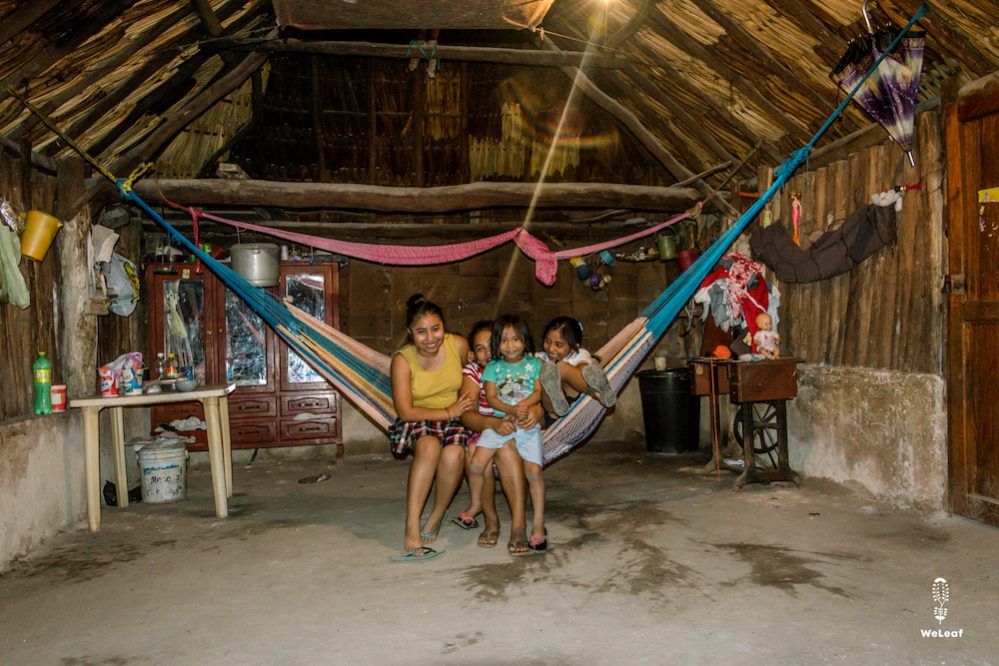 Yukatan and surroundings are known for its ancient Maya culture. Along the way we pass one of the great temples, which we honour with a visit. However, the Cenotes are a much greater pleasure for us. These are underground freshwater caves. In some of them you can swim or even dive. Laughing we think back to how Lucio told us yesterday the shock of his life. He once sat quietly on the side watching two people who disappeared underwater. He had expected them back a minutes later, but they didn't come. He stood by and stared at the water. It didn't take seconds, but minutes and gave up hope. That people had to be drowned. But after half an hour, miraculously, they were there again! Since then he learned about the technology of 'diving'. We ourselves don't take a dive but do jump from a five meters high platform in the water while the stalactites dangle above our heads. A good refresher for the last thirty kilometers. We heard that there is a party tonight in the village. Before we cycle further, we stop in the shadow of a shop for a quick lunch. A shop visitor passes. His fly is wide open. Zoë turns her head to Olivier with a jerk. "Shit, that guy doesn't have any underpants and just hangs his willy in the open air. "You don't want to sleep there tonight" says Olivier with a grin while he checks. The man named Augustin comes to have a chat. He is the organizer of the party in the next village and asks "if we want to come to sleep in his house tonight". While Zoë thinks "oh god", her mouth says: "Oh, that's nice!" The man disappears. "That becomes interesting!" says Zoë. "He was wearing pink underwear " says Olivier with a big grin.
Augustin receives us with open arms. "I never expected you to come," he says. "I am not a man of lies" he adds proudly. He shows us his house. We can hang our hammocks in a room built of stone. Next to is stands the palapa as main house, where a simple kitchen made from clay and the living room are located. In the living room there is nothing more than a hammock and a television. We can shower. Or rather, wash us in the kitchen. There is an old dusty cloth that is worn out over time and has to serve as a curtain. It is one of the most poor houses we have been to. Zoë chatted from one hammock, while mother and her three daughters took place in the hammock opposite. It is at the same time their bed and the children are sleeping together. Olivier cooks on the small wooden fire. After an hour he finally boils his water. The family eats from our pasta and mangoes, which they normally eat with lime and chili. We talk about marriage and children. The mother protects her eldest daughters from the boys, she doesn't want her to marry too early. " hen you marry, you get children and you have to work" she says. The two little ones follow us in every movement. When we walk to our bags, they immediately come after us and want to touch everything. We escape to the party. It's the birthday of a holy virgin and all the ladies are dressed in the traditional clothes from here. A beautiful sight, but the rest is at the Latin American pace and we quickly drift to our hanging beds.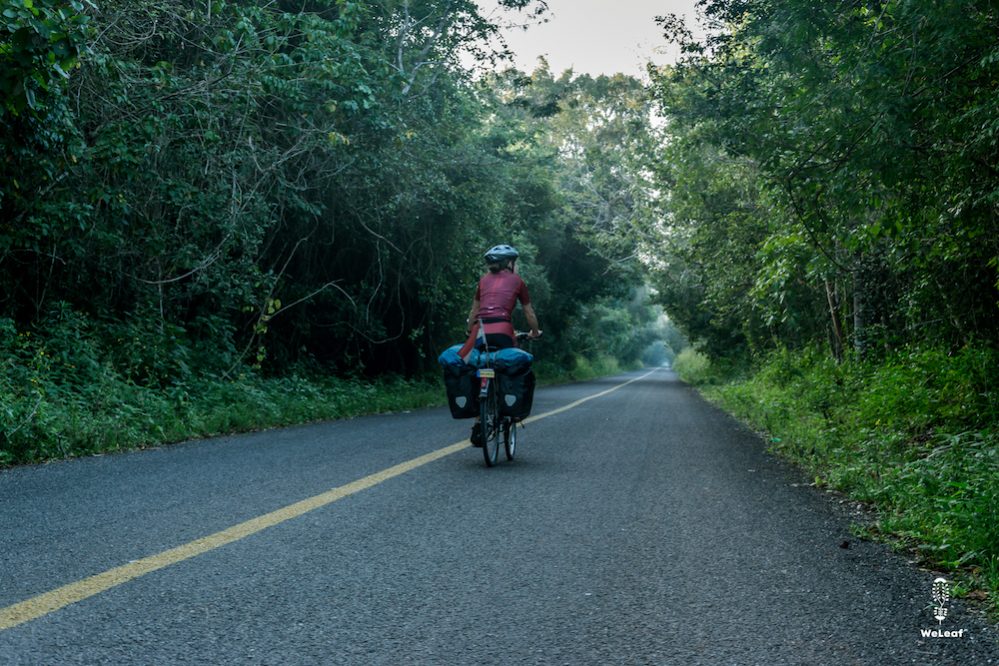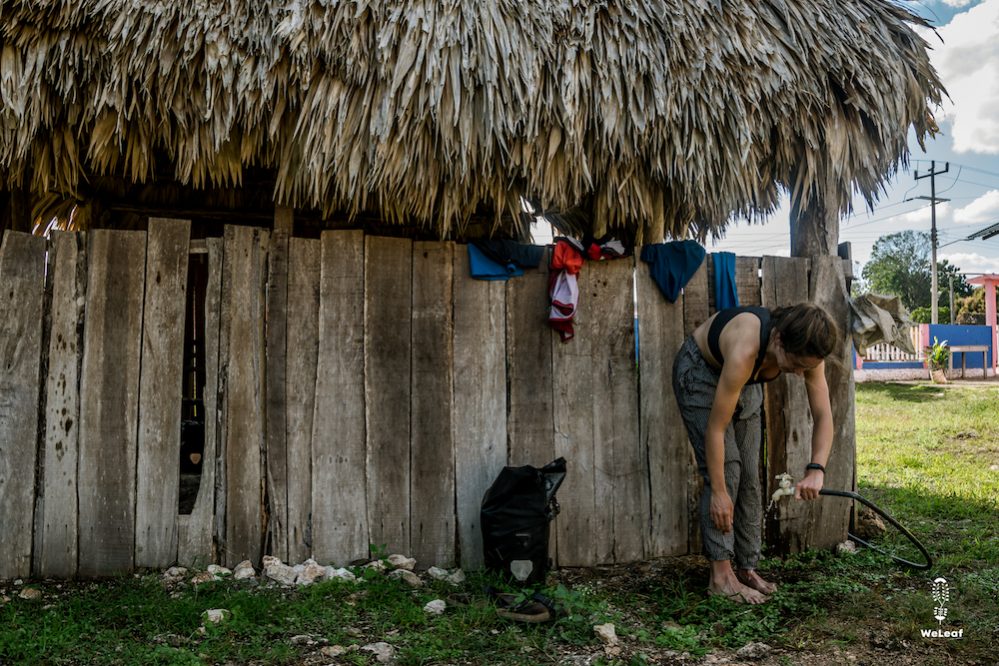 We don't see Augustin the rest of the evening, but he is very early out of bed. "If we don't have a small contribution for him." It is a difficult moment where many will think that we can miss something of our budget, which, despite us, is not the way we look at it. Zoë explains that we are very grateful for his invitation, that we love to enter his house and get to know his family and above all to exchange cultures, but that an invitation is an invitation. We tell him it doesn't work like that for us and he takes it a bit disappointed but well. It stick in our head, on the one hand out of disappointment. You had hoped that he would invite us from his heart and not from the money. On the other hand you arrive in the house of a poor family that doesn't has much. We leave a card and some seeds. They can plant them in the garden and when they bloom they might remember about the fun time we have shared together. We are very grateful to them, with our hearts and hope to have made them richer with an experience instead of money.
We start cycling earlier and earlier because of the heat. The green walls are slowly becoming monotonous and the saddle pain is unbearable. The last night before we arrive in a bigger city we take some time for ourselves. We hang our hammocks next to the church of a small village. The church administrators have no problem and provide us with church stories throughout the evening. There is no shower so when night falls, we are quickly standing naked next to the church. With the garden hose we rinse the sticky sweat of our bodies. We take a very deep breath and smile very satisfied. "Wow, that were a few intense days" Zoë says. "Yes, but I feel good again" says Olivier satisfied. Tomorrow we take a day off and then we leave Mexico already. Seven days in Mexico, it was a tough introduction to our long journey, but we are ready. Now we are!