Suddenly we go home
October 18, 2018
Hiking in Cajas National Park
October 24, 2018

---
Cuenca by bike
In South America there are only a few cities that are bike friendly. Either it is life-threatening with reckless minivans and taxis, or the streets are so steep that cycling is almost impossible. You will hardly find a bike path anywhere in the cities and a South American on the bike is almost an exception. Yet there are a few cities in South America where there is a cycling culture. Buenos Aires and Santiago de Chile have different cycle paths and are wonderful to explore by bike. In Ecuador, Cuenca is a cycling city. Cuenca is a beautiful colonial city with many authentic buildings. We think it is one of the most beautiful cities in South America and a relief after the chaotic cities in Peru and Bolivia. It feels like a European city with trendy restaurants, chic hotels and a well-kept center. There are several cycle paths and the cars even take into account the cyclists. We explored Cuenca by bike and discovered a nice cycle route to explore the city.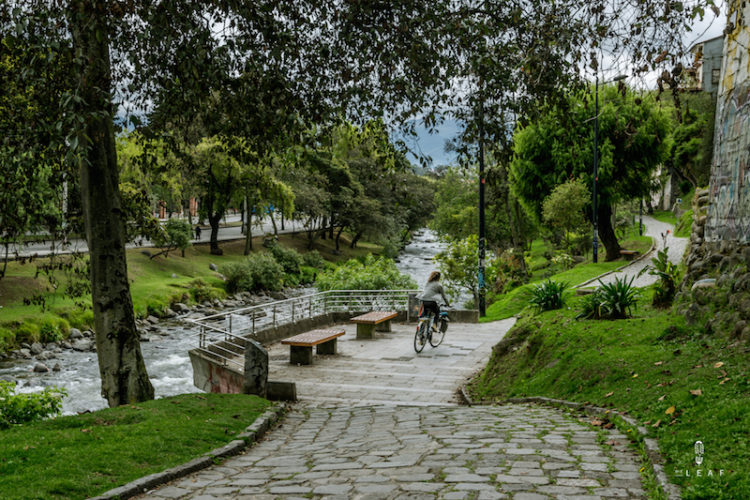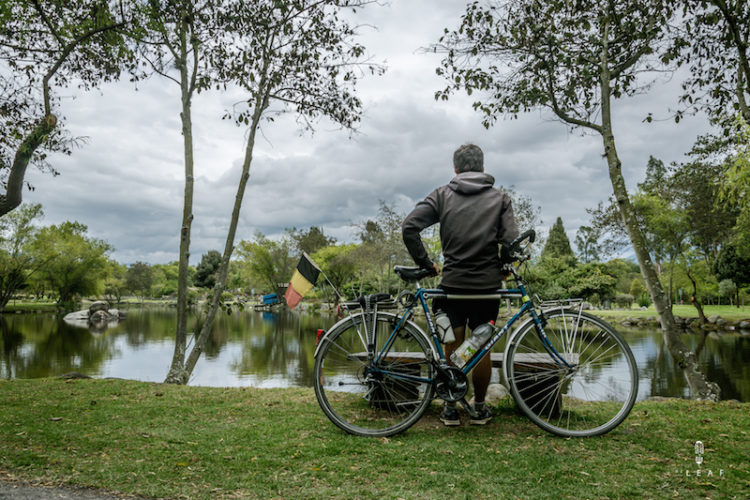 A cycling trip in bicycle
Our cycle route in Cuenca is about 15 kilometers long and goes through the old center and the quiet cycle paths along the rivers in the city. Cuenca is relatively flat, although there are a few climbs on the cycle route.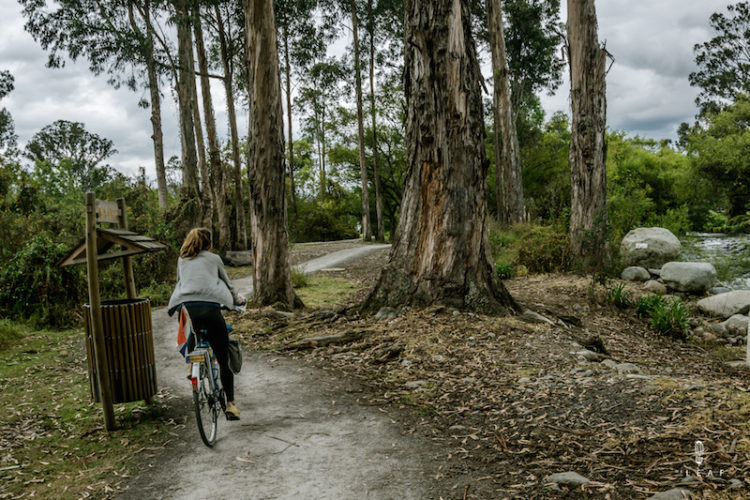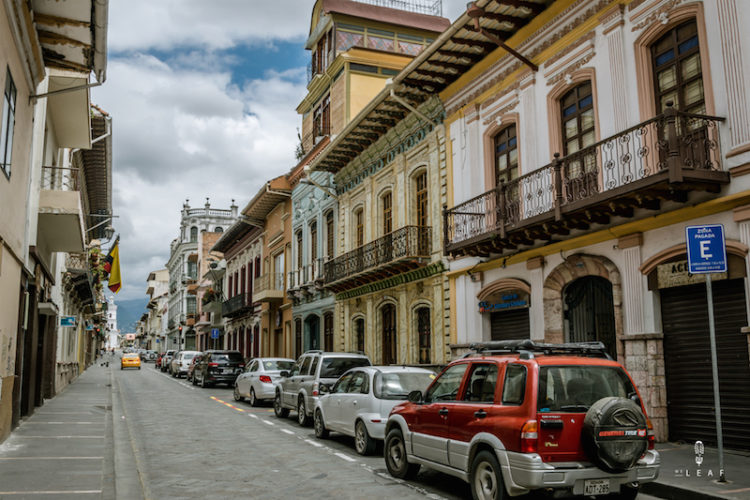 Rent a bike
The cycling culture in Cuenca is relatively young and renting a bicycle is the most difficult task. There are hardly any places where you can rent a bicycle, although this offer is growing. The tourist information center know a few places. We stayed at Hostal Anicha, who wants to offer bicycles from 2019 to explore the city. Unfortunately there are currently no fixed addresses where you can rent a bicycle with certainty. If you rent a bike, a mountain bike is recommended. The bicycle routes along the water go over unpaved sand paths and the center of Cuenca is full of old cobbled streets. Moreover, gears are not a superfluous luxury.
Sleeping in Cuenca
Cuenca is one of the most touristic cities in Ecuador and there is an oversupply of hostels and hotels. We stayed in the cultural Hostal Anicha, which is located a few blocks from the main square. The hostel is located in the old building of the Ministry of Education. It is a beautiful building with a cosy courtyard. Several artists painted the walls of the hostel, resulting in some beautiful paintings. In the morning you can choose from two types of breakfast: vegetarian (sandwich with egg) or vegan (oatmeal with fresh fruit). An absolute must in Cuenca!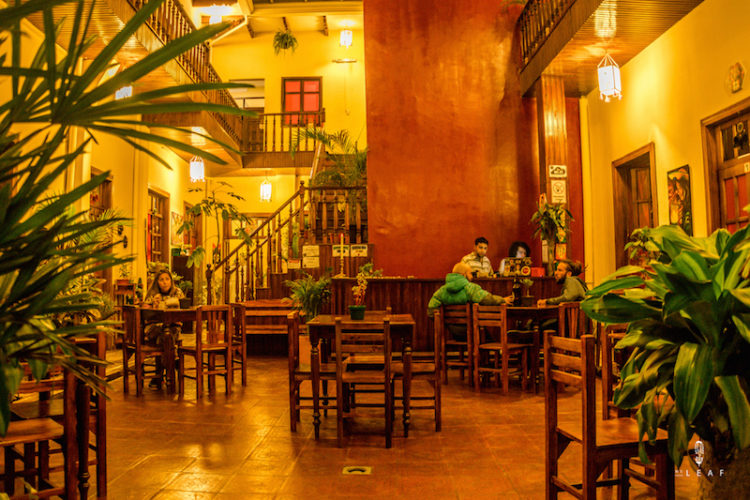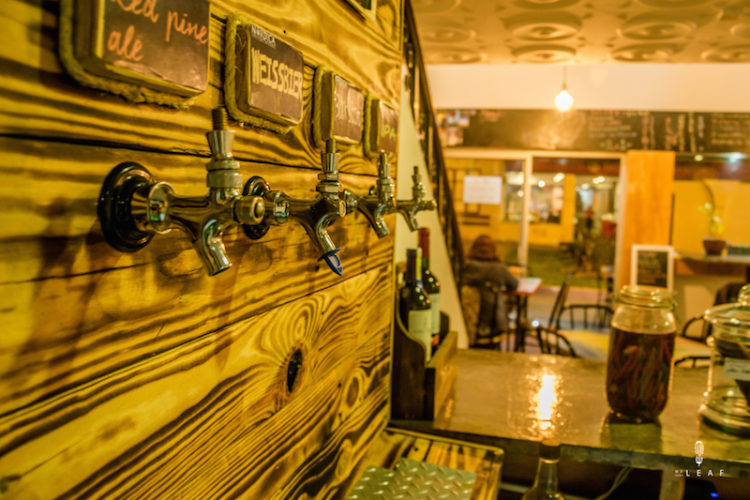 Eating in Cuenca
There is a wide range of restaurants, from the cheapest street restaurants to high class gourmet restaurants. Recently, there is a Belgian restaurant in Cuenca where you can eat a delicious lunch for a reasonable price of $ 3.50. The owner of La Belga, Joël, doesn't want to be the cheapest or best restaurant in Cuenca, but the restaurant with the best price-quality ratio. It's not Belgian food every day but an international menu. All the menus have soup, a main course, a desert and a drink. We were lucky and had onion soup, vol-au-vent and candied pineapple with potatoes. Of course, an artisan Belgian beer should be part of your menu. It is the perfect stopover if you explore Cuenca on your bike.
Good to know
Although there are a number of beautiful bicycle paths and the cars take into account the cyclists, Cuenca remains a South American city with a young cycling culture. The traffic lights that cross cycle paths have a special light for cyclists, which makes it a lot safer, but do not assume that you will get priority!

The bicycle network is relatively new and many improvements are still necessary. During the cycle route you will regularly have to lift your bike on the pavement because there isn't a ramp for the bike everywhere. In addition, there are a few missing links so that the entire cycle route is not just on cycle paths. Occasionally you share the road with the cars, especially in the historic center.