On home soil
November 23, 2018
Appreciating home
November 30, 2018

---
The aroma of coffee in the wheels
Colombia is a fantastic country for cycling. Nature is beautiful, people are great and there is more fresh fruit than you can ever eat. Since a couple of years, the cycling culture in Colombia exploded. On Saturdays and Sundays it looks like Belgium or the Netherlands with countless groups of cyclists moving into the mountains. Through the peace with the guerrilla movements and the popularity of professional cyclists like Nairo Quintana everyone jumps on the bike. Foreign tourism is also growing enormously, but there are still many unique places to be found in Colombia. In the coffee region the popular cities are Manizales, Armenia and Salento, but for those who prefer to explore the undiscovered quiet coffee villages, we have a fantastic bike route.
El Eje Cafetero
El Eje Cafetero is the coffee axis of Colombia, the most important coffee producing area in Colombia. The coffee culture in Colombia has been on the UNESCO World Heritage List since 2011 and the Eje Cafetero finished in third place in an election for the 8th wonder of the world. "Is it really so beautiful" we wondered? Absolutely! The coffee region is one of the most beautiful areas we have seen on our entire trip.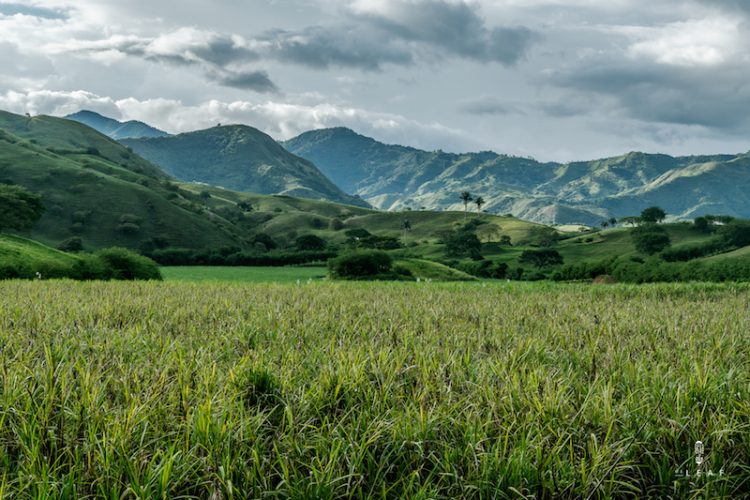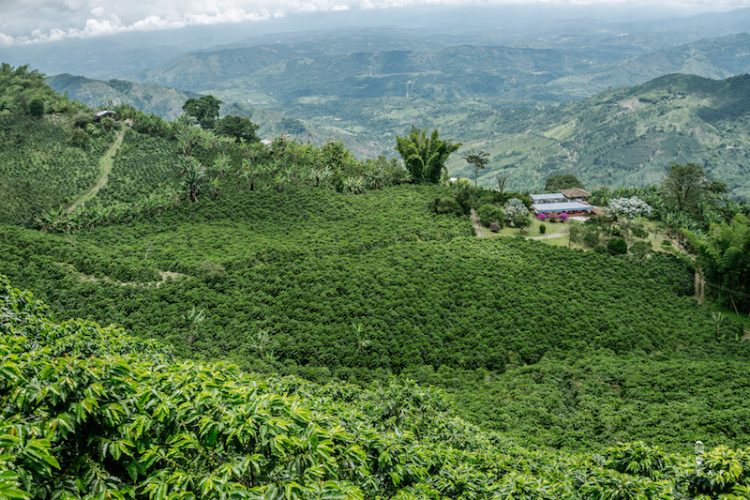 The route
209 kilometers | 5,600 meters climbing - 4,500 meters descending | 60% paved - 40% unpaved
We cycled the route from south to north and left in the small city of Cartago. This city is located in the north of the Cauca Valley, a gigantic plain where sugar cane is produced.

Stage 1: Cartago - Risaralda | 73 kilometers | 1,560 meters climbing - dropping 760 meters | 85% paved
From Cartago you climb into the mountains and the first coffee plantations quickly appear. The climb to Belalcazar is steep, while it is warm and humid. Once above you cycle over the mountain ridge with many short climbs and descents. Belalcazar and Risaralda are two small coffee villages with a lot of culture. They lie on top of the ridge with beautiful views over the coffee plantations.

Stage 2: Risaralda - road Riosucio-Jardin | 45 kilometers Climbing | 1,450 meters climbing - dropping 850 meters | 75% paved
From Risaralda you descend to the Panamericano that you follow for twenty kilometers. The Panamericano is surprisingly quiet because almost all cars and trucks ride on other roads to Medellin. A few kilometers before Riosucio you turn into a steep, unpaved road and the long climb starts.

Stage 3: road Riosucio-Jardin to El Jardin | 42 kilometers | 1,200 meters climbing - dropping 1,720 meters | 90% unpaved
You climb all the way up to 2,900 meters, after which a long descent follows to Jardín. The rain was pouring down and the descent was a real hell with our bikes. Nothing remained of our brake pads, but the landscape is so beautiful, even with such rain. The relief is great when the last kilometers before Jardin are paved and you arrive in a small paradise.

Stage 4: Jardín - Jericó | 50 kilometers | 1,400 meters climbing - dropping 1,200 meters | 70% unpaved
From Jardin you descend about 15 kilometers on an asphalt road, after which a long climb starts on a dirt road. The road to the small village of Buenos Aires is good and not too steep. The kilometers after it are heavy and steep. In the descent we got tropical rain again over us and we worn a few brake pads for the second day in a row. You can already see Jericó from a distance with its beautiful cathedral, although you will have to climb steep to arrive in the center.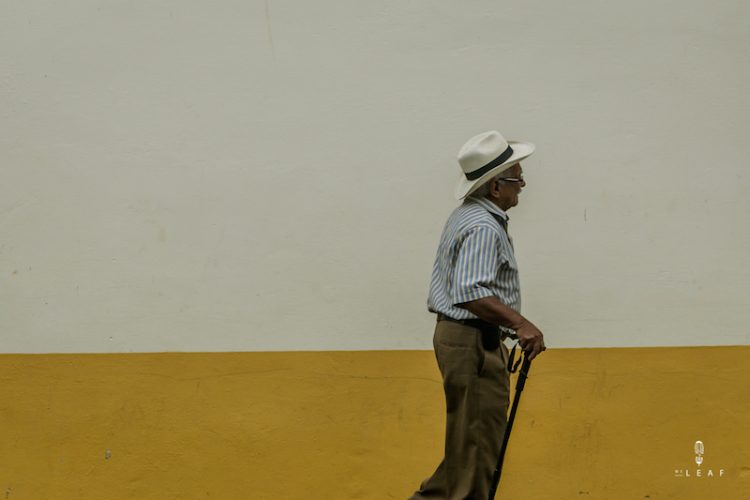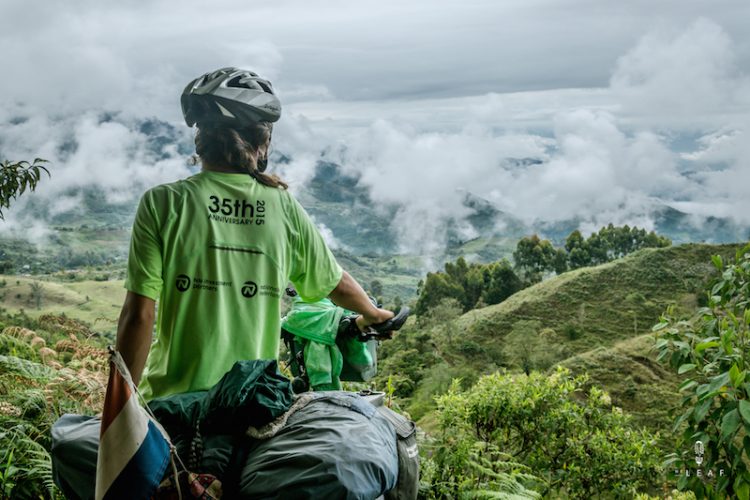 Eat and sleep
Sleep and eat In almost all villages on the route are hostels and hotels, from simple to luxurious. In Risaralda there are three hotels, but we slept at the fire brigade that have a dusty place in the attic. In the end, it was not that comfortable because it rained all night and water trickled through the roof.

Jardín is beautiful. It is the most beautiful village we have seen in Colombia. Not only the charming city center with the colourful houses, but also the mountains and coffee fields around the village are breathtaking. There are plenty of hostels, restaurants and even a bicycle shop. We stayed in Residence Diana, one of the cheapest options in Jardin. It is one block away from the main square with clean rooms, wifi and a hot shower. They also have a second hotel just outside the city center.

Jericó is almost as beautiful as Jardín and a nice place to rest for a day after this coffee route in Colombia. We stayed in hostel Las Cometas, a charming ecohostel in the center of the city.

In all villages there are shops to buy food, sometimes only small shops such as in Risaralda and Jericó, sometimes supermarkets such as in Jardín and Cartago. Everywhere there are small restaurants where you can have lunch from 6000 pesos (€ 2). Even in the minuscule city of Buenos Aires you can go at the local bakery and he happily prepares a plate of rice, egg and beans. Only the unpaved stretch to Jardín is abandoned with few amenities. Ten kilometers from the top is a small restaurant where you can buy an arepa with cheese, but for the rest there are no facilities on the route. Because you spend the night on this stretch, you have to buy food in Risaralda or Anserma. Water is everywhere in abundance and drinkable from the tap.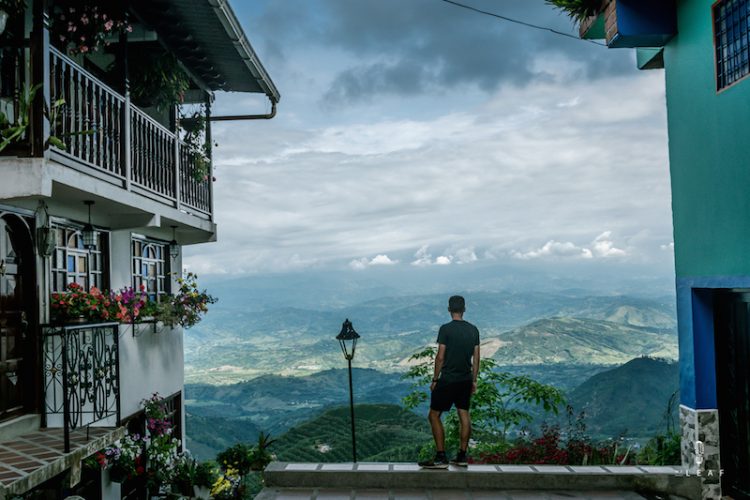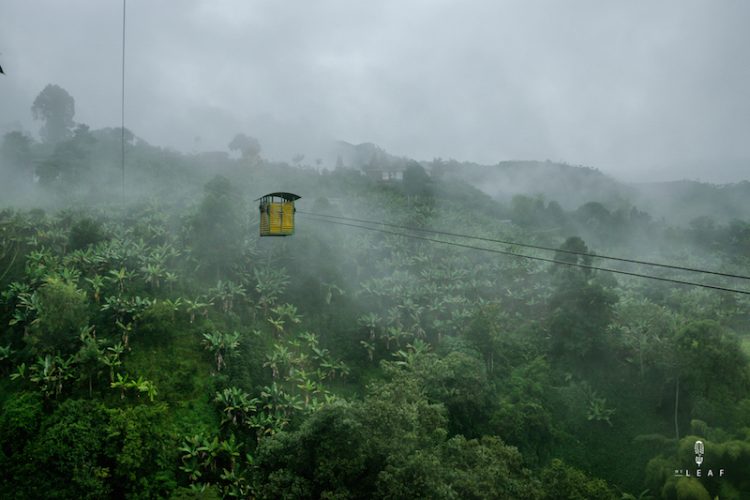 Weather and climate
Colombia has two seasons: dry and wet. The dry season is from July to September, while in the other months you have a chance of rain every day. We cycled the coffee route in Colombia in October and had a lot of rain. Sometimes a few hours a day, sometimes the whole night, sometimes a full day. The unpaved roads quickly change into mud pools and descending eats the brakes, but it is the reason why everything is so beautiful and green in this region. Prepare for a lot of rain when you come in the rainy season, and all hours of sunshine are a blessing.
Good to know
Jericó is a hotspot for paragliding. You spurt down the ridge and descend more than 1,000 meters, gliding over the Cauca river. Together with Ecoland Jericó we enjoyed a beautiful gliding flight looking at the breathtaking mountains. In comparison with Europe it is cheap to paraglide in Colombia. And even Olivier, who already finds an airplane exciting, enjoyed 100% of the adventure.

In Jardín there is a nice walk along waterfalls, coffee fields and banana plantations while the birds of paradise fly around you. Just outside the center you can use an old-fashioned wooden cable car to the starting point of the route. The ride costs one euro and is pure adrenaline. The wooden tray is moving forward with firm snaps while you hope that the old technology won't fail today. You come to Colombia for the adventure, right?