Another world
June 6, 2019
Hiking 1.000 kilometers
July 26, 2019

---
Saturday May 4th - Rio Grande City
We always try to enter a country without expectations and prejudices. In Uruguay or Paraguay that is easy because we really have no idea what to expect, but we have a lot of prejudices about America, all thanks to what we see on television. Are Americans really that fat and do they all have big cars? Do they all have a gun and do they live in perfect houses? Have they never heard of Belgium and is America better than anything else? With all those prejudices we started our journey through America. Some are true, but one thing is certain. America surprises us every day. It is a country of extremes and absolutely not what we expect.

A number of cars stop at a gas station where very fat people get out, walking with a baby step. People stumble inside and come out again with a hamburger and a big cup of soda, which they can top up for free. We see drive-in's everywhere, not just at fast-food restaurants, but also drive-in ATMs, drive-in car stores and drive-in liquor stores. At the supermarkets they are obliged to take a walk, although there is a series of scooters ready for people who are in really bad health, too fat mostly. We thought the people in Mexico are fat, but what we see here is extreme. The drive-in's of the fast food restaurants are always full at any time of the day. In Wallmart, the largest supermarket chain, half of the store consists of frozen foods, the rest consists of canned food and instant packages. The vegetable department is small and the bakery is tucked away in a corner. In small villages there are only small grocery stores or small stores at a gas station. The only thing you can get there is fried food and the Americans love it. We never see anyone on the street and the only people we see outside the house are mowing the lawn on a ride-on mower. It seems to be the most active hobby in the south. Only after ten days do we see children for the first time. One day Olivier calls out "Look there!" "What, where" Zoë looks surprised while looking for a deer or another animal. "No, someone is walking there," laughs Olivier. We see so few people on the street. It is no longer a joke, when we see people walking, we point them out. When we enter a village and have an hour lunch break, we see no one. We are the only one on the street. Cars move around us but the thick black glass keeps some eye contact outside the door. No wonder people are as fat as they really do everything by car and eat so unhealthily. Americans are fat, yes, at least here in the south.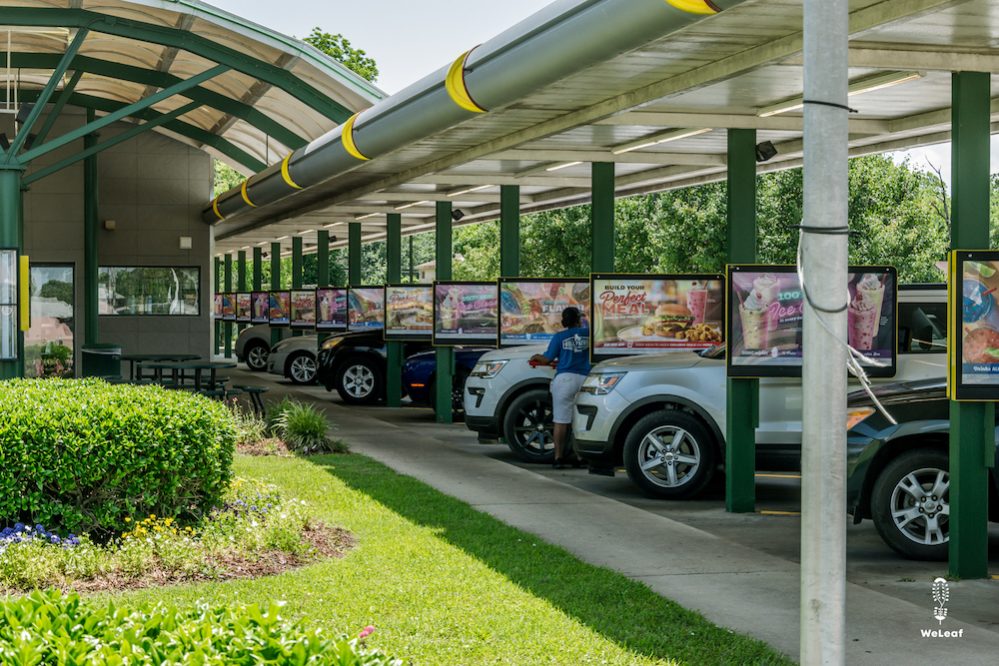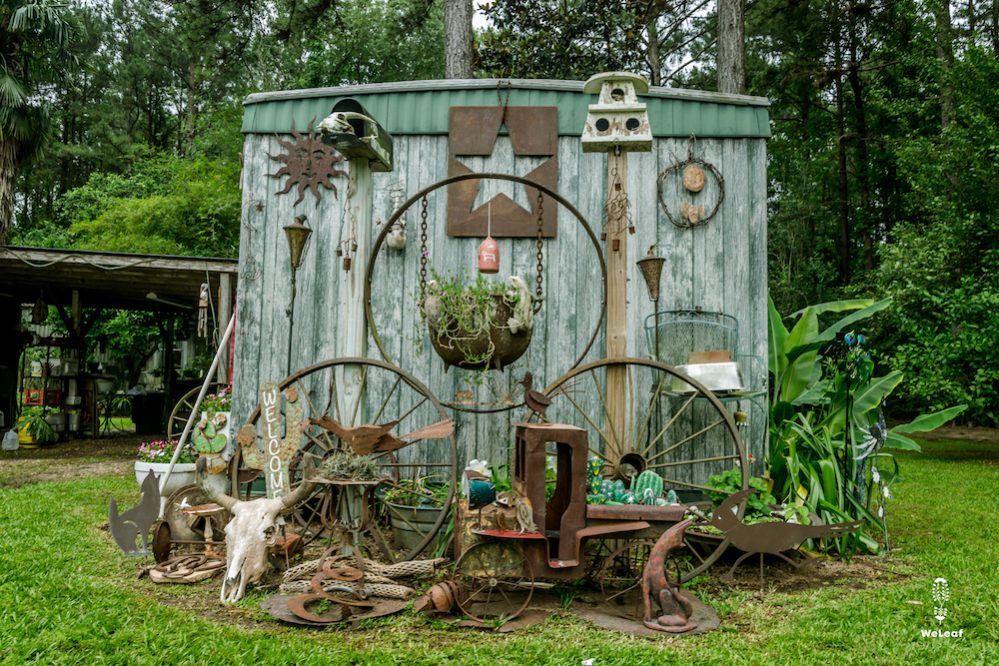 In the films and series we always see beautiful residential areas with large houses, perfectly mown grass and three large jeeps on the doorstep. Those neighborhoods exist, although we don't see them very often. What surprises us are the big differences between rich and poor. The rich live in those beautiful neighborhoods, while the poor people live in recreational vehicles, large campers or in mobile homes, a sort of movable plastic house. With every hurricane or tornado that passes, these houses blow apart like a house of cards, literally. The garden around these poor houses is usually littered with a lot of junk and there are at least five cars, of which only two are driving. Blank is rich and black is poor, unfortunately it still exists strongly. It is the African-Americans and the drug-addicted whites who live here, a huge group. Almost every day we meet drug addicts, and everyone has someone in the family with addiction. One evening we are looking for a place to sleep. The church cannot help us and the fire station is closed. A black man comes out of the shop at a small shop opposite the church. "You need water. I'll buy you one" shouts the man before Zoë can say something. "No, no, we don't need water, but you can help with something else," says Zoë quickly. He knows a place to sleep and brings us to Stefani's house. Her legs are full of tattoos and she is incredibly chaotic. We can hang the hammocks in her garden, but we don't feel very comfortable. She tells Olivier that she ministers drug addicts to rehab. She was addicted for more than twenty years and did a lot of wrong things, she tells us. "The man who brought you to my house, Pete, I help too. He just got out of jail, "she says. Drug addiction and poverty is very visible here, shockingly visible. Those beautiful, large houses are the minority, certainly in the poor southern states of the US.

We cycle along a quiet road in Texas and see a sign hanging on the fence. "If the dogs don't get you, I will" it says. Not much later we are at a traffic light and a large jeep with an old man stops next to us. We take a look to the left and say hello. "How you'all doing" comes out with an unintelligible Texan accent. There is a large shotgun on the passenger seat next to him and the barrel almost comes out of the window. In our countries there is a sign 'no dogs' on the door of the town hall, here is a sign 'no firearms'. People don't feel safe without a gun and many don't dare to go out without a gun in the car. One of our warmshower hosts in Texas lives in a beautiful home in one of the luxury neighborhoods. "We had a big snake in the yard, but I shot it," he says proudly when we are just inside. Dave is a typical American, or are those too many prejudices? He is a big Trump fan, has a whole collection of guns, a BMW is a small car for him and Europe is the little brother of America. When he talks about his work, we are surprised. He is a pastor of the local church. "We are baptists, we are not peaceful," he says with conviction. He proudly says that his church is guarded during a service with specially trained men. We test him with the shootings in the schools that we always see on television. "Every teacher should have a gun, that's much safer," is his convinced opinion. "Those democrats want the weapons out of America, but that will never happen," he convinces us. "This is America, people love guns!" We don't dare to drive up a driveway on a bicycle because everywhere are signs with forbidden access. Just asking for water seems life threatening in the knowledge that behind every door there are a few guns. It feels uncomfortable and people look at us suspiciously, until we clearly shout " Can we fill out bottles with tap water? " It is no longer worth the effort, if we already see someone in his garden, we feel like intruders. These days we get water from a gas station. Since we entered America, we have heard many more dangerous stories than in the whole of South America. The same Americans, on the other hand, cannot believe that we still live after South America. We begin to wonder if America is more "dangerous". A drunken fool and he will shoot you 'by accident".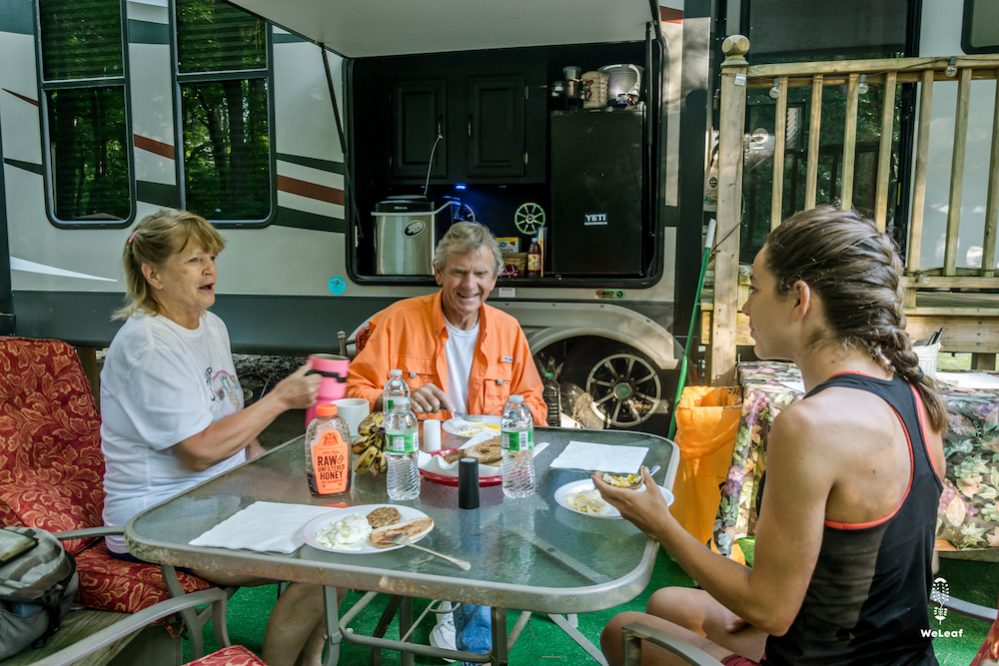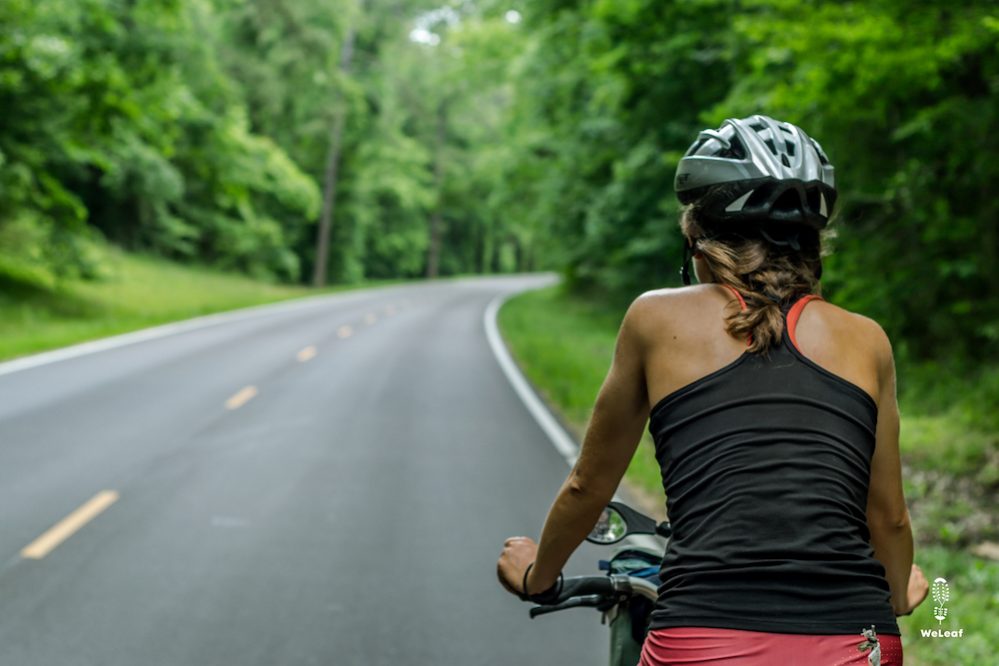 Fortunately not all Americans are Trump supporters and fan of guns. Yet America seems to be very much divided between supporters and opponents of Mr. President. Either they are proud or deeply ashamed, but the middle group does not seem to exist. We have our own opinion about it, but are always very careful about the subject before we know which side someone is on. Freedom of expression is an unprecedented concept. Don't start an interesting political, diplomatic or ideological discussion here at the kitchen table. It can mean the door and a broken friendship. Americans are quickly tapped on their toes, certainly with some criticism on their country. They are proud people and the American flag hangs almost everywhere. In the classroom they sing the national anthem every day and they like to tell that they are world travelers, even though they only travel within America. But Americans are also very friendly and helpful. Most drivers are polite and wait quietly behind us to overtake safely. The conversations at the supermarkets are very short. "Where you 'all coming from?" Is followed "Well, be safe!" And they are gone. But if they take more time, they are very surprised and interested in our journey and we get the time to learn about them. They want to help and are honoured to meet Europeans. Some have never met a European before. When we have lunch at one of the hundreds of churches, we are offered all sorts of food and once even twenty dollars.

In our eyes, the American culture does not exist because there are too many major contradictions. Perhaps the south is so extreme and our image changes as we travel further north. It is super interesting and every day we are surprised by the special America. Amazing things such as cars that legally only have to wear a licence plate from behind or the bible bells that swing around with texts like "if you are looking for a good book, read the bibel, its awesome". It is not a traditional culture like in Peru or Bolivia, no gauchos on a horse like in Argentina, no lively culture on the street like in Colombia and Mexico. America is Western, but it is totally different from Europe. Whether we could ever live here? Absolutely not in the south. And it's not just the 12 days of holidays they have, it's the culture that makes such a huge difference with the Netherlands and Belgium. Oh, and the food. In Texas we asked about the typical dish. The first three people said "Whataburger", a kind of McDonalds, but from Texas. Culinary it isn't exciting, but fortunately a cyclist is happy with everything. Louisiana was already a considerable upgrade, with delicious crawfish as a traditional dish, but we miss the culinary discoveries in the streets of South America.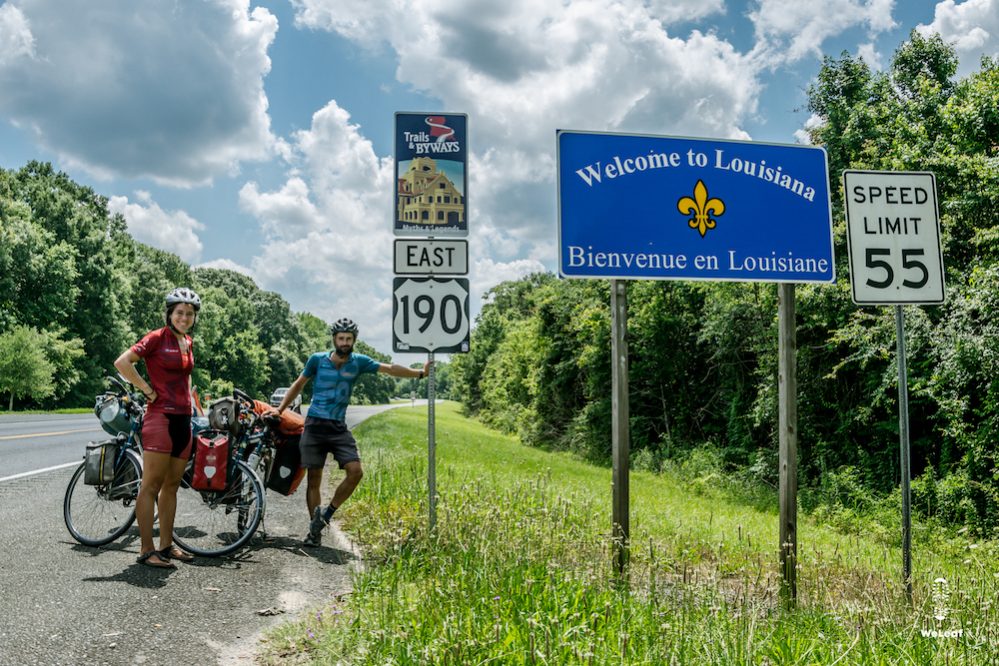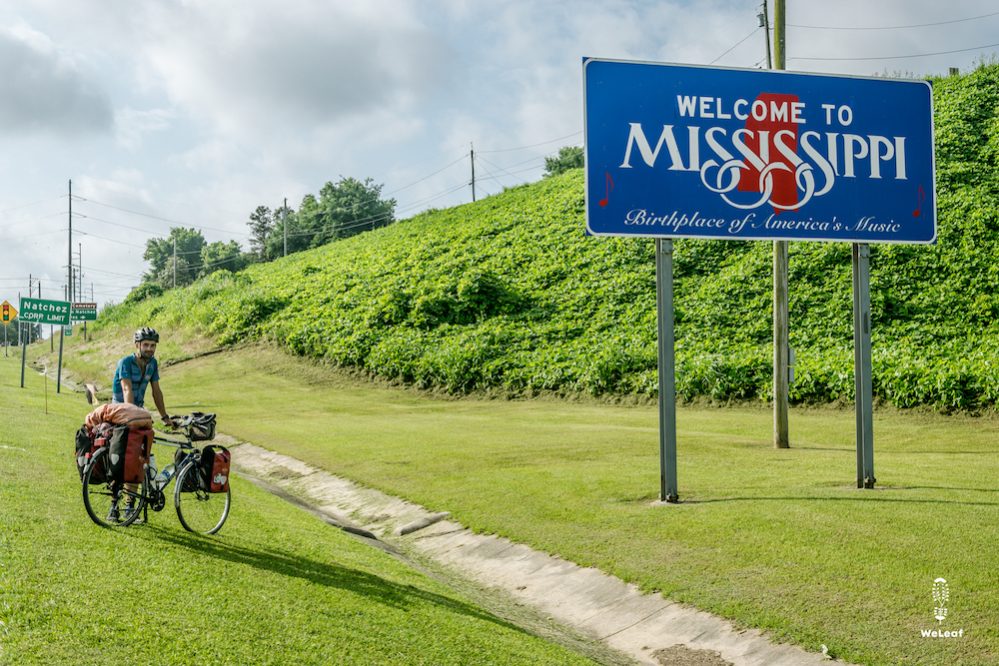 Not all of our prejudices were justified, but they all exist, in much more extreme forms than we had thought. Which unfortunately isn't positive for America, so far. We rushed through five US states in one month and covered more than 2,000 kilometers. Exactly on the day that we once had in our schedule, we arrived in Atlanta. We have covered 1,300 kilometers more than planned. The four days of rest to trade the bicycle bags for the backpacks is far too little to let our bodies rest. At Novita, who invited us via Instagram, we measure our leg and arm muscles. "Those leg muscles must have grown," we laugh. But no, our leg muscles are also an inch smaller. We are two kilograms lighter than three months ago and, in our opinion, we ate very well in Mexico and the US. Walking becomes a major challenge because eating an extra kilogram on the back feels much heavier than a kilogram on a bicycle. In the forest there are no lovely people who have the opportunity to invite us and to cram up with food. Nutrition, that might be the biggest challenge.