Welcomed by the narcos
June 4, 2019
Are Americans really fat?
June 6, 2019

---
Thursday May 2nd - Camargo
---
We cycle with little nerves to the border with Mexico. This time it are not unpleasant men on the side of the road that make us tickle, but it is the 7-day stamp in our passport. Two months ago, the unfriendly customs officer just wanted to give us a seven-day visa. The only other option was to cycle two days to another border and we didn't feel like it. This is called postponing problems, and those potential problems now scare us a bit. For a few days we have been thinking about the possible scenarios and our acting talent. The innocent cyclist, convincing bluffing or friendly compassion. And we discuss who goes in first. Olivier can bluff better with the text from the law stating that we only pay a fee at the exit, while Zoë can feel the right emotions more convincingly. We didn't practiced the scenario that we got in the end, and it required absolutely no practice.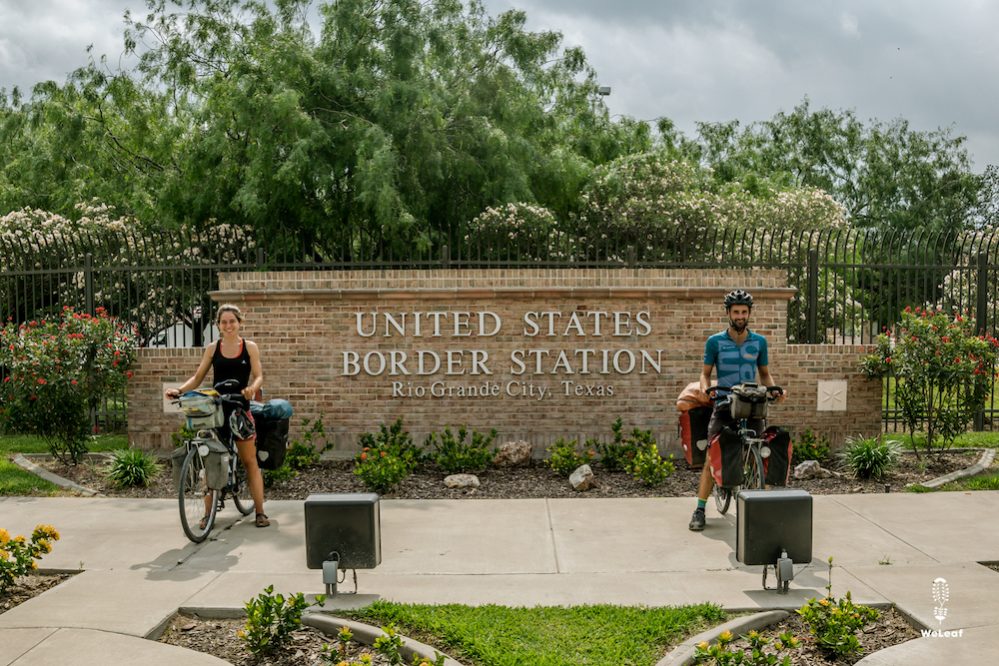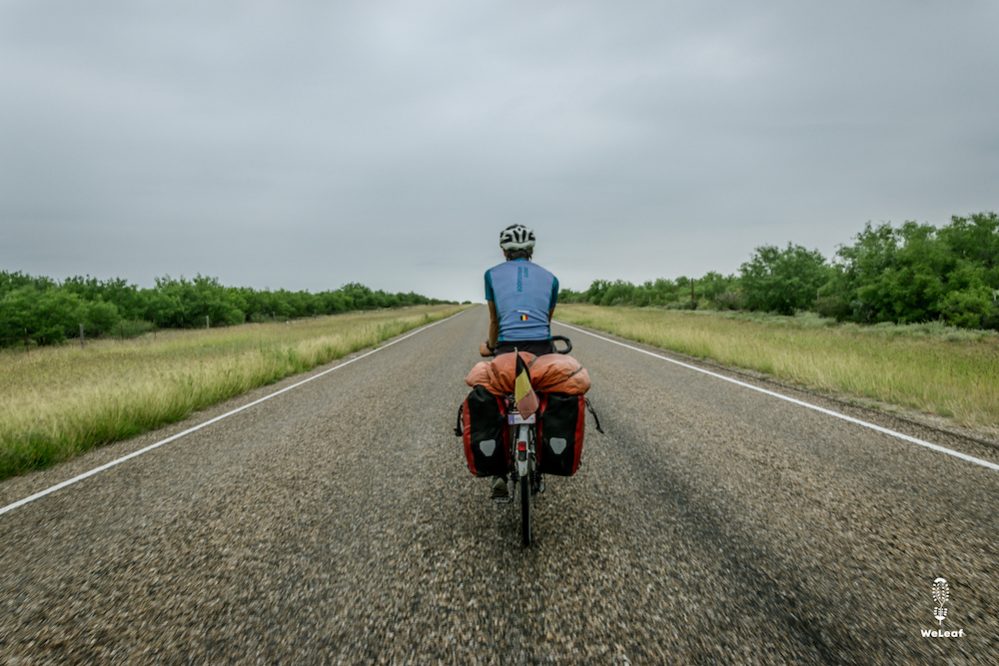 The border post is small with a single barrier where an officer stands in a booth. On the other side is a small building with a few parked cars entering Mexico. There is no building for people leaving Mexico, although we are guessing it will be in the same building. We cycle to the officer at the barrier. "4 pesos per person", he says, before we can ask anything. He asks for no passport, no stamp, only four pesos to cross the international bridge. Officially we have to enter the building across the street to get our exit stamp, but then we have to bring up one of our practiced scenarios. "We just cycle on, and if the Americans are struggling, we say we thought the Mexican post was coming," says Zoë convinced. Olivier looks surprised, because most of the time it is Zoë who follows to the rules. "Okay, are you sure?" Olivier stammers. "Yes, because we obey the rules, you can still make mistakes?" We take the gamble, pay eight pesos and cycle outside of Mexico without a stamp. An American officer is on the other side of the bridge. It is kind of a pre-check of the passports. Convinced we show our American visa and we can continue cycling without problems. "What does it matter to Americans if we have been to Mexico officially," says Zoë. "Indeed, as long as we officially enter the US, everything is fine," Olivier confirms our choice. Let's hope the customs officer is not a perfectionist.
Only one of the three gates is open at the border post. Trump has relocated the duties of customs staff from setting stamps to checking borders. Almost two-thirds of the personnel conduct patrols along the borders and over the water. Cars, cyclists and walkers must all pass through the same gate. When it is our turn, a nice line of cars is already behind us. The customs officer clearly has not often seen a European passport, and certainly not a cyclist who crosses the border. He is busy finding the right numbers and doesn't seem to be looking for a Mexican stamp for a second. If he picks up the phone, we fear for a moment that he will call the Mexican side. He hangs up and returns our passports with a smile. We only have to pay some tax and then we are inside. Because we don't have an address in the US, another officer has to call the boss. He is surprised to see two cyclists and asks very politely if they can take some pictures of us. "We have never seen this here," he says. A moment later a police officer comes in with a large camera. We have to pose in front of the border sign and in the hall. "A piece about you appears in the newspaper of the border posts," says the boss. They don't look at a possible exit stamp from Mexico for a second, but they do have a hundred other questions. A little later we cycle outside the border post. High five! "Mission accomplished, we're ready for the United States of America" ​​we smile at each other.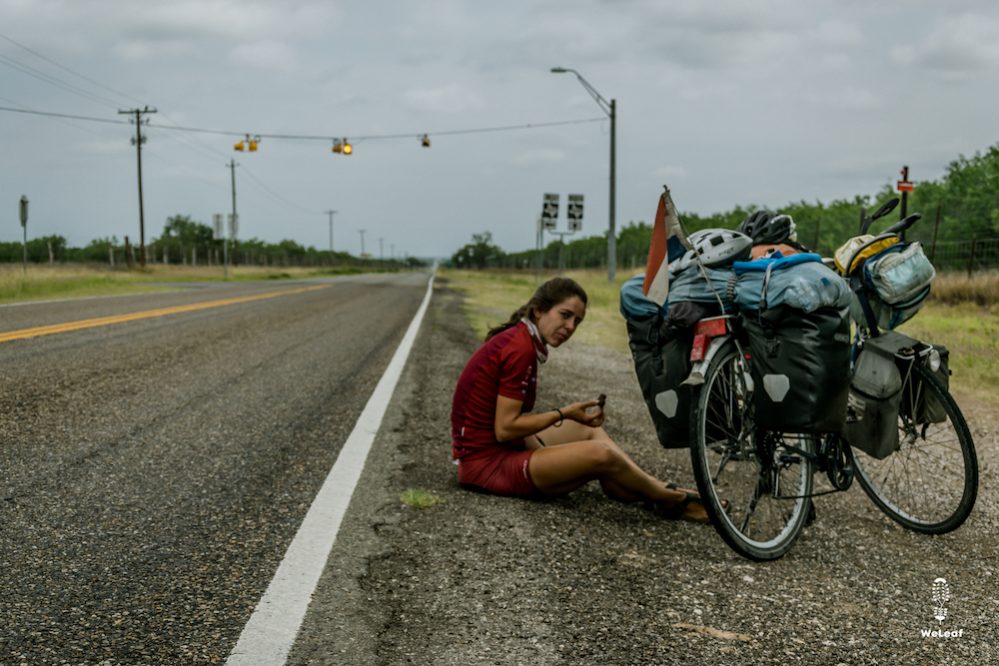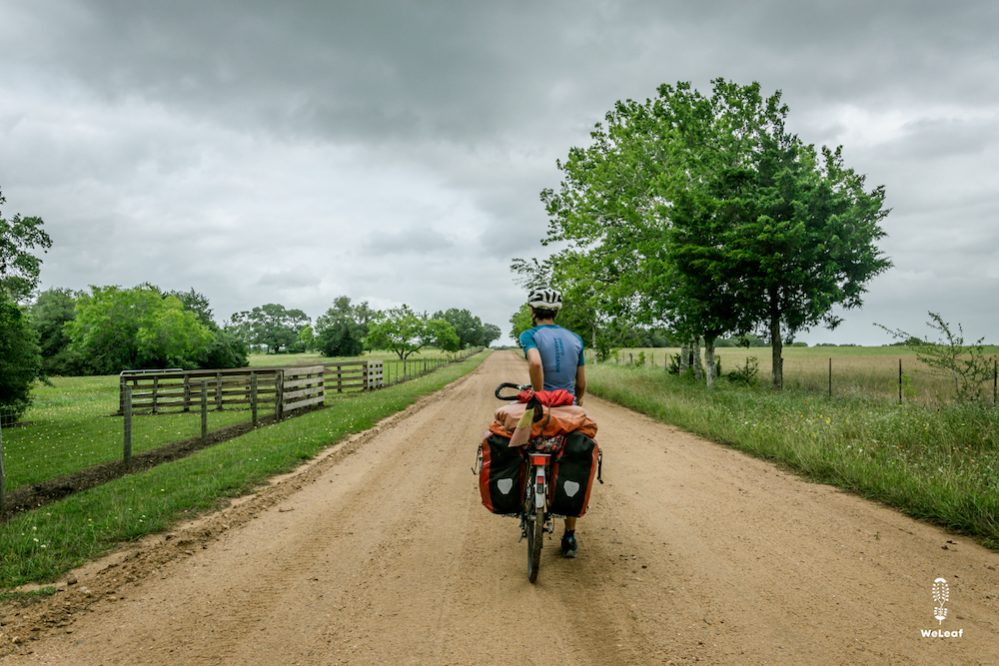 The difference with the other side of the border can hardly be bigger. Suddenly everything is great, organized and according to the rules. There are no people on the street, there are only big jeeps and a lot of traffic. There are traffic lights and everywhere stop signs where cars actually stop. On the right we see a McDonalds, on the left a Subway, and in between ten other fast food chains that do not exist in Europe. We want to ask someone if there is a park or a campground to sleep, but we don't see anyone sitting in front of his house or walking on the street. The first day in a country is often the most difficult because everything is new. We do not know whether the fire brigade helps cyclists here, what are the rules for wild camping or can we ask people for a place in the garden? We look for something familiar and see a tortilla bakery, of course run by a Mexican. He speaks Spanish, just like 90% of people in the border region. It is almost exclusively Mexicans who live here, first or second generation. If we look around better, we will see that all advertisements and texts on the stores are written in Spanish. The Mexican tortilla baker shows us the way to a small park and gives us a pack of tortillas and two avocados. The whole afternoon people come and go in the park, but no one says anything, not even a friendly good day. We feel strange and wonder if this is the Western culture that we no longer know so well after all this time in South America. "Maybe the people at the border are scared and it will change when we are a little further in Texas," says Olivier convinced. "If we meet someone in that desert perhaps," Zoë laughs, who doesn't look forward to the coming miles.
In our head Texas is a big desert with endlessly long roads, cowboys and lots of guns. We always see that in the movies. We are surprised when we cycle through so much greenery on the first day. The roads are indeed endless and there are only huge ranches, but the dreaded desert is not there. A number of cars pass by, but we don't see people anywhere. After 120 kilometers we arrive at the first village. One of Olivier's favourite activities is discovering supermarkets in a new country. He is always curious about the range and prices. Sometimes he comes out and the milk is very cheap or they have a delicious bakery department. This time he comes out with half a bag of groceries and big eyes. "Gosh, it is so expensive here," he puffs. "It is three times as expensive as in Mexico and they only have that white sticky bread." That does not mean that America is going to hurt our wallet. If a country is expensive, we do not eat in restaurants along the road and we do not sleep in hotels. Our only expenses will be the supermarkets and we will probably spend less on the total than in Mexico. We cycle to a church and can hang our tent under a shelter. Everyone here also speaks Spanish and it feels like we have yet to meet the first real American.