The green hell
April 16, 2018
The agony of the puma
April 24, 2018

---
Survive the Transchaco
The words 'El Chaco' freak the hell out of people. They hope for the best, but are prepared for the worst. They tell us with fear in their eyes it is 'life-threatening' and 'there is nothing, but really nothing at all!'. When we open the travel books to check, the same words appear. 'Do not go alone' is written in clear letters, but at the same time we are taught with interesting stories about wild nature, Indians and Mennonites. We may be stubborn, naïve or just curious, but we leave as prepared as possible on our bicycle to the so called 'green hell'. From Asuncion to Bolivia. The shortest and most exciting road. Do you also want to go on foot, by bike, by hitchhiking, or by car through Paraguay's Chaco? Its all possible, just be prepared for it. We think you are provided with the following information to survive the Transchaco! Good luck.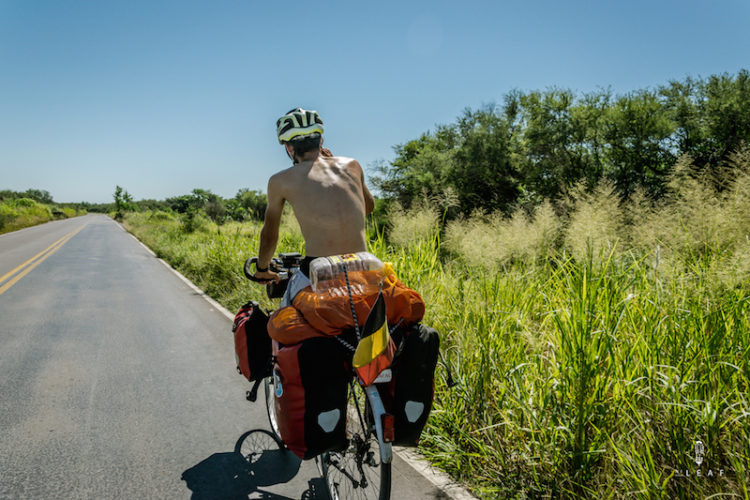 Ruta Transchaco
The Transchaco, officially Route 9, is an asphalt road from Asuncion to the border of Bolivia. Getting lost is impossible as long as you follow the longest and only paved route in El Chaco. The distances between villages are big. On the entire route of 750 kilometer, there are only five 'larger' and better known villages. Pozo Colorado, Cruze Pioneros, Filadelfia, Loma Plata and Mariscal Estigarabia. However, there appeared to be more than enough on the route. On average it can be said that until Philadelphia every 60 kilometers there is a little settlement. We find comedores (simpel food restaurants), despensas (small shops), hospedajes (simple hotels) and gas stations. Between villages, on average, we encountered a remote estancia (farm) every 10 kilometers. Where people are, also gomerias (garages) can be found. It remains abandoned, but because we were surprised by the possibilities ourselves, we wanted to make it easier for the next ones. In the following map we have provided you with all the important information you need to prepare your trip.
Distances
No matter how you go, cycling or by car, the distances are big. If you have car failure, you might have a problem. It is convenient to go a bit prepared. Take enough water, petrol and food in case you do not make it to the next population. For the slow travellers among us, make sure you are self-sufficient, with a tent and stove. You can not assure that the farmers are home when you ask for water or an overnight stay. We are used to do distances of 80 kilometers per day, but were sometimes forced to cycle 120 kilometers. We have covered the Chaco in 9 days with an average of 100 kilometers per day. Please note, the next town in Bolivia, Villamontes, is 120 kilometers after the border.
Water and food
If you look at our map you will see that there are sufficient shops, despensas. Here you can get carbohydrates and other simple provisions. If you like to eat fruit and vegetables, bring these up to Philadelphia, there you will find a supermarket. You can eat delicious food at the comedores and petrol stations. We only had the problem to always arrive to early or to late. Their serving hours are around midday and some open again around 19.00. If you arrive on other hours, they sell empanadas and hamburgers. For the vegetarian it is better to be self-sufficient, because all the food includes meat. If you ask for water from the canilla, the tap, you will get rain or groundwater. Both are safe and good, although the groundwater has a salty taste. We drank four to five liters per person on hot days. Make sure you carry at least a five liter bottle with you. We were sometimes helped with bottles of water at petrol stations. After Philadelphia the dry Chaco starts. Here, especially in the dry months from April, there is less water available and the distances between villages and farms are much larger. The families that live here barely have water themselves, please bring your own.
Sleeping
Wildcamping along the route won't do. The grass is too high and it is soggy. If you travel with the tent, there are more than enough places along the route. You can ask estancias, petrol stations, schools, gymnasiums and actually at any property where you see a spot to pitch the tent. People will always help you further. It would be possible to adjust your planning to an average minimum of 60 kilometers per day. However, we eventually fled for nights in the tent. Mosquitoes and the heat made it unbearable. Still in the tent? Set the tent one hour before the sun goes down, to be in-time before the mosquito hour starts. Look at the map for the villages with hospedaje. They are cheap but very simple. If you enjoy more luxury, you will not feel at home until Filadelfia. Here we have had a good rest and refuelled mentally at Hotel Golondrina. The white sheets and a well-served breakfast buffet are a luxury at the Trans Chaco. The hotel has two locations in Philadelphia, we slept in the center.
Sun and heat
Heat is seasonal, but in fact it is very hot 80% of the time. We cycle with 35 degrees in April, autumn, in the shade. The sun is high and sharp and it is hardly impossible to find shades. That is why we adjust our clock and are ready to go at 6 o'clock in the early morning. From south to north there are, up to an hour or eight, shadows along the road, after that it can be kilometers long without shadow. Be prepared for this and leave early so that you are at destination before the clock hits 12 o'clock. The only places where you will find shade are the trees lined along the driveways of estancias. Farmers do not have any problem when you rest on their property.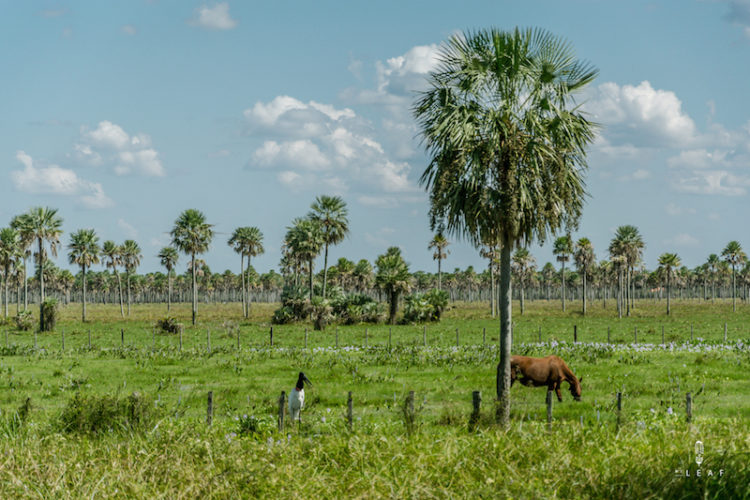 Mosquitoes
Mosquitoes are in El Chaco all year round, but as we are told, much less in the winter. The plagues are mainly related to rain. Mosquitoes have a cycle of 20 days, and as long as there is water they survive. We were unlucky, two weeks before we left, there was an unremitting monsoon, which flooded all the fields. The mosquitoes come especially when the evening falls and are impossible to turn away from you. Provide airy trousers and long sleeves, bring products that carry deet and use incense spirals. The spirals can be found along the way. The best remedy for a good night sleep is a mosquito or a well-ventilated tent.
Nature
El chaco is full of special birds. We see a lot of water birds and a number of species that we never saw before. Furthermore, the area is full of snakes, but as long as you stay on the road and do not step into high grass you will not be bothered. Unfortunately, we have seen few other animals between Asuncion and Filadelfia because there is too much traffic. After Filadelfia it is very deserted and hardly twenty trucks pass by. We saw wild boars and foxes. It was here that we saw our first wild cat. In front of our bikes, a puma suddenly crossed the road. The anteater is also very common in this area, unfortunately we have seen her only dead.
After Filadelfia
The last 400 kilometers to Villamontes in Bolivia is another area. Nothing compared with above. Certainly after Marical Estigarabbia there are hardly any cars or trucks. There are pieces of bad road that make the day considerably longer. Even trucks pass here with no more than 15 kilometers per hour. The only 'villages' you come across are Mariscal estigarabia and La Patria, where the Transchaco turns left to the Bolivian border. There are three comodores at the border itself and the customs offered us a place to sleep. From Filadelfia the climate is drier and it is possible to set up the tent next to the road. Yet this is not recommended because of the many pumas and large herds of wild boar living there. This part of the route is what needs to be taken seriously.
Read our travel stories of our Chaco adventure
The green hell
and
The agony of the puma