Discover the best hike in El Chalten
February 6, 2018
Discover the real Argentinian culture
February 19, 2018

---
Living in Ushuaia - January 2018
---
More than a month ago we arrived in Ushuaia. For the most cyclists who come from the north the entrance gates of Ushuaia are the end of a long trip. For us this is the end of a new beginning. 'Imagine going home now' Zoë says all the time. We don't have to, luckily. We have the idea to go back north hitchhiking and start cycling again north of Buenos Aires. Paraguay, Bolivia, Peru, all of them are beautiful, but first we put the bicycles in the garage for two months. Two months? Yes, two months.

Living at the end of the world, resting our cycling lifestyle and use our mind in another way, that's what we need right now. The idea to write a book has been growing stronger and stronger. Ushuaia, the end of the world, is the perfect to do this. Here we will put the first words on paper.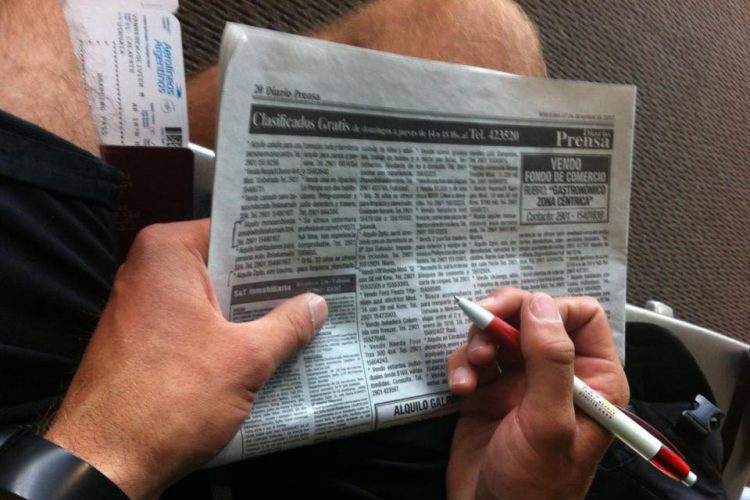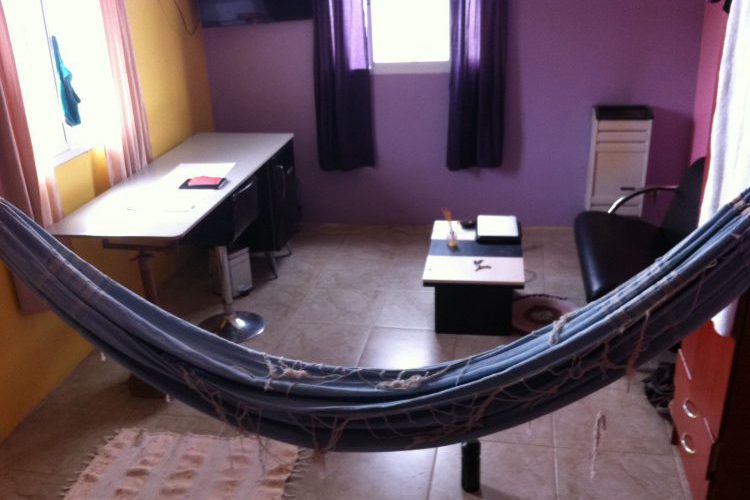 We barely arrived in Ushuaia or the search for an appartement starts. In pricy Ushuaia even a stay in a hostel is above our daily budget and the campings are, climbing uphill, more than half an hour out of the city center. On internet we find a nice appartement. The price looks great and it is in the middle of the center. We get in touch with the owner and receive a comprehensive email. The owner is an Argentinian woman who lives temporarily in Spain. They bought the apartment for their daughter, but she still studies in Buenos Aires, so in the meantime they would like to rent the apartment. We ask to visit the apartment and the lady insures us that she will sent the key, using a official renting company. We have to pay the rent for the first month in advance and if we don't like the apartment we will get our money back. This is the way the renting company works and she likes to follow the rules. Argentina isn't Europe, things are organised in another way so this is how it works, we think. Zoë gets some gut feelings, but she only had a side look and trusts on Olivier. We ask another time for her personal details and check her name on Facebook. Everything seems correct, so we walk to the bank, but when we are standing in the line, it doesn't feel right for Olivier either. Something is not right. We start checking the name of the renting company again and find out that it might not exist. We try to get in touch with the woman on internet, but never receive a reply. Our last test is to sent a request to another apartment on the same website, which also looks great, and maybe a little too good for the price as well.
Our feelings are confirmed. We get exactly the same email, but this time from another woman with the passport copy and a matching Facebook profile. It looks like these women are victims of some internet fraud, something we narrowly escaped. We report it to the website and try to look for an apartment in another way, and try the local newspapers in the first place.

In the meantime we rent a room with Airbnb for the next night. The room is perfect. Well, the walls are painted in all shades of pink and the room is way to big for only a bed. This is all we need for two months. We talk with the owner, Flavia, and ask if she would mind having us in the house the next two months. She is delighted with the news, two months of income and some company. We arrange a fair price of €240 and are way below our daily budget in this way. Flavia offers her wardrobe and fridge and we built a study table on our own. On our fourth day in Ushuaia we have a complete room for ourselves. Flavia has five kids, three of them living in the house, but they are far from talkative. She has four shepherds, locked up in a small backyard. One day we will let them taste some freedom, but first we have a job to do.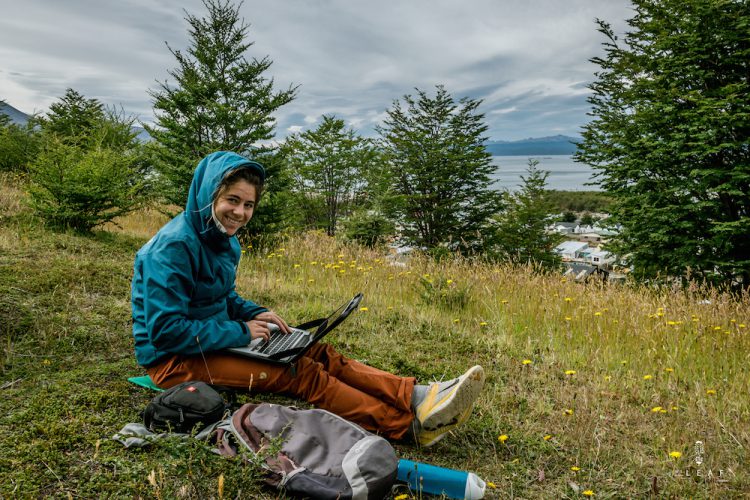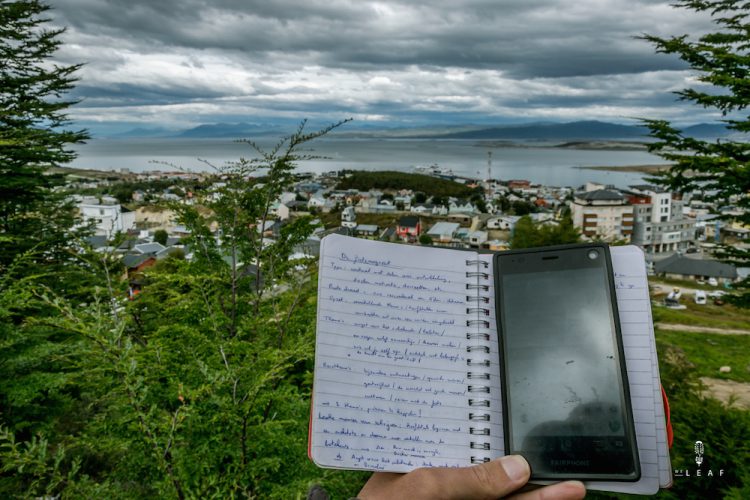 We would like to work in Ushuaia so the next day we walk in the main street with a brand new curriculum in our hands. The possibilities for a two month temporary job aren't that challenging for the mind. Working in a shop, a hotel, a restaurant or a bakery are the best we can get. But still we would like to try to do those jobs in Spanish. It will be a good thing to have some change of mind while writing our book and it might be a good way to meet other people. The search is a small disillusion. Everywhere we go they say sorry and aren't looking for any workforce. We expected that it would be easy thanks to all the languages we speak and in the middle of peak season in a touristic city. The opposite is true, the peak season is already half way and all vacancies are occupied. We find nothing. Zoë can go one time for a job interview and Olivier gets a possibility in a hotel in the mountains, one and a half hour from our house. 'We did our best, but let's forget about the work' is our conclusion.

It doesn't matter, we have plenty of things to do. We have our focus on Antarctica right now. We try our shot as crew on one of the cruise ships. But it appears to be another difficult quest.
We cannot enter into the harbour and all the tourist agencies who sell the last berths, aren't able to help us. We manage to find out the names of the cruise ships that are arriving in Ushuaia and start mailing all the companies. But none of them responds and we don't get any useful name of contact. One time we manage to talk to a general director of one ship, but she makes it clear from the start. Free doesn't exist on these type of trips, even not in exchange for work. Maybe we were a little bit naive, but during our trip we learned to try all the opportunities we see, because 'no' is always the answer when you don't try it. It brings us closer to ourselves and the things we want with WeLeaf. Cycling was a completely new thing for us. We never did a trip on a bicycle, neither on a sailing boat. Those new ways of travelling give us a lot of energy. Travelling slow brings us even more than we can imagine. Travelling with our own strength is spectacular and we would like to inspire others doing it themselves. But not only others, also ourselves. We already have our next adventure in our mind: a long canoe trip, although we still have to wait a long time because the United States will be the first opportunity.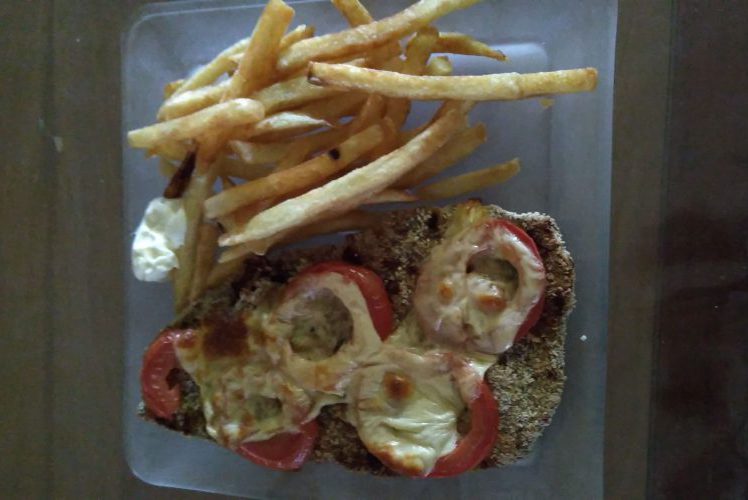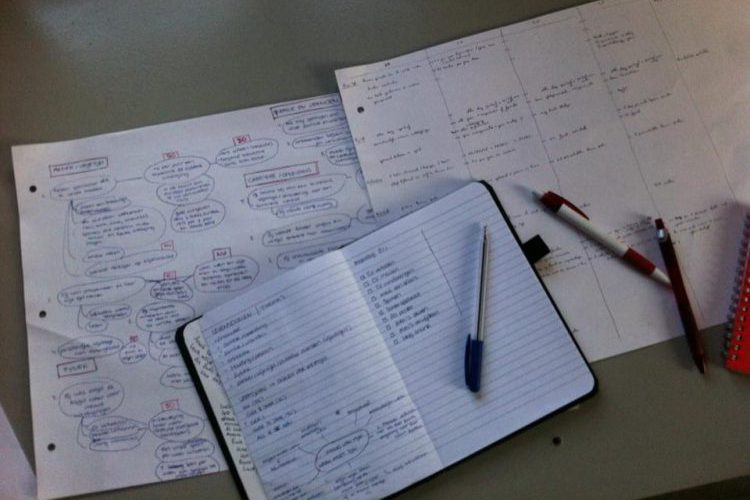 Daily life starts to become a routine. On Sunday we have a day off, Saturday we can relax a little bit and during the week we work until it is time to go to bed. Every day we start with one hour of sport to keep our cycling fitness on track. We do all kind of things, freelatics and insanity workouts, running up the stairs and trail running in the mountains. After the workout we start working with intensive brainstorms, writing on the book and developing our future plans. In between we sent emails to different companies, design photo books of our trip, edit our new film, try to improve the website and study some online courses. In the evening Olivier can do one hour of experiments in the kitchen, trying out the Argentinian dishes and home made Belgian fries. Zoë trains a couple of times in the week with the local rugby team and quickly gets the nickname 'la holandesa genial'. We say goodbye to our cycling friends who we know from the road. They all return home, back to a life without the bicycle. With Patrick we enjoy a huge king crab to celebrate his 10.000 kilometer trip and the Brazilians, Bulgarians and French we hopefully we see again one day. Sunday is our hiking day. Sometimes with the dog, sometimes without.
Two of the dogs now know how life outside of the yard looks like. They are already so faithful that they don't need the leash anymore. One day we will take Flavia outside to show her the fun of walking with the dogs and enjoying the beauty of nature two blocks away from here.

We didn't touch the bicycles since we arrived in the house. Twice a week we walk to the supermarket in the city center, but besides this and the daily sport we don't come outside so much. It is a strange, ironic life we have right now. No cycling, living inside, paying for the rent, not earning anything en barely meeting someone new. For the moment it is just we and us. We don't take much rest and are working hard with the brains. Every day we are together in our small room, but nevertheless, none of us matters about this after more than a year living outside, full of new encounters and adventures. It just seems the perfect moment to evaluate ourselves. We take the time to realise what this trip brought us and will bring us. On these days all the feelings and thoughts from the past year get the place they deserve. And those thoughts you will read, one day, in our book.