Gregory Hook
May 20, 2019
Welcomed by the narcos
June 4, 2019

---
Tuesday April 9th - Pachuca
---
What is it that some countries take a place in your heart and others not at all. We often ask this question ourselves during the trip, but we haven't found the correct answer yet. It must be a mix of many elements. How friendly are the people, are the roads nice for cycling, is there a lot to see, every lunch costs a rib from your body and the evenings are mosquito-free. Paraguay is a beautiful country, but because of the endless roads in the Chaco and the countless mosquitoes we don't have many beautiful memories. Ecuador has great nature, but the roads are too steep and busy so it is certainly not in our top ten. Peru is in our top three although we were terribly bothered by biting flies. The longer we are in a country, the greater the chance that we will fall in love, but that does not always apply. It remains a mystery what the real conditions are.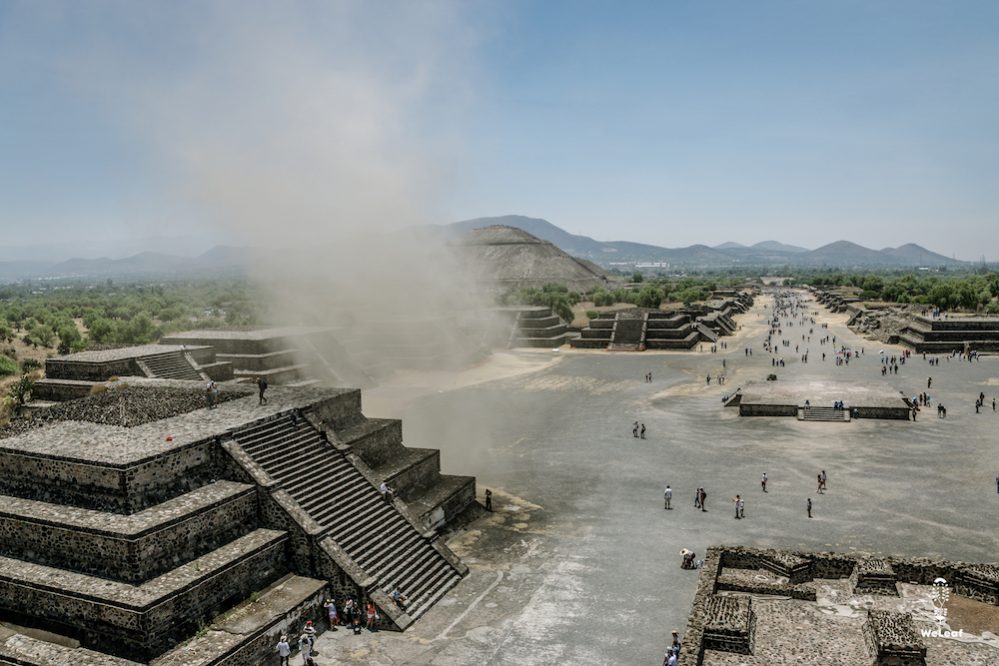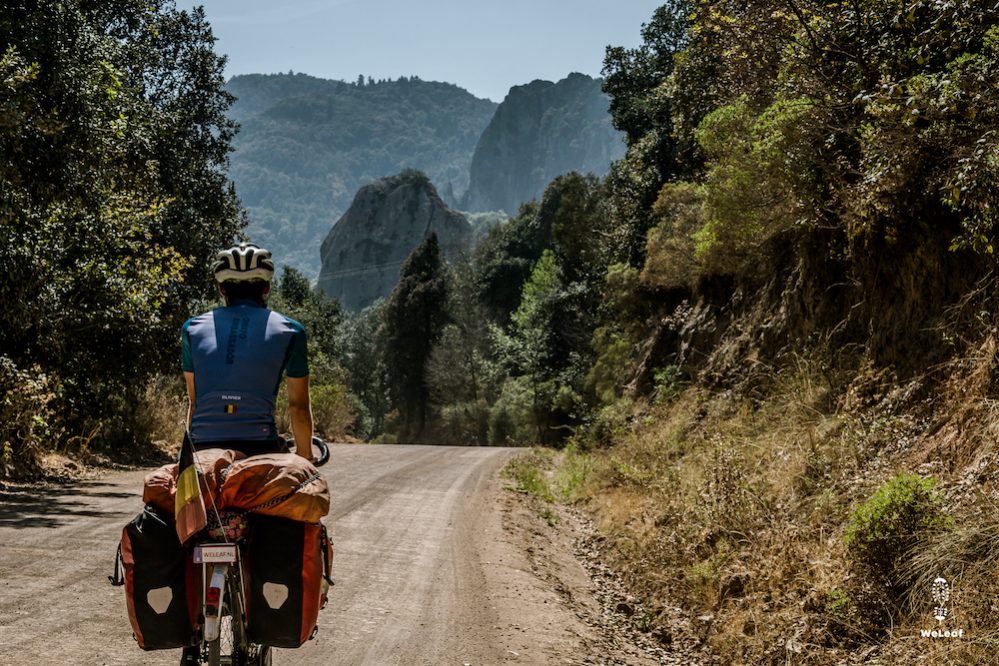 So far we didn't fall in love with Mexico. Too dry and too busy roads. The food is delicious, there are beautiful natural phenomena and colorful villages, people like to talk, but something is missing. The strange thing is that such a feeling can suddenly change, through a single experience. Maybe that's a key to the truth. Pachuca, a large city northwest of Mexico City changed our feeling for Mexico. The city did not, but a few of its inhabitants did.

We cycle into the city via a far too busy main road. Natalia wrote to us yesterday that the door is open and we have to make ourselves at home. "Mi casa es tu casa" she said. 'Leaving the door open in a city', Olivier wonders aloud. "Would we do that if we had guests?" "No, absolutely not," Zoë responds immediately. "We'll make sure we are at home when we receive people." When we arrive, the door is open indeed. There is a note on the table with an extensive welcome, the password of the internet and the explanation of the washing machine. It includes freshly made fruit juice, sandwiches and two large avocados. "This is a very pleasant arrival and very hospitable," laughs Zoë, who changes her opinion slightly. Two hours later Natalia comes home and it almost feels like we are inviting her into our house.
Almost every night we find a beautiful place or are invited by local people. Again and again with the same sentence 'mi casa es tu casa'.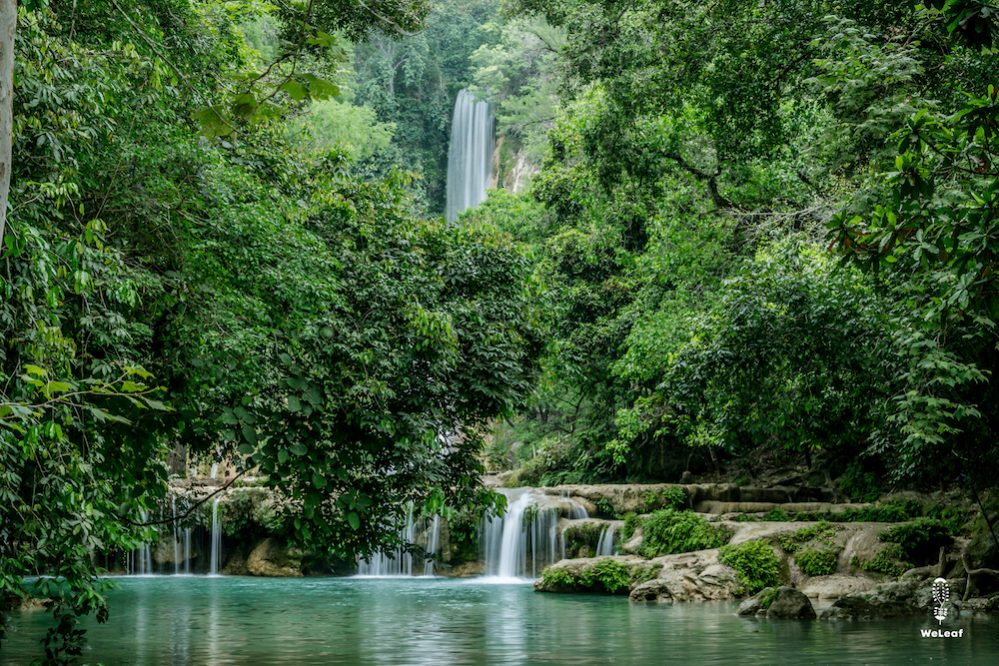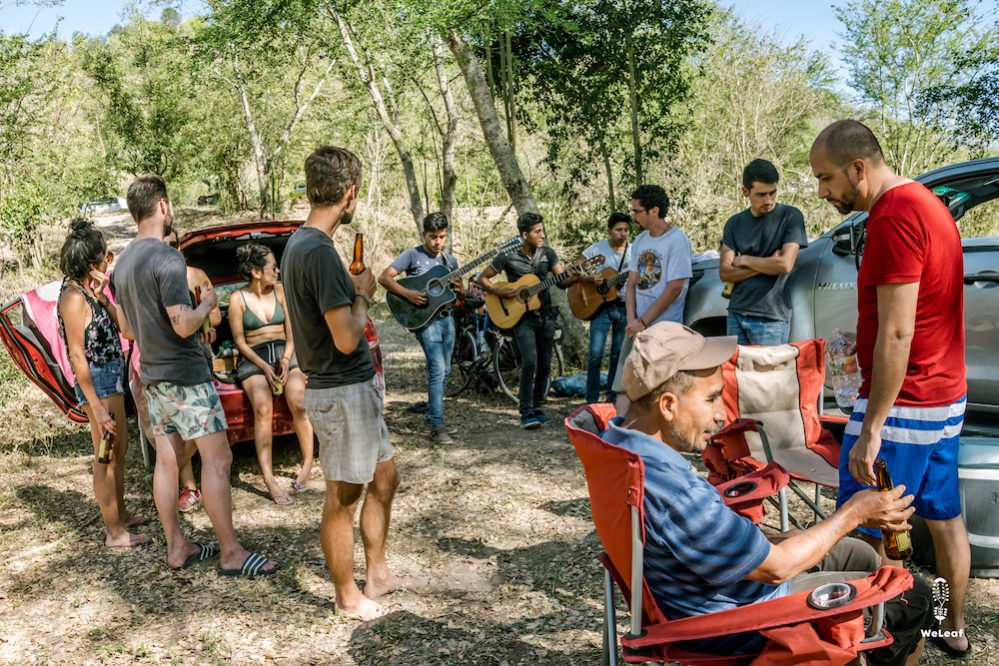 Not much further in the same city lives the family of Lina, who took us in her home for a month and a half when we were looking for a sailboat in Gran Canaria. We write to Lina that we have arrived in her hometown. Ten minutes later she calls us. "My sisters invite you to dinner this evening." Natalia has just made a delicious lunch for us, which they eat here at four in the afternoon. We can always eat an extra plate of food . "How do we recognise her sister," Zoë asks as we walk to the restaurant. It turns out not to be an art because Lili looks like two drops of water on Lina, but then ten years old. But they are also the same in terms of person. It feels like we are seeing our friends again, it feels like coming home to Pachuca. Mexico suddenly feels like a home and it gets a special place in our heart. The days after we go from tasty breakfasts, to tourist places, to restaurants. Both families pamper us with unparalleled hospitality. It is the experience that changed our feeling about Mexico.
We cannot stay forever and move further north. Here the mountains are green, full of waterfalls and large plants. The roads are quiet and the people even friendlier than before. Or are we looking at Mexico with different glasses? Almost every night we find a beautiful place or are invited by local people. Again and again with the same sentence 'mi casa es tu casa'. One evening we end up at Abi Dhan's home. He is a teacher at a local school and one of his students is competing for an important prize. There is a competition all over Mexico and the best 300 students win a trip. The teacher can go as well. After that thirty students can win an even bigger prize, a week in Mexico City with a visit to Six Flags, the president and high school is completely paid. Abi Dhan is preparing his student for the test because no one from his school has ever won. The trip in particular seems to be very interesting to him, and the premium for the best teacher that the school awards. In the evening he comes to us with a box of pizza. "You probably don't eat spicy food, but you do like a pizza," he laughs.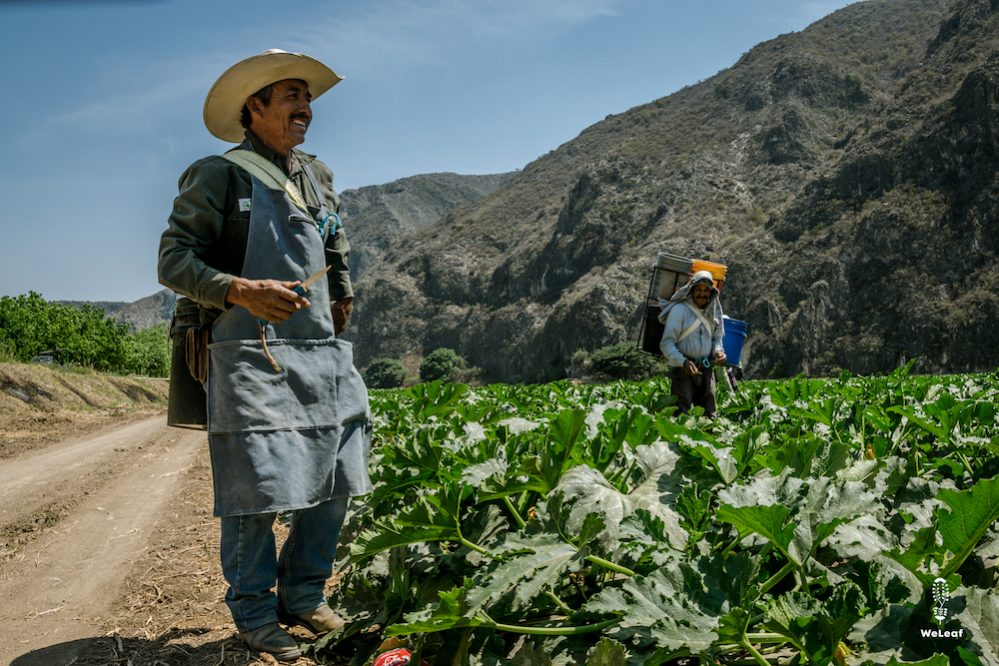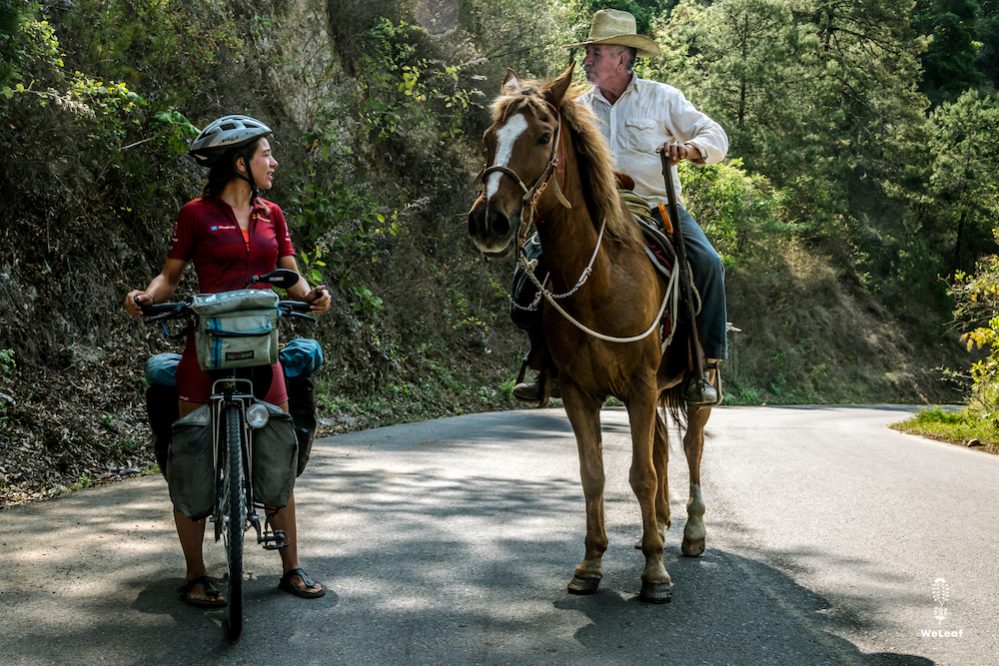 One evening we get another experience. We just bought a few vegetables and pasta in the only shop in the village. As always, we ask for a safe place for the tent or hammocks. "At the football field," they say immediately. We cycle to the football field and a few Mexicans hang against the car with a beer. "Here you can stand without problems" they confirm our question. The soccer field is not the nicest place, but just next to it is a nice building where we can hang the hammock. Nobody can see us and we are hanging out of the wind, a perfect place. At eight o'clock we dive into the hammocks and fall asleep not much later. A few hours later we wake up with two flashlights that shine in our eyes. There are five police officers, heavily armed, right in front of us with ten villagers behind it. 'What are you doing here?'. They of course want to sleep, but we remain polite and tell how we ended up here. "You are not allowed to stand here," says one of the policemen. "We ask you to leave." 'Where do we have to go then, it's twelve o'clock at night'. They have little understanding of our situation and respond very unfriendly.
Especially the big guns are intimidered and for the first time we don't feel comfortable in Mexico. Tears roll off Zoë cheeks. The guns, the unfriendly police men and all the emotions are too much at the moment. Fortunately, one man has understanding and wants to help us. "You can pitch the tent at the Balneario, the local swimming pool." "We have no light and we don't cycle in the dark," we try again. The agents are losing their patience and we decide that it is smarter to pack and follow. Our bikes disappear into the back of a jeep and we drive away. "They said nearby", Olivier sighs. It looks like we are driving for miles, uphill, downhill and in the middle of the night. After a far too long drive we stop at a spa resort with different hotels and swimming pools. It is everything but a perfect place to pitch a tent. Surprisingly they offer us a room. The man asks if we feel like having dinner. A plate of food always goes in, but not at one o'clock in the morning. Fortunately it was only one bad experience after all those hospitable nights. In the end everything was fine and they helped us very well.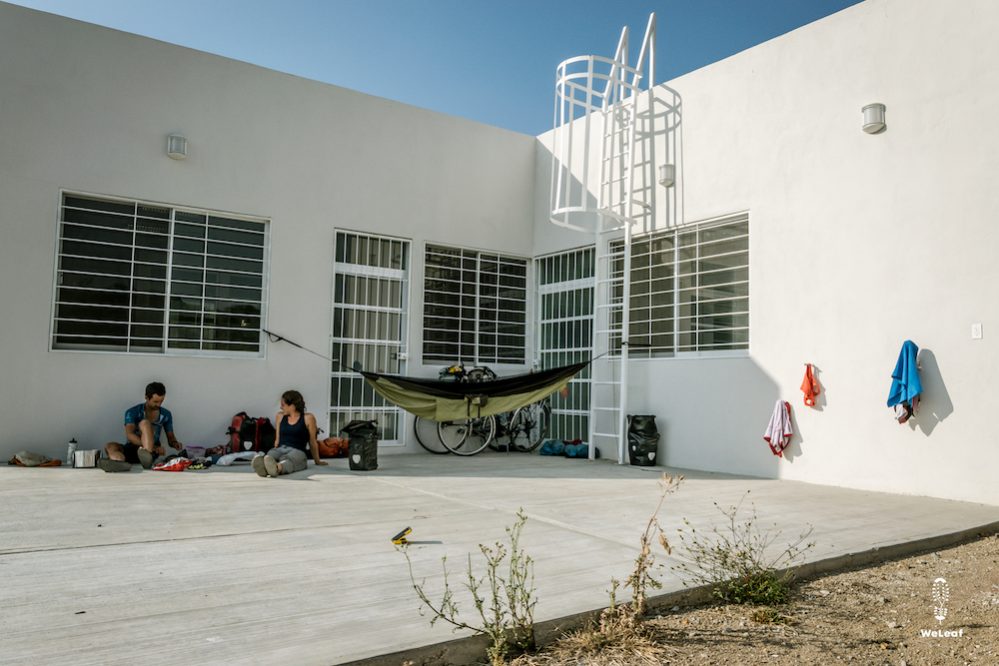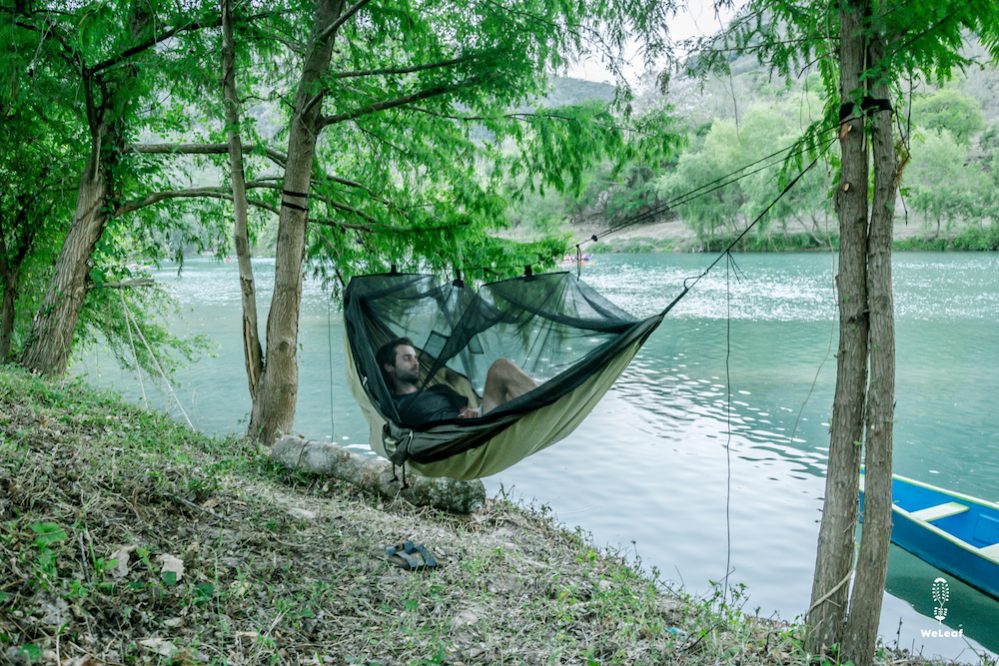 Especially the big guns are intimidered and for the first time we don't feel comfortable in Mexico.
We still do not have the answer to our question, but Mexico has also enchanted us. We are secretly homesick because soon we will leave the Spanish-speaking countries and unconditional hospitality. Mi casa es tu casa we will hang at the door later, and misshien we will leave it open for the guest who comes when we are not there yet.