OUR STORY
The world is our school
We are Zoë Agasi and Olivier Van Herck. Young, energetic and full of enthusiasm. We mark our own track on this earth, enjoying the quest to culture, nature, adventure and happiness. We Leaf. We left the regular duties like fixed contracts and a own house behind us and jumped into freedom. In return we got flexibility, creativity and time to develop our talents and knowledge. A wealth impossible to buy!
The goal is clear, the path is still unknown, but step by step we learn from every decision we make and come closer to living our dream. By capturing those moments with words and images, we want to show the beauty of our earth and inspire others to step out of their 'circle of certainty'.
VISION & MISSION
Dare to change!
People dream to follow their passions. Everybody chooses his own path and time to do this. For us travelling and discover the unknown is our ultimate way to find this path. We are wealthy with physical resources, but are captured in a world of obligations, anonymity and certainties. In fact we lack the real wealth in the world: freedom, experiences and time to meet new people.

The quest to our path brings us to the people and places that make this world a happy and liveable place. The daily news focusses on disasters, crises and ruin, the feeling good stories never make the cut. Our world is full of inspiring people who follow their dream and are happy doing this. With limited resources they make their world a better place, and learned to be happy every day. We want to discover the story behind those faces and give them the place they deserve. Together we change to a happy face.
Zoë Agasi

Just born and not able to run, Zoë had seen many exotic places. Being an adventurer and world explorer was her daily food when she was young. Some hard cliffs and dark forests marked the youth, but all the difficulties bring up the best, stamina. Being normal is not enough, no victory is a loss and semi responses do not exist.

Zoë pushes everything to the limit. At school, in the Dutch National Rugby team and out of herself.  She concurs her goals with a passion from here to the moon and back. Making the world more sustainable, in one of those. By discovering what's good, start with herself and then change the rest. Step by step she improves her circle of influence in her quest to a sustainable world. 

The inner side of this ambitious winner, is a sensitive person with an enormous heart. She has a sharp eye for beauty, not only for her fellow creatures, but for everything around her. This is complemented with an incredible amount of creativity and some catchy enthusiasm. Add a large dose of curiosity and this is Zoë at her best. 

Olivier Van Herck

Olivier Van Herck

He takes a look at his map, takes his stuff and leaves. When Olivier gets something into his mind, it is hard to change this plan. He is an athlete in achieving his 'targets'. Efficiency, active and dedication are the key concepts branding him.

Those are also the concepts that brought him to this trip. Olivier is eager to discover and develop himself and make the most of his talent in this way. He knows what he likes to do, but prefers to learn how to put those abilities into practice.

With his analytical and planning skills Olivier will take the role as a coordinator easily. When navigating during the trip, but also while contributing to different kind of projects. He knows how to make things specific and practical. His mentality 'let's just do it' will be invaluable during our trip.

Neat, kind and active, Olivier is the best travel mate I could wish.

Zoë Agasi
1 / 2
October 18, 2018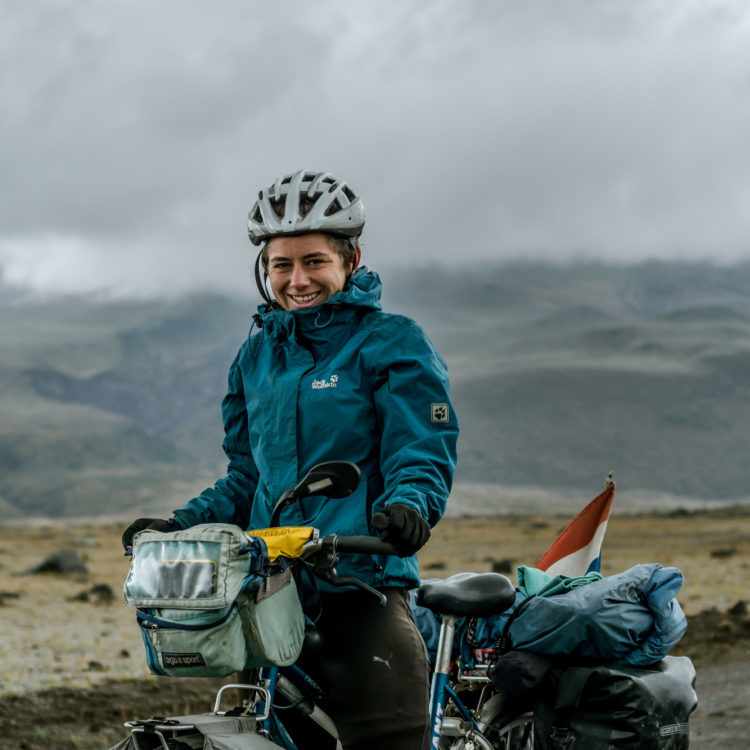 Suddenly we go home An unexpected return home 'There is a large mass of six centimeters here', says the gynaecologist at the hospital in Quito. We have no idea what […]
COURAGE
---
Everyday try to do something you fear. It makes you strong, very strong!
CONSCIOUS
---
We try to live and travel conscious and inspire others to do the same.
ADVENTUROUS
---
Every adventure is a chance for a new challenge, experience and life lesson.
ACTIVE
---
Being active every day is the best remedy for a healthy life!

---
I am sustainable
I am only one, but I am one. I cannot do everything, but I can do something, that something is to be the right example and inspire you. Are you the second one?
- Zoë Agasi
BECOME A FRIEND
---
Do you like what we are doing? Work with us and support us!