The privilege of a world cyclist
November 12, 2018
On home soil
November 23, 2018

---
Wednesday 3th of october - Jamundi
'We are going home' Zoë says with tears in her eyes. She just had a phone call with the gynecologist from Belgium. This conversation would determine everything for the continuation of the journey. Suddenly we go home unexpectedly. We can hardly realise it, the impact doesn't get through yet and the regret prevails. But today we do not have time to think about it because Fernando is already waiting for us in his cycling outfit. "We have to be in town at 9:30 am." he says to push us a bit. Yesterday we met Fernando, the president of the local bicycle association and old colonel from the army. He invited us into his house and had a surprise in store for us. In the times of Pablo Escobar, Medellin was the center of the Colombian drug industry. Medellin was purified, but the drugs moved to Cali. "As long as Europe and the US continue to use, we will continue to produce," says Fernando. Many cyclists avoid Cali because it is dangerous and Fernando thinks that is unjustified. We would change that image today.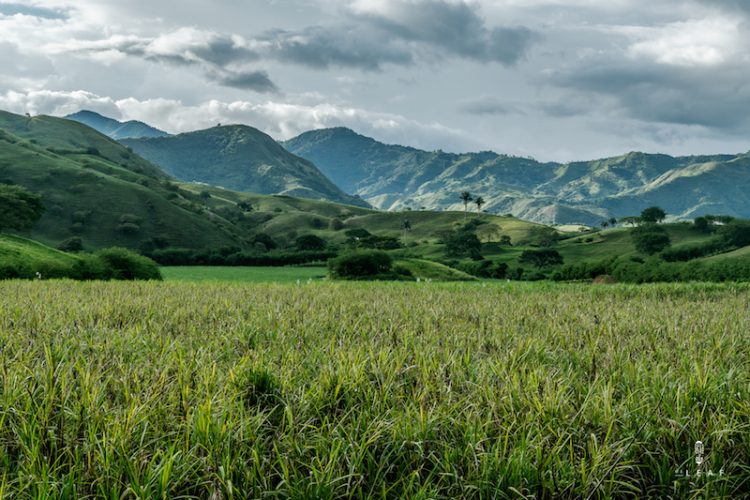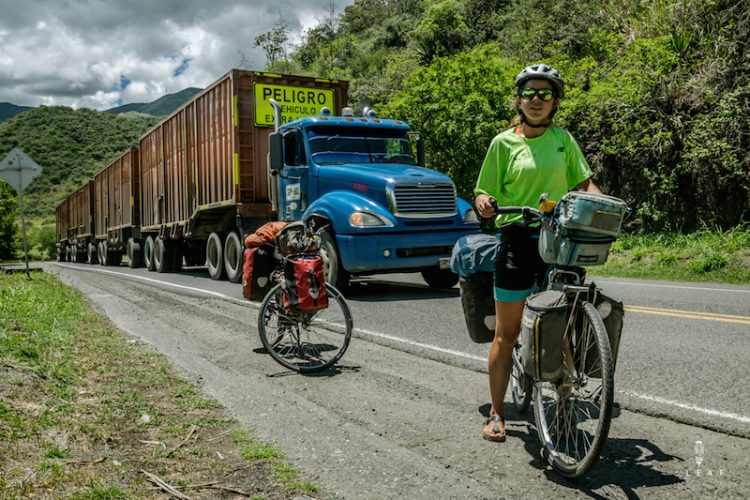 Yet we hear one story after another about the city. "A man is not allowed to sit on the back of a motorbike," says Fernando. Almost all murders between drug gangs were committed by two men on scooters. Suddenly everyone had to have his license plate on his jacket and helmet, and men on the back of a motorcycle were forbidden. He tells stories about the guerilla who kidnapped 200 people during a Sunday mass in the church and trucks that were hijacked at supermarkets. Since a few years there has been peace with the guerrilla. Suddenly people can go into the mountains, discover their own country. The cycling culture has exploded in Colombia, and Cali is much safer. At least, that image must be radiated today.

A patrol of the police is waiting for us in the city. Four police officers on the bicycle, a motor cycle and two cars are our private escort through the city. Flanked by the agents, accompanied by flashing lights and a photographer who records everything, we drive through the city like kings. Surprised the Colombians stare after us. Who are they? they have to wonder. In the center a number of journalists are waiting for us, there are cameras on our noses and we shine like celebrities. Not a single second we can think of this morning's call. Only late at night when we are lying under our mosquito nets on the floor in the local fire brigade can Zoë talk about the phone call. 'So we go home' we repeat ten times. 'Weird, isn't it. What a month." sigh Zoë.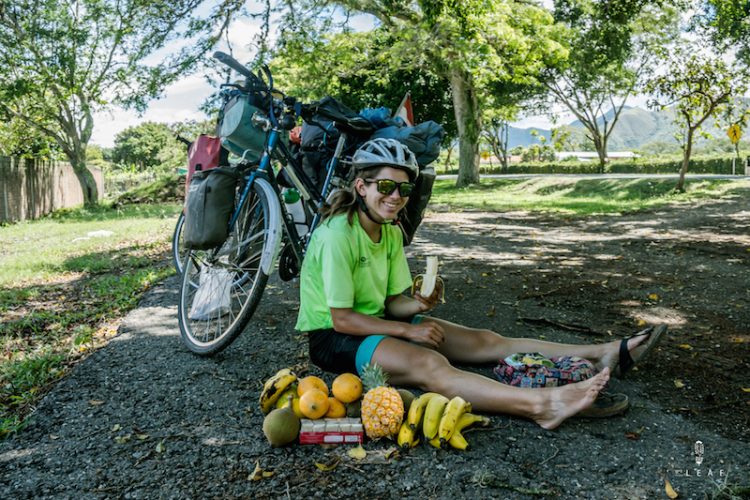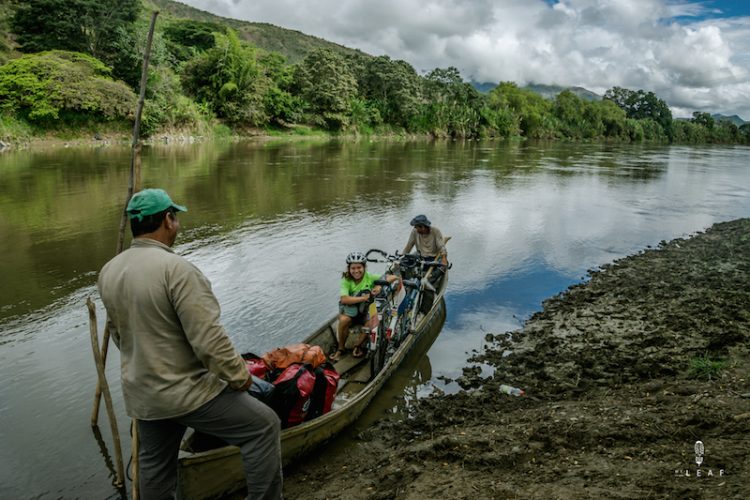 Social media friends
'I am Alvaro' says the strong Colombian who is stepping out of the grey car that stopped just in front of us. He wrote us a message on Facebook a few days earlier. "I would like to invite you to my home" he sent us. We didn't pass by his house, so he came our way. 'I have some fruit' and he takes a big bag of fruit behind his back. One strange fruit after the other comes out of the bag while we ask how you should eat it. That same evening we knock on Lina's door, who invited us via Instagram. If they do not invite us on the street, they do it online. People who only know us from a few photos and a short story, would love to meet us. It doesn't surprise us that we can inspire people, but it surprises us that they want to meet us so much, to hear our story, to be part of our journey for a day or to help us. "Aren't you afraid that they have wrong intentions?" people sometimes ask. We had never thought about that before. Who should be most afraid: the person inviting a stranger or the person invited by a stranger? 'There are more good than bad people in the world' we always reply from unsurpassed experience.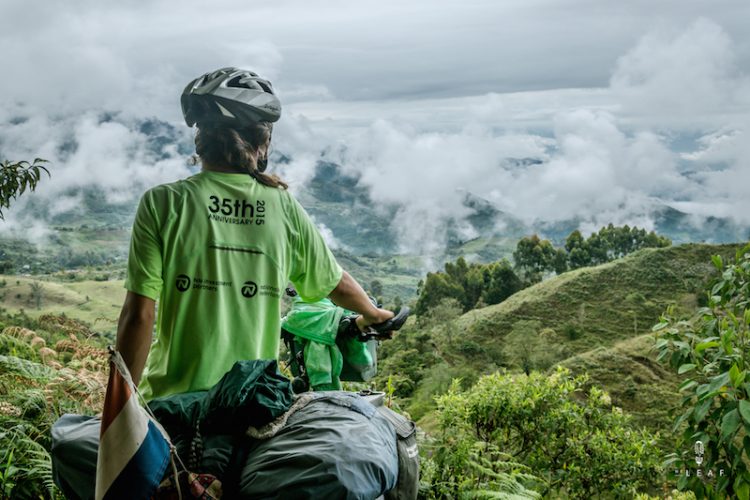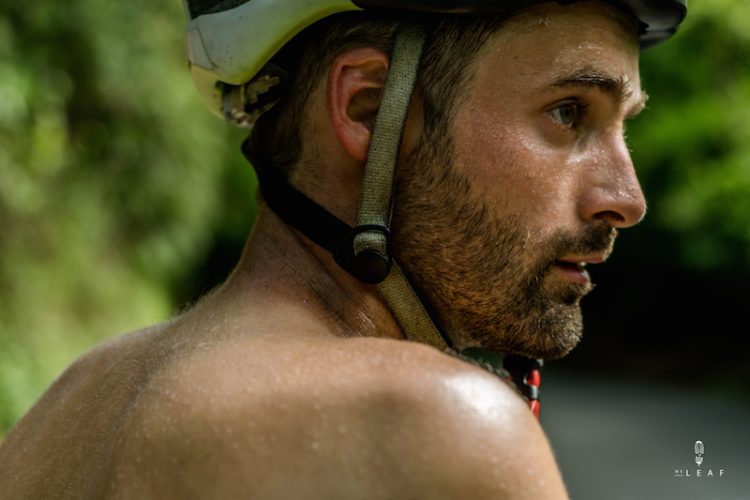 'Waauw, this is pure joy', says Olivier when he looks back at Zoë for a moment. Even Zoë is shining though the surgery continues to play in her mind. The disappointment of going home slowly turns into the positive thoughts. We cycle through the country of Juan Valdez, the coffee region of Colombia. Again we realise how little we know about all products that are so self-evident at home. Chocolate, peanut butter, bananas and coffee. During our trip we saw all these exotic plants and the first steps in the long process to the final product that we buy in the supermarket. We are amazed by the simplicity and the manual labor that is still needed, but also about the enormous amount of plantations to meet the needs of the world. The coffee plantations adorn the mountain sides, but are at the same time a huge monoculture where the original vegetation had to make way for. It is world heritage, beautiful, a public museum. It is one of the most beautiful regions of the entire journey, but created by man.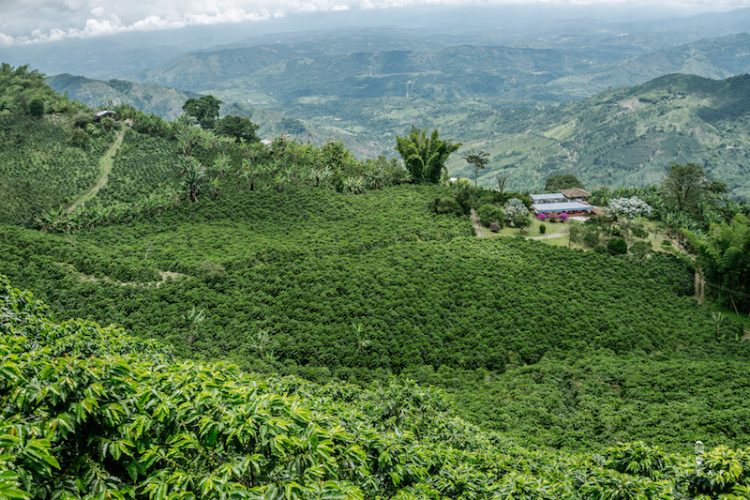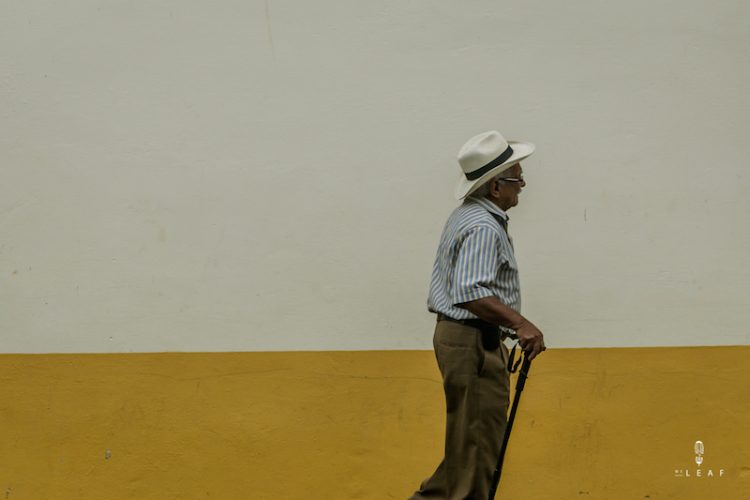 Every day we get a visit from the weather gods. In Colombia there are only two seasons, dry and wet. The dry season is over and we have several rain showers every day, tropical ones. Unpaved roads turn into rivers, the water itself drops into the Ortlieb panniers and our brake pads wear out every day. Our bikes pass a new test for the hundredth time, although they also look forward to a profound maintenance. And suddenly we are in Medellin, the unexpected end in South America. There are 19,400 kilometers on the odometer. "A few more laps around the city?" laughs Olivier. It took two years to get here, but in one day we will be back home. Do we realise it? No, it is just as we left Amsterdam two years ago, as if it were dead normal.