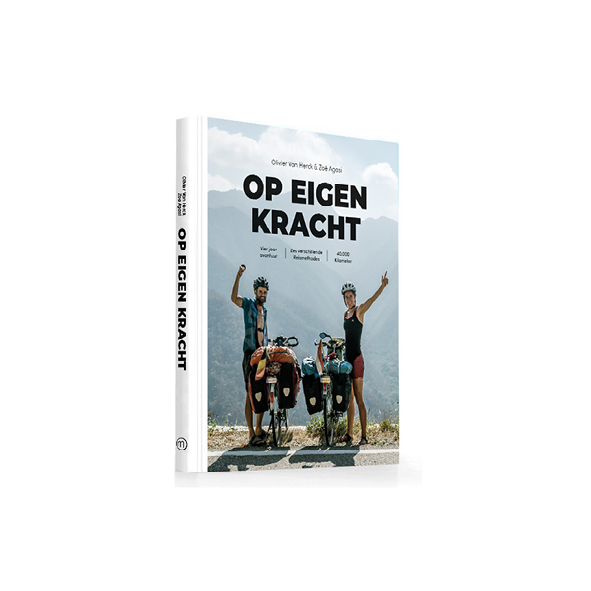 ON HUMAN POWER
---
In October 2021, the Dutch version of our book will be published in the Netherlands and Belgium. We are still looking for an international publisher to publish the English version, but you can register your name if you're interested in a copy. This will help us to convince an international publisher! Please fill out the registration form and we'll send you a message when we have a publisher and the pre-sale starts.
---
WHAT DO YOU FIND IN OUR BOOK?
---
Our complete travelogue in 145 chapters
40 personal life lessons
Over 500 beautiful photos
20 portraits about people we met
More than 50 tips and answers on practical questions
Packing lists and unique stats
---
We make a deal. "If I cycle south, you sail across the Atlantic with me." It is the beginning of an unlikely adventure with no final destination, no end goal, and no time limit. An adventure that takes us 40,000 kilometers across the globe, all on human power. We bike, sail, hike, canoe, ski, and skate from remote roads to pure wilderness, from kitchen tables to unprecedented hospitality, from tears to proud victories, from ugly arguments to intense happiness. This book is a vivid chronicle of what can happen when we leave our comfort zone, and head into the unknown. The reward is an extraordinary self-discovery and a new view of the world. A world full of love and good people. In this book you will get to know about our unforgettable journey and encounters with the unknown. It is an inspirational story that makes you dream, full of practical tips to make your own dreams come true.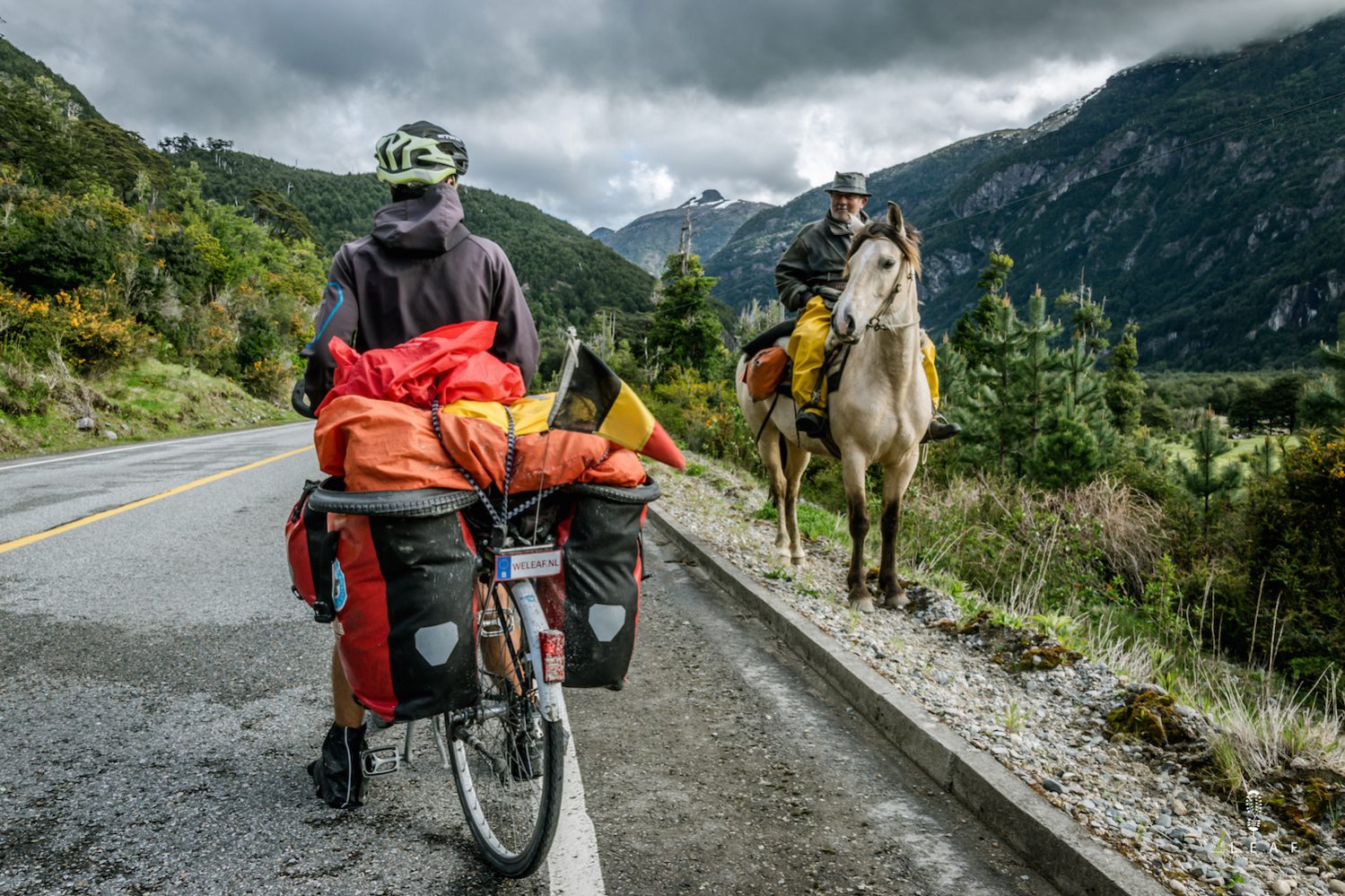 "This is a true-to-life story where the soul is bared, a book of feelings, wonderings, sadness, experiences, happiness, and the simplest things like your visit to the center with the disabled people in The US. It gave me goosebumps. You let us laugh and shed a tear." - Daniel V.
LESSONS //
We share forty life lessons we learned on our journey, including: making choices, setting priorities, working together as a couple, richness, happiness, prejudice, and setbacks.
PRACTICAL //
We answer many questions, for example: "How do we find places to sleep?", "How do we do it financially?", "What kind of bike do you need?" and "How do we plan routes?"
TIPS //
We would like to inspire you with tips and tricks we learned. Some examples: traveling as a couple, making choices together, strengthening willpower, and how to deal with setbacks.
THE PATH TO YOUR ADVENTURE
LIVING ADVENTUROUSLY //
Do
The road to an adventurous life is not about the easy path. It means trying new things that sometimes scare or make us nervous. Yet there is only one way to keep life adventurous: just do it.
ON HUMAN
POWER //
Muscle Power
We spent four years traveling the world on human power. As far as we are concerned, it is the most beautiful way to discover the world. It brings us close to culture, nature, people and ourselves. There is no greater satisfaction than earning a reward by hard work.
WITHOUT
EXPERIENCE //
The mind
We started everything without any experience, from canoeing to winter camping. In life, we don't have to be an expert, be rich or a top athlete. So much more is possible than we think, as long as we believe in the power of our mind. Then anything is possible!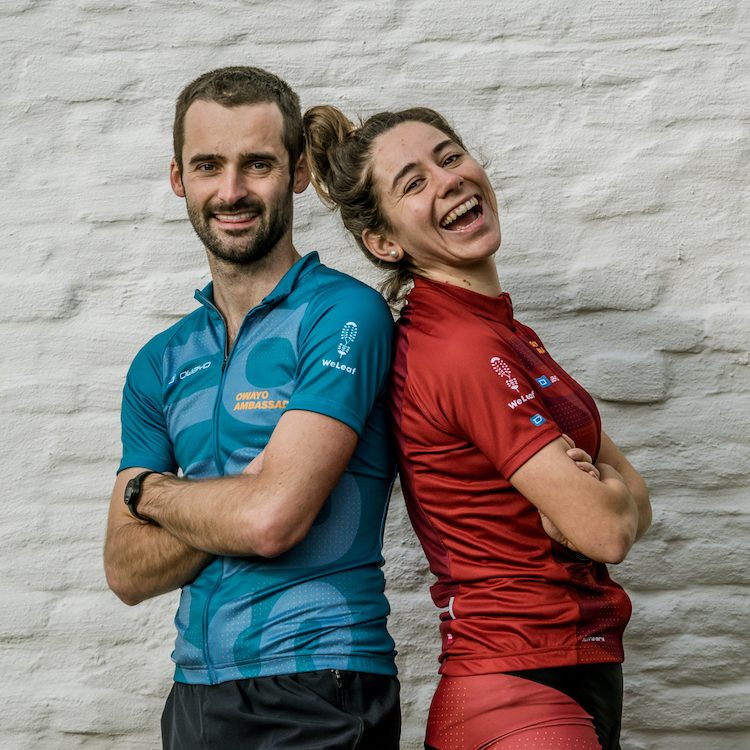 ---
THE AUTORS
---
On September 30, 2016 we, Zoë and Olivier, got on our bikes in Amsterdam for a trip around the world. We had no destination, no time limit, no obligations. Exactly four years later, after 40,000 kilometers and six different sports, we arrived in Sweden where we started writing our book.

Olivier Van Herck
Olivier was born in 1988 and raised in Belgium. He studied Civil Engineering in Leuven. When he was 23, Zoë took him outside the borders of Europe. Since then, an insatiable wanderlust lives in his body. He is the caring planner, the writer, the man behind the statistics, and the video editor during the trip.

Zoë Agasi
Zoë was born in 1992 and spent her entire childhood in Breda, in the south of The Netherlands. She studied Industrial Product Engineering and combined that with rugby on a professional level playing for the Dutch National Rugby Team. Zoë is the creator of ideas, the designer, and the social engine during the journey. The design of the book is entirely done by Zoë.
Would you like to reserve a copy? Then fill out the registration form and we'll send you a message when the pre-sale starts.