#SelfSupportedTravel
March 10, 2018
Always smiling
April 3, 2018

---
Ushuaia - Sunday 4th March - 10 o'clock
---
'I'm happy that we only have to do six kilometers today' Zoë says when we leave Ushuaia. Yesterday we packed all our bags in less than an hour. After living two months on the same place, we didn't unlearn our routine, but our cycling condition has gone a little bit. We cycle to the entrance gates of Ushuaia, which is the most strategic place to put our thumbs up. It is the only route to leave the city and all the cars have to stop at the police control. 'We are hitchhiking to Buenos Aires' we tell the police man who looks fairly surprised. After the gates we unload the panniers from the bicycle and start the 3.000 kilometer long journey to the capital.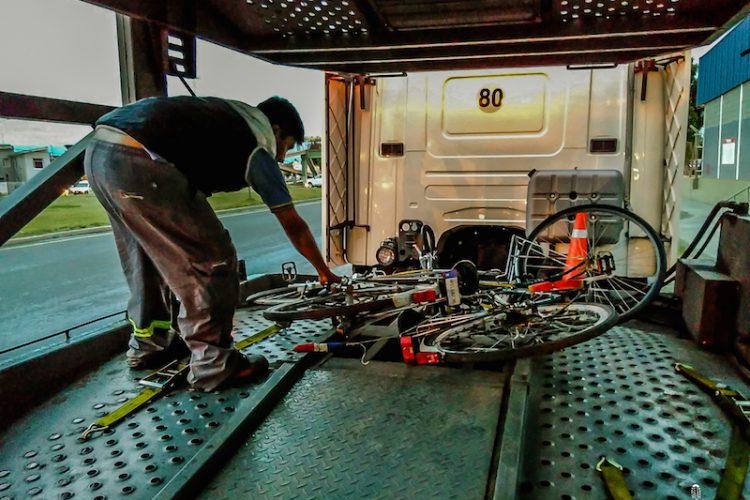 Lucky birds
Via via we got a phone number from a truck driver who goes often between Rio Gallegos and Buenos Aires. By chance, or not, he will arrive in Rio Gallegos tomorrow and we can go with him. People sometimes say that we are too lucky. We have to make sure that we cover the 600 kilometers to Rio Gallegos in two days. We have an extremely positive experience with hitchhiking in Argentina. If they have a place for us and the bicycles, they will take us, so we are sure we will make it on time to Rio Gallegos. After ten minutes a bog jeep stops with destination Tolhuin, one hundred kilometer north. In Tolhuin we have to wait almost an hour and put our warm clothes on. Many cars pass by and we start doubting about our goal of the day, the Chilean border. 'This one will take us' and 'that red car, that's ours' we say a hundred times, but none of them takes us.
Around half past three Ariel drops us at the roundabout in Rio Grande. From here on it is 80 kilometers to the Chilean border. We see another couple hitchhiking and a little further stands another guy. 'If even they don't find a hitch, it might be difficult for us' Olivier says. 'We have the bicycles, that's our trump' responds Zoë confidently. Two hours later we are shivering from the cold and are less confident when all the cars pass by without taking us. They all sign that they don't go far and we wonder if there is any car going to the Chilean border. It is the last day of the summer holiday and who wants to go to Chile right now? Three months ago we slept at Marcelo's place in Rio Grande. We give him a call and ask if he minds a visit this evening. Our eyes are red because of the wind when we crash on his couch. He goes out to watch a football game and we go to bed at eight o'clock, exhausted. 'Tomorrow we will be in Rio Gallegos' is the last thing we say before we fall asleep.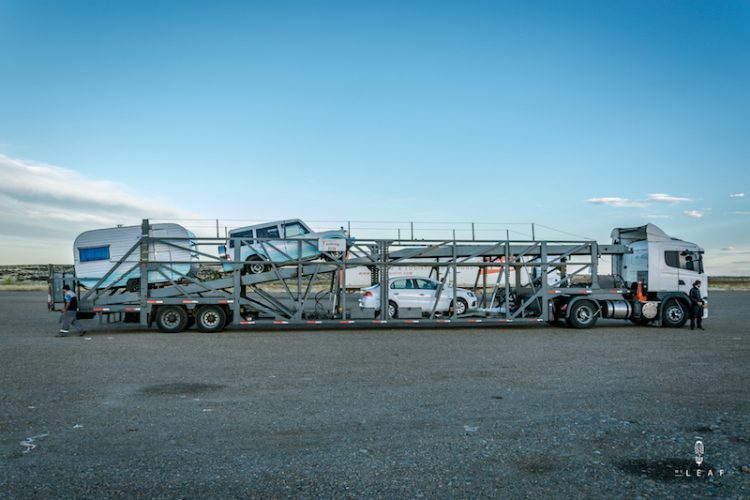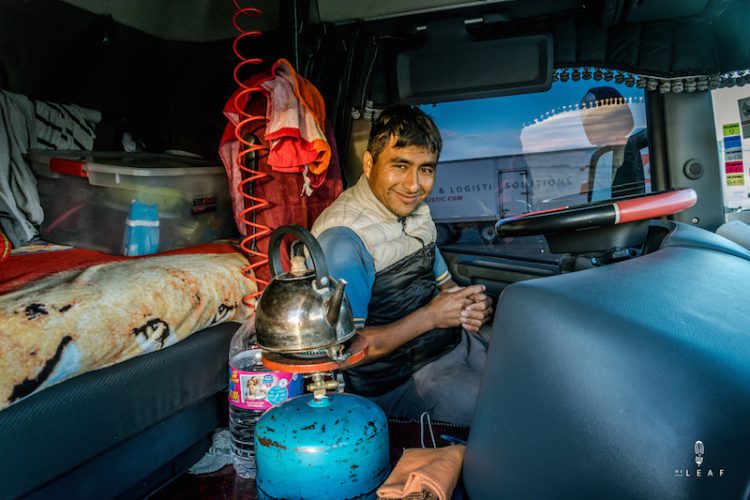 Around six o'clock the next day, we knock on Marcelo's door again. We tried to hitchhike for five hours, but without any success. We cycled until the last building and barely any car passed there. We went to the immigration point for trucks but they told us that only two trucks were leaving today, both of them sealed. Finally we went to the bus station and hoped there would be a night bus to Rio Gallegos. The first option is half past eight in the morning, bad luck today. 'I'll text the driver that we won't make it' says Olivier disappointed. Some minutes later his response comes. 'Buy the tickets, I'll wait for you'. Maybe we are lucky birds.
We always thought that the truckers life was full of farting, burping and sex jokes.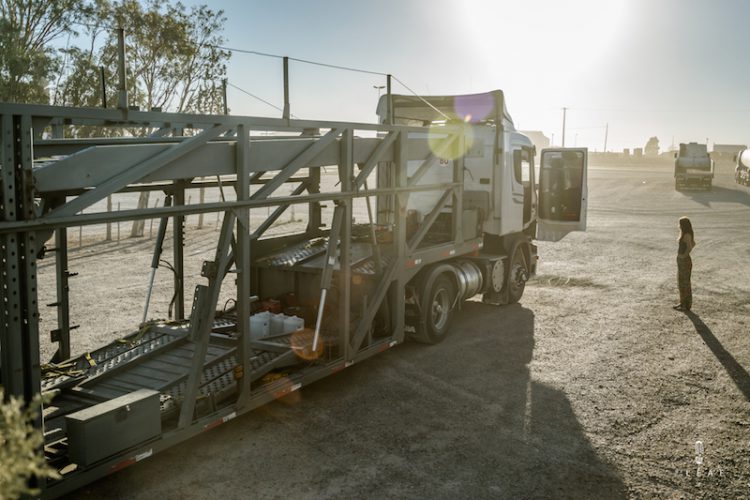 Twenty hours
'Feel at home and make yourself comfortable' says Manuel when we jump into his truck. Their is one chair for a passenger and a sleeping bench for the driver. In between the driver and the passenger is a lot of space, but it is full off water bottles, a teapot and cookies. Olivier sits on the bench, from where it is too high to see the road. Zoë starts on the passenger's chair, which isn't that comfortable because we can't stretch our legs and the backrest is too straight, but wait, we can't complain, do we. The bicycles lay on the trailer and are well fixed. Manuel brings cars from Buenos Aires to all corners of Argentina, and he basically lives on the road. Argentina is enormous and the trips are always a couple of days on endless straight roads. One of us would always be awake to keep the driver company, we said before we jumped in.

'I don't like to drive in the dark' Manuel says when we leave Rio Gallegos. Most of the highways in Argentina are single lanes and don't have a separation between the lanes. We feel a strong blow from the wind every time another truck passes. The headlights of the oncoming traffic always seems to come straight to us. It will keep the driver awake, but the smallest mistake could be fatal. After two hours we stop at a small parking place for truckers for the night rest. Quickly we pitch the tent in the grass next to the truck and set our alarm four hours later. Working twenty hours seems normal for a truck driver here.
At six o'clock we are standing next to the truck waiting for the cabin to move. Manuel takes a big gas stove from a storage compartment and warms some water inside the cabin. The coffee wakes him up a little bit but he isn't very talk active in the morning. We are the second last truck to leave and make ourselves ready for another twenty hour work day. We pass endless steppes with a small town every three hundred kilometer. The roads are straight with many ostriches and guanacos, a kind of lama, next to the road. Manuel prefers the long and straight roads above the mountain roads in the west of Argentina. With his long trailer it might be a lot easier, but also ten times more boring. We always thought that the truckers life was full of farting, burping and sex jokes, but Manuel is a neat man with a clean truck. At lunchtime we stop at a small roadside restaurant where only truckers eat. Most of the time it isn't healthy, but a trucker's life isn't healthy at all. Sitting down all day long, eating cookies, sodas, little sleep and working twenty hours a day.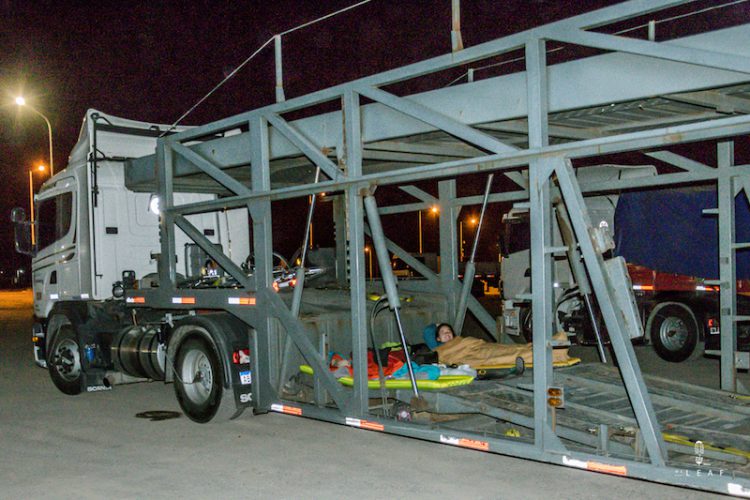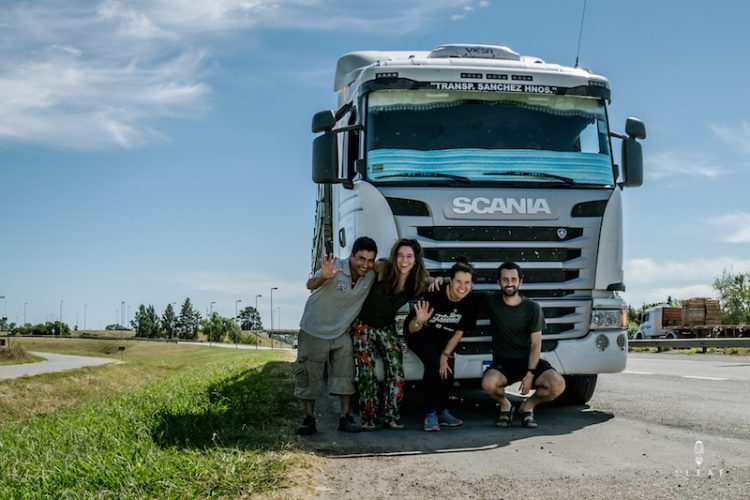 Police escort
The maximum speed of the truck is 80 kilometers an hour. We drive more than 1.000 kilometers a day and arrive late in Puerto Madryn, which is known for the whales in the bay between July and December. We park next to a gasoline station outside the city and pitch the tent at two o'clock in the night. It is twenty degrees warmer than in Ushuaia and we don't need our sleeping bag tonight. In the morning a girl with a backpack passes our truck and wants to go to Buenos Aires as well. She can go with us, which makes it crowded inside the small cabin. After one day we feel at home in the truck and aren't bored one single moment. Just like the sixty hour long bus ride in Brazil, time flies. The last night we inflate our small mattress and sleep on the trailer, summing up to eleven hours in three nights. We can rest in Buenos Aires but Manuel has to load new cars in the afternoon and leaves for another trip the next day.
He invites us for a lunch with his family, and thereafter we continue to the other side of Buenos Aires where he has to pick up the new cars. He literally drops us in the middle of the highway, which would result in a huge fine in Europe. We cycle into a quiet neighbourhood, but quickly a police car stops us. 'You aren't Argentinians I guess. This is a dangerous neighbourhood. Follow us, we will guide you!' says the police man. We get a private police escort to a safer neighbourhood in Buenos Aires. We have to laugh about the situation. After eight months in Argentina we know the country better than many Argentinians, and Buenos Aires feels like coming home. Off course the police men don't know this and we enjoy our private escort. We must have set a record with hitchhiking more than 3.000 kilometers in six days with two bicycles, a distance from Oslo to Athens.