The Frickelo's
April 4, 2018
22 photos to inspire you to visit Argentina
April 16, 2018

---
9th of March - Buenos Aires
For the second time we arrive in Buenos Aires. This time not with the bicycles, but by truck. It isn't the end of our hitchhiking adventure, because we head on to Posadas, an Argentinian city at the Paraguayan border. Manuel, the truck driver who brought us to Buenos Aires, makes us an offer. He will travel to the north in a couple of days and we he would like it that we join him.

In Buenos Aires we wait for Manuel's phone call and visit some old friends in the meantime, Argentinians who invited us with open arms eighth months ago. We kept in touch almost every week with Eduardo and Ili and see them again. It are the first friends we see for the second time on our trip. On our way from Uruguay to Buenos Aires we met Eduardo in July. 'Do you already have a place to stay in Buenos Aires' was his question. We stayed ten days. It feels like coming home. We know the route, the rhythm, the tastes and the conversations. The house feels a little like a hospitable Spanish classroom because our level of Spanish improves day by day. We continue to Colon, with the car 250 kilometers, about 2,5 by car one would think. But we go by train, hitchhiking and cycling and it takes us eight hours to visit our friends. In Europe we would be halfway in France after eight hours travelling. But it doesn't bother us. After all the time in South America we adapted quiet well to the slow culture. Pablo is a veterinarian and we can go on a internship for two days. We learn about the vaccination process and treat a limping cow. It is a pleasure to visit our friends whom we met before, share our new stories and laugh with them. Argentina and its people have stolen our hearth.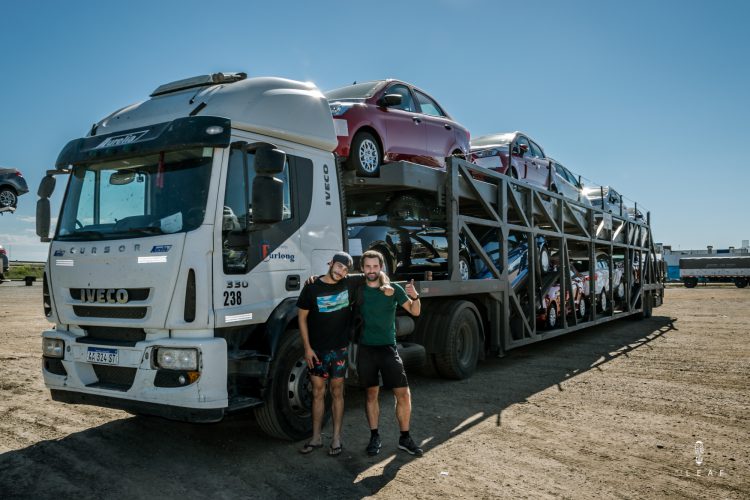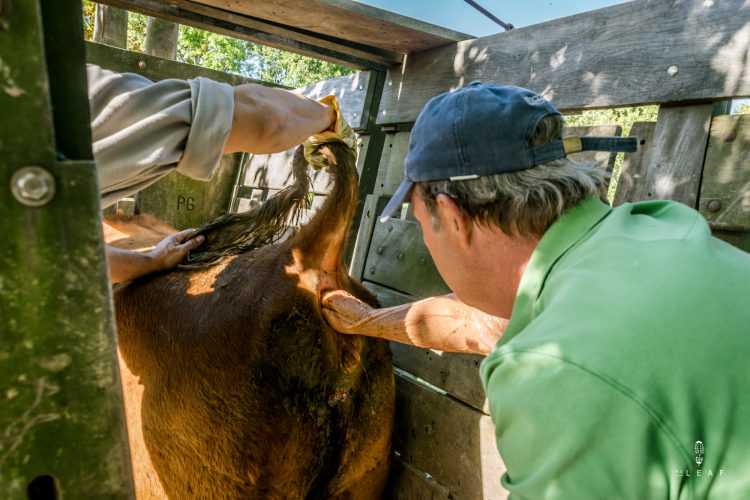 In Colon we receive a message from Manuel, we can go with him and will meet each other in Zárate, close to Buenos Aires. One last long hitchhiking trip before we arrive at the border. With open arms we welcome Manuel at the gas station where we are waiting, but suddenly he looks serious. Ashamed, he turns his head away and says 'I can't take you, they changed my destination to the south'. For an Argentine it is a disgrace to let his friends down. 'No problem Manuel' we say and put our arm on his shoulder, but in our head we become nervous. 'Where do we sleep tonight?'. It is already ten o'clock and tomorrow it is weekend and no trucks will leave. No! How many days will we get stuck here? Manuel promises to arrange something, but he doesn't sound too convinced. Half an hour later we step into a new truck. Jonathan is 25 years old, energetic and a little hipster with little Hitler and Bin Laden dolls on his dashboard. He is already driving four years and we keep him awake while singing all time classics in the cabin. Halfway to the north, Jonathan drops us at a gas station where we have to change trucks. Checho arrives and swings his door open. He shouts 'oh no, I don't have place for those bicycles!'. Olivier recognises the macho behaviour and starts a conversation. Five minutes later the bikes are fixed on the trailer and we are set for the last part. Checho doesn't like women. 'You can't trust them. I never take a girl who is hitchhiking. Before you notice it, they insult you for sexual behaviour' he starts talking. He continues to tell everything about his average sex life with his new girlfriend. He is curious to know how the women's brain works, and Zoë can reveal all the secrets.

When we finally open the doors in Posada where are hit by the extreme heat and the tiredness. The weather is tropical and we skipped one night. It is one hit too much, but still we keep on smiling while our Warmshower hosts wait for us. We stay one day extra because the heat is followed by some tropical rain showers, but then we are really ready to go. Paraguay is waiting for us. After eight months in our beloved Argentina we cross the border to the unknown Paraguay. Also in the cycling community Paraguay is fairly unknown. This is the reason for us to go. The bridge over the Parana river is the only things in our way to the other side. We can't cycle over the bridge, but have to take the train service. We get a stamp in our passport, make our first steps in Paraguay and the world seems to change. The Spanish dialect is hard to understand and they have a second national language, Guarani, which is impossible to understand. Everything is half the price from Argentina, but the parks and gardens are in perfect shape. The light poles, trees and fences are painted in the colours of the national flag, and these are exactly the same as the dutch flag. It feels like coming home for Zoë, but also Olivier gets his share when we arrive in a Belgian community, after the first forty kilometers in our new country.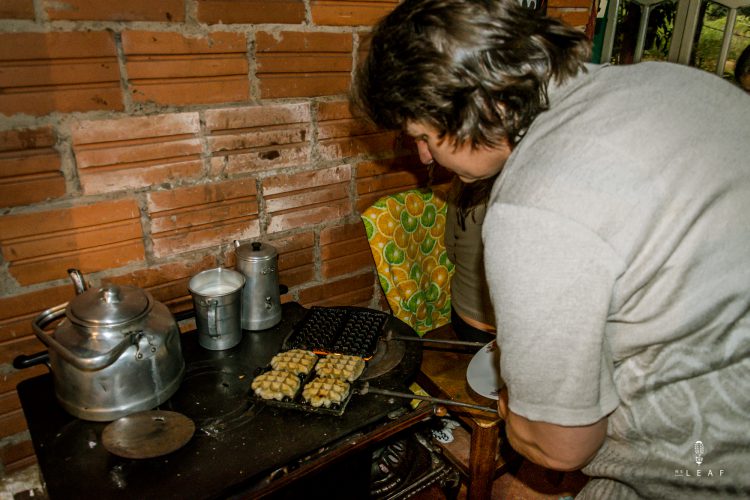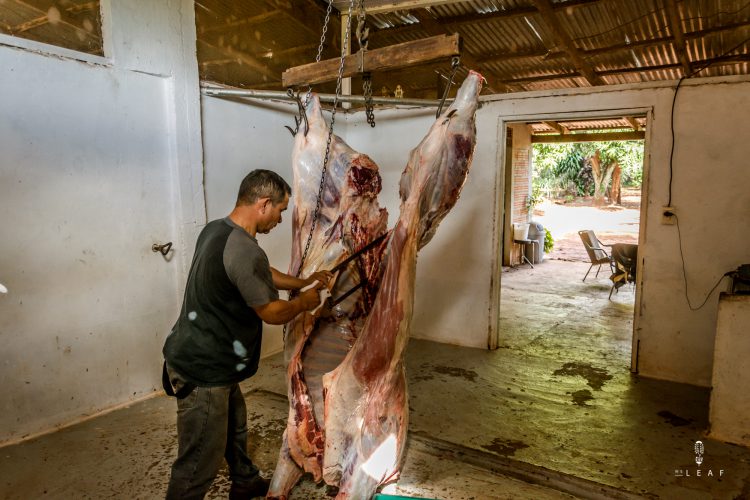 French fries and waffles
In one of the episodes of the Belgian TV program Reizen Waes, the presentator visits the unknown Paraguay and the Colonia Belga in Capitan Miranda. We pass the village and ask around if there are still some Belgians. Quickly we get a name and a address. When we turn into the red dirt road we ask for the Frickelo's family. Soon we sit around different kitchen tables, talking in Flemish and eating french fries and waffles. The Frickelo's are traditional farmers and we get the opportunity to experience their daily life. Heidi and her husband have a slaughterhouse where they process cows, bought by Oscar. We barely know anything of this business. We are conscious in eating less meat, but still eat it. Ethically or not, we now have the opportunity to witness the full process and learn how it works. As meat consumers we think it is important to know more than the piece of meat in the supermarket, and the make more conscious choices if needed. We are waiting intense while the cow is shot in the head. The cow is numbed immediately and doesn't seem to feel the cut of the knife in his throat. The blood is the last sign of life that streams out of the body. He is dead. They turn the cow around and start working systematically, like daily routine. The cut the skin from the flesh. We hesitate when they hand over the knife because they want us to try. Without the skin and the head, they hang the cow on a hook and convert it quickly into recognizable pieces of supermarket meat. You can't compare it with the industrialized meat industry, but this process was, in our opinion, respectful and clean. This is how you, as a carnivore, would like to see it always.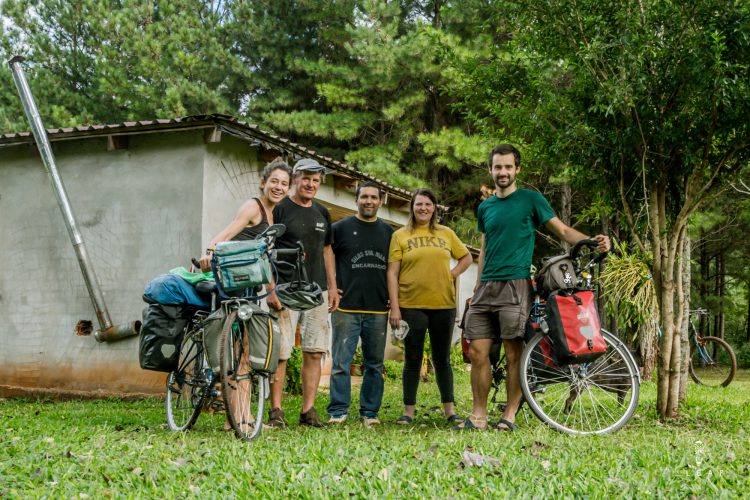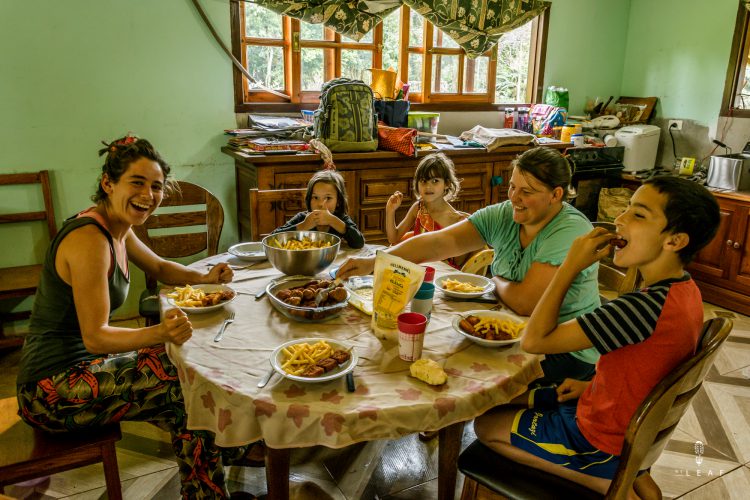 El Chaco
We leave Capitan Miranda and have to cover 450 kilometers to the capital, Asunción. 'What are the plans after Asunción?' Eduardo asks. 'We will cross el Chaco, to Bolivia' we tell him, like talking about a normal day trip. 'Chaco, I shouldn't do it' he says, still fairly polite. But then the horror stories come, with extreme heat, drought, mosquito frenzies and pure desertation. 'Oh and I heard it has been raining this year and everything is flooded and inaccessible' he ends and squeezes out the last pieces of hope. After three kilometers without cycling we finally start again with the cycling kilometers. It is pretty hot in Paraguay so in the few days that we are here, we changed our rhythm to an early schedule. We wake up at six and start cycling around seven. It doesn't matter how early it is, we are sweating like a horse while climbing the hills up and down. Many times car windows open and we are supported by the locals, but never before we were stopped so often to shake hands, have a chat a make a photo. The Paraguayans are delighted with the Belgian cyclist in their country. Zoë becomes interesting when we say that her flag is from the Netherlands and not Paraguay. If we only ask for some water, they come with a lot of food. Mainly chipas, a cheese biscuit made from manioc flower and sopa Paraguaya, the only soup in the world that is not liquid. We end up with so much food that we are sick of all the chipas. In every chat the words 'el chaco' pass by and then the the people put their hands on their mouth and raise their eyebrows. 'Ooowww' they say. One man tells a story about a cyclist that tried it. 'It was horrible, but luckily he found a jeep and hitchhiked to Bolivia' he tells us. We start doubting about our planned adventure. Around two o'clock we have done our daily 80 kilometers. Like usual we start asking around for a place for the night. The weather makes it a little bit more complicated, and sleeping outside isn't always an option here. Our tent might by resistant to a tropical storm, the soil isn't here. In no time it changes into a deep mud bath and we would float away.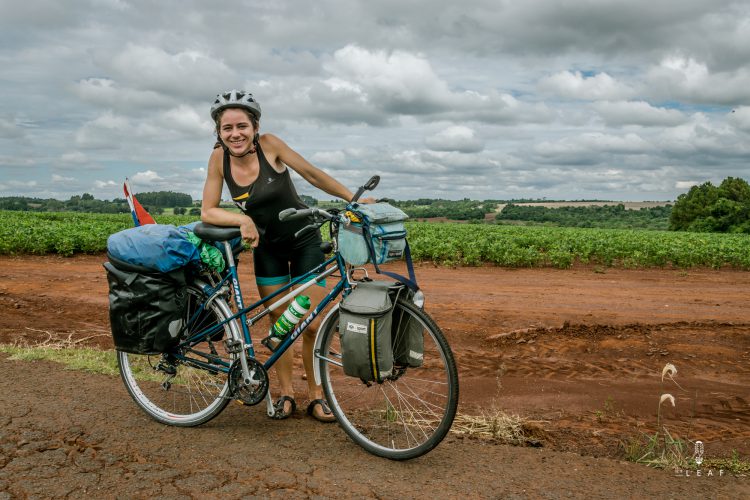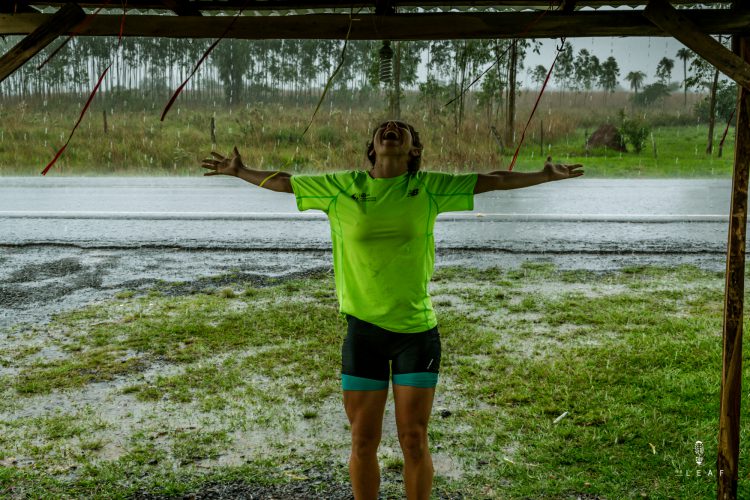 We spent our first night at a local fire station. Two seventeen year old boys are responsible, do the night watch and the emergency when needed. They are so happy with our visit that they invite us to stay a second night, but we can't stay everywhere if we want to reach Bolivia in a couple of weeks. The next day the sun burns our skin of, when we finally reach a small village and don't have the energy for the usual round. For the first time since Brazil we dare to ask the place for a room. We prepare ourselves for a €15 price when the lady says 20.000 guarani, and Zoë is blown off her socks. Olivier already calculated the price. That's €3 a person he says to Zoë and quickly tells the lady that we want the room. She even brings us a meal and we can wash our clothes. Sleeping inside isn't killing our travel budget here. Later we rent a full house for €11, eat ice creams for 30 cents and huge croquetas for 50 cents. Although those cheap croquetas aren't the best for Olivier's stomach and his birthday ends with a food poisoning in bed, the first in 1,5 year. Luckily Olivier can empty his stomach in the toilet of our private house. A couple of days before we met another enthusiastic Paraguayan who was changing his tire next to the road. Justo is going on a fishing weekend with his friends. A chat and a photo later we are invited to stay in his house, although he won't be there. We stay in the empty house from his son. Just when we leave Justo comes home. 'El Chaco! Are you sure?' he says.